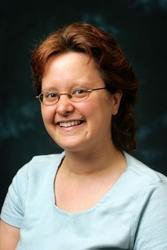 Alexandria LaFaye
Born:
1970 in Hudson, Wisconsin
Pen Name:
A LaFaye
Connection to Illinois
: LaFaye lives in Greenville. Her second novel ''Edith Shay'' takes place in Chicago (among other settings). Her fourth novel ''Nissa's Place'' takes place in Chicago and a fictioinal town in LA.
Biography
: Alexandria LaFaye is a children's author and speaker at schools, libraries, and conferences. She also presents professional development programs for teachers and teaches creative writing at Greenville College in Illinois where she's also the advisor of their school newspaper, ''The Papyrus''. She has also taught children's literature in the summer graduate program at Hollins University in Roanoke, Virginia.
---
Awards
:
Worth Scott O'Dell Award; Nominated, Rebecca Caudill
Walking Home to Rosie Lee Teachers Choice, IRA
The Strength of Saints Notable Book, Smithsonian Institute; Best Books of the Year, Bank Street Books
Primary Literary Genre(s):
Fiction; History
Primary Audience(s):
Children
E-Mail:
a@alafaye.com
Web:
http://www.alafaye.com
---
Selected Titles
Dad, In Spirit
ISBN: 068981514X OCLC: Simon & Schuster Children's Publishing 2001 Ebon's father, who is in a coma, appears to the family as a wandering spirit, and Ebon must reunite the spirit and the body before it is too late.
Edith Shay /
ISBN: 0689842287 OCLC: 47146042 Aladdin Paperbacks, New York, N.Y. : 2001. In my mind, the only rival to a good newspaper was a train headed out of Wisconsin. Katherine Lunden has always dreamed of living a life like the ones she reads about in the newspapers, far away from the woods of Wisconsin and the small-town ways she's grown to despise. When a chance finally comes in the form of a train bound for Chicago and an abandoned suitcase marked with the name
Follow me down to Nicodemus town :
ISBN: 0807525359 OCLC: 1037897997 When Dede sees a notice offering land for black people in Kansas, her family decides to quit sharecropping and become homesteading pioneers.
Nissa's place
ISBN: 0689826109 OCLC: 40776693 Simon & Schuster Books for Young Readers, New York : 1999. Uncertain of where she really belongs, thirteen-year-old Nissa leaves her Louisiana home where she lives with her father and new stepmother and goes to stay with her eccentric mother in Chicago.
No Frogs in School
ISBN: 1454926988 OCLC: Union Square Kids 2018 Bartholomew Botts loves pets—but his teacher, Mr. Patanoose, says No Frogs in School! So what will happen when Bartholomew's beloved creatures meet up with Mr. Patanoose's rules? Lots of FUN! Hoppy pets, hairy pets, scaly pets: Bartholomew Botts loves them all. And he doesn't want to go to school without one. Unfortunately, when Bartholomew brings his brand-new frog to class, his teacher, Mr. Patanoose, declares: "No frogs in school!" How will Bartholomew keep his animal friends close at hand . . . and follow Mr. Patanoose's rules, too? Illustrated with energetic and humorous artwork, this back-to-school story will be a favorite with every animal-loving kid!
Ready to Fly: How Sylvia Townsend Became the Bookmobile Ballerina
ISBN: 0062888781 OCLC: 1099685807 Ready to Fly is the true story of Sylvia Townsend, an African American girl who falls in love with ballet after seeing Swan Lake on TV. Although there aren't many ballet schools that will accept a girl like Sylvia in the 1950s, her local bookmobile provides another possibility. A librarian helps Sylvia find a book about ballet and the determined seven-year-old, with the help of her new books, starts teaching herself the basics of classical ballet. Soon Sylvia learns how to fly-- how to dance--and how to dare to dream. Includes a note from the author and a brief history of the bookmobile.
Stella stands alone /
ISBN: 1416986472 OCLC: 679817008 Fourteen-year-old Stella, orphaned just after the Civil War, fights to keep her family's plantation and fulfill her father's desire to turn land over to the people who have worked on it for generations, but first she must find her father's hidden deed and will.
Strawberry Hill /
ISBN: 0689829612 OCLC: 44892411 Aladdin Paperbacks, New York : 2000, ©1999. During the summer of 1976, twelve-year-old Raleia Pendle feels like a misfit with her hippie parents and begins a friendship with the town recluse.
The keening /
ISBN: 1571316949 OCLC: 436620230 Milkweed Editions, Minneapolis : 2010. When her mother succumbs to the influenza pandemic of 1918 that devastates their small coastal town in Maine, Lyza, who envies the artistic talents of other family members, must save her eccentric father from being committed to a mental institution.
The strength of saints /
ISBN: 0689832001 OCLC: 46884202 Simon & Schuster Books for Young Readers, New York : ©2002. In 1936, fourteen-year-old Nissa takes a stand against racial prejudice and for her own integrity and independence, drawing on the support of her individualistic mother, her father, stepmother, and some of the inhabitants of their Louisiana town.
The year of the Sawdust Man /
ISBN: 1571316795 OCLC: 179787421 In 1934, when her mother leaves her and her father, eleven-year-old Nissa tries to cope with the gossip of her small Louisiana town and the changes in her own life.
Walking home to Rosie Lee /
ISBN: 1933693975 OCLC: 669754894 Cinco Puntos Press, El Paso, TX : ©2011. At the end of the Civil War, young Gabe meets many other former slaves getting a feel for freedom whose kindness helps him in his quest to find his mother, who was sold away.
Water steps /
ISBN: 1571316868 OCLC: 228300670 Milkweed Editions, Minneapolis : 2009. Eleven-year-old Kyna, terrified of water since her family drowned in a storm that nearly took her life as well, works to overcome her phobia when her adoptive parents, Irish immigrants with a mysterious past, rent a cabin on Lake Champlain for the summer.
Worth /
ISBN: 0689857306 OCLC: 52464837 After breaking his leg, eleven-year-old Nate feels useless because he cannot work on the family farm in nineteenth-century Nebraska, so when his father brings home an orphan boy to help with the chores, Nate feels even worse.