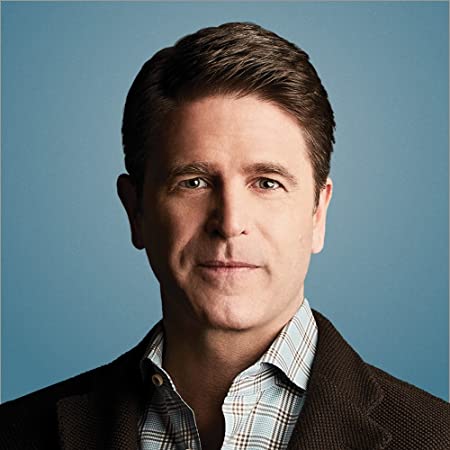 Brad Thor
Born:
1969 in Chicago, Illinois
Pen Name:
None
Connection to Illinois
: Thor was born and raised in Chicago.
Biography
: Brad Thor is a #1 New York Times bestselling author of thrillers. He graduated cum laude from the University of Southern California where he studied creative writing, film, and television production. Prior to becoming a novelist, Thor was the award-winning creator, producer, writer and host of the critically acclaimed national public television series, ''Traveling Lite''. He currently resides in Nashville, Tennessee.
---
Awards
:
"""Backlash"""
-- Best Books of the Year, Suspense Magazine
"""Blowback"""
-- Top 100 Killer Thrillers of All Time, NPR
"""Foreign Influence"""
-- Best Political Thrillers, Suspense Magazine, 2010
"""Full Black"""
-- Best Political Thrillers List, Suspense Magazine, 2011
"""Hidden Order"""
-- ILLINOIS READS Book Selection, Illinois Reading Council, 2014
"""Spymaster"""
-- One of the all-time best thriller novels, Washington Times
"""The Lions of Lucerne"""
-- One of the best political thrillers ever, Barnes & Noble
Primary Literary Genre(s):
Fiction
Primary Audience(s):
Adult readers
Blog:
https://bradthor.com/blog/#.XyGuTIpKhD4
Facebook:
https://www.facebook.com/BradThorOfficial
Instagram:
https://www.instagram.com/realbradthor/
Twitter:
https://twitter.com/bradthor
Website:
http://www.bradthor.com/
YouTube:
https://www.youtube.com/user/ScotHarvath
---
Selected Titles
Act of war :
ISBN: 1476717133 OCLC: 894936639 "After a CIA agent mysteriously dies overseas, his top asset surfaces with a startling and terrifying claim. There's just one problem--no one knows if she can be trusted. But when six exchange students go missing, two airplane passengers trade places, and one political-asylum seeker is arrested, a deadly chain of events is set in motion. With the United States facing an imminent and devastating attack, America's new president must turn to covert counterterrorism operative Scot Harvath to help carry out two of the most dangerous operations in the country's history. Code-named "Gold Dust" and "Blackbird," they are shrouded in absolute secrecy as either of them, if discovered, will constitute an act of war"--
Backlash :
ISBN: 1982104031 OCLC: 1056737869 "In ancient texts, there are stories about men who struck from the shadows, seemingly beyond the reach of death itself. These men were considered part angel, part demon. Their loyalty was to their families, their friends, and their kings. You crossed these men at your peril. And once crossed, there was no crossing back. They were fearless; men of honor who have been known throughout history by different names: Spartan, Viking, Samurai. Today, men like these still strike from the shadows. They are highly prized intelligence agents, military operatives, and assassins. One man is all three. Two days ago, that man was crossed--badly. Now, far from home and surrounded by his enemy, Scot Harvath must battle his way out. With no support, no cavalry coming, and no one even aware of where he is, it will take everything he has ever learned to survive. But survival isn't enough. Harvath wants revenge. In the most explosive novel Brad Thor has ever written, page after captivating page of action, intrigue, loyalty, and betrayal will keep you hooked until the very last sentence and a revelation that will take your breath away"--
Black Ice :
ISBN: 1982104120 OCLC: 1244040405 Leaving his favourite Oslo café, Harvath watches as a ghost climbs out of a taxi + a man he killed years ago, halfway around the world. In a race against time that will take him high above the Arctic Circle, Harvath will be tested in ways he has never imagined and pushed to a limit few human beings could ever endure. If he succeeds, he'll walk away with everything. If he fails, the United States and its allies will be at the mercy of one of the world's most dangerous actors. Print run 500,000.
Black list :
ISBN: 1439193029 OCLC: 709673086 Emily Bestler Books/Atria, New York : 2012. When his name is added to a top-secret government list of individuals slated for assassination, counterterrorism operative Scot Harvath engages in a high-stakes cat-and-mouse game of survival while struggling to prevent a cataclysmic terrorist attack and learn who has framed him for treason.
Blowback :
ISBN: 1451608284 OCLC: 58919908 Atria Books, New York : 2005. When a lethal illness with a suspicious source begins working its way through the United States and Europe, Homeland Security operative Scot Harvath teams up with a mysterious British counterpart to find out who is responsible.
Code of conduct :
ISBN: 147671715X OCLC: 894746872 "The next Scot Harvath thriller from #1 New York Times bestselling author Brad Thor"--
Foreign agent :
ISBN: 1476789355 OCLC: 928481397 In a safe house near the Syrian border, a clandestine American operations team readies to launch a dramatic mission months in the making. Their target: the director of social media for ISIS, Abu Muslim al-Naser. Multiple analysts, as well as a senior congresswoman, are in country to monitor the raid, but before the team can launch, the safe house is attacked. What unfolds in the bloody aftermath is a political and public relations nightmare. As horrific videos of the Americans are published on the Internet, the blame-storming back in Washington goes into full swing, focusing on how the intel for the raid was developed and how it might have leaked. As the search for answers mounts, half spy, half covert counterterrorism operative Scot Harvath quickly finds himself at the center of the storm. Working for a private intelligence agency contracted by both the CIA and the DoD, it was Harvath who pinpointed al-Naser. But how could ISIS have known the Americans were coming, much less where they would be staging? There has to be more to it; something everyone -- especially the politicians -- is missing.
Foreign influence :
ISBN: 1416586601 OCLC: 464593165 Atria Books, New York : 2010. Recruited as a field operative, Scot Harvath has just returned from his first assignment abroad when a bombing in Rome kills a group of American college students. The evidence points to a dangerous colleague from Harvath's past and a plan for further attacks on an unimaginable scale.
Full black :
ISBN: 1416586628 OCLC: 727357073 Atria Books, New York : 2011. In the wake of a former U.S. President's appointment to the United Nations, counterterrorism operative Scot Harvath is wrongly implicated for a string of national emergencies and assassinations, a situation that forces him to race against time to uncover the real culprit.
Hidden order :
ISBN: 1476717095 OCLC: 847679545 When a string of high-profile kidnappings in Washington, D.C., escalate upon the discovery that the victims are being murdered, an eventual ransom demand triggers terror throughout the country and covert counterterrorism operative Scot Harvath is summoned to put an end to the crisis.
Near Dark
ISBN: 1982104066 OCLC: 1144734020 Astria 2020 "The world's largest bounty has just been placed upon America's top spy. His only hope for survival is to outwit, outrun, and outlast his enemies long enough to get to the truth. But for Scot Harvath to accomplish his most dangerous mission ever - one that has already claimed the lives of the people closest to him, including his new wife - he's going to need help - a lot of it. Not knowing whom he can trust, Harvath finds an unlikely ally in Norwegian intelligence operative Sølvi Kolstad. Just as smart, just as deadly, and just as determined, she not only has the skills, but also the broken, troubled past to match Harvath's own."--Publisher description.
Path of the assassin /
ISBN: 1451608276 OCLC: 51298356 Atria Books, New York, NY : ©2003. Seeking the people responsible for a plot to kidnap the president, Secret Service agent Scot Harvath follows clues that point to the world's most ruthless terrorist and enlists the aid of a hijacking survivor who knows what the terrorist looks like.
Spymaster /
ISBN: 147678941X OCLC: 1021449366 Across Europe, a secret organization has begun attacking diplomats. Back in the United States, a foreign ally demands the identity of a highly placed covert asset. In the balance hang the ingredients for all-out war. With his mentor out of the game, counterterrorism operative Scot Harvath must take on the role he has spent his career avoiding. But, as with everything else he does, he intends to rewrite the rules -- all of them.
State of the union :
ISBN: 145160792X OCLC: 53797144 Atria Books, New York : 2004. After the murders of two U.S. agents in Prague and a series of brutal killings of Americans, Secret Service agent Scot Harvath hunts for an ex-KGB double agent, only to discover a conspiracy aimed at shattering the peace between nations.
Takedown :
ISBN: 1451636156 OCLC: 65197969 Atria Books, New York : 2006. In the aftermath of a Fourth of July terrorist bombing that has destroyed all of the bridges and tunnels leading out of Manhattan, an elite cadre of Middle Eastern soldiers searches for a man who holds a powerful secret of key importance.
The apostle :
ISBN: 141658658X OCLC: 298926389 Atria Books, New York : 2009. When American doctor Julia Gallo is kidnapped in Afghanistan, the terms of her ransom leave the president with only one course of action: send covert counterterrorism operative Scot Harvath to free the man the kidnappers demand as ransom--al-Qaeda mastermind, Mustafa Khan.
The Athena project :
ISBN: 1439192979 OCLC: 555641438 Atria Books, New York : 2010. A group of female warriors from the nation's most elite counter-terrorism unit-- the United States Army's 1st Special Forces Operational Detachment Delta--deploys on a dangerous international assignment. Their code name: Athena Project.
The first commandment :
ISBN: 1451635664 OCLC: 724591424 Pocket Books, New York : 2011, ©2007. Covert counterterrorism agent Scot Harvath awakens to discover that his world has changed violently -- and forever. A sadistic assassin with a personal vendetta is wreaking havoc of biblical proportions. Unleashing nightmarish horrors on those closest to Harvath, the attacker thrusts everything Harvath holds dear -- including his life -- into absolute peril. Ordered by the president to stay out of the investigation, Harvath is forced to mount his own operation to uncover the conspiracy and to exact revenge. When he discovers a connection between the attacks and a group of prisoners secretly released from Guantanamo, Harvath must ask himself previously unthinkable questions about the organizations and the nation he has spent his life serving.
The last patriot
ISBN: 9781416543848 OCLC: 251220952 Pocket Books, New York : 2009, ©2008. Navy SEAL turned covert Homeland Security operative Scot Harvath must race to locate an ancient secret that has the power to stop militant Islam dead in its tracks.
The Lions of Lucerne /
ISBN: 1439195137 OCLC: 48223436 Pocket Books, New York : ©2002. When a group of Secret Service agents is massacred in Utah and the president of the United States is abducted, surviving agent Scot Harvath vows to avenge his murdered colleagues and find the kidnappers.
Use of force :
ISBN: 147678938X OCLC: 993810287 As a storm rages across the Mediterranean Sea, a terrifying distress call is made to the Italian Coast Guard. Days later, a body washes ashore. Identified as a high value terrorism suspect who had disappeared three years prior, his name sends panic through the Central Intelligence Agency. Where was he headed? What was he planning? And could he be connected to the "spectacular attack" they have been fearing all summer? In a race against time, the CIA taps an unorthodox source to get answers: Navy SEAL turned covert counterterrorism operative Scot Harvath. Hired on a black contract, Harvath will provide the deniability the United States needs, while he breaks every rule along the way.