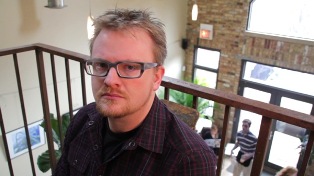 Scott Kenemore
Born:
1977 in New York
Pen Name:
None
Connection to Illinois
: Born in New York and raised in Indianapolis, Scott now lives in Chicago, Illinois.
Biography
: Scott Kenemore is a graduate of Kenyon College and Columbia University. A member of the Zombie Research Society and the Horror Writers Association, Scott lives in Chicago where he is the drummer for the musical band The Blissters.
---
Awards
:
Primary Literary Genre(s):
Fiction; Science Fiction
Primary Audience(s):
Adult readers
Email:
scottkenemore@hotmail.com
Website:
http://scottkenemore.wordpress.com/
Scott Kenemore on WorldCat :
http://www.worldcat.org/search?q=scott+kenemore
---
Selected Titles
The art of zombie warfare :
ISBN: 9781602399563 OCLC: 787879933 Skyhorse Pub., New York, NY : ©2010. Reveals the secrets to of zombie military leaders, with advice on raising an army through Voodoo, fighting without weapons, communicating without language, and walking directly toward the enemy.
The code of the zombie pirate :
ISBN: 9781616081201 OCLC: 786057760 Skyhorse Pub., New York, NY : ©2010. Set in the Caribbean of the eighteenth century, the epicenter of piracy, voodoo, and the dark arts, The Code of the Zombie Pirate reveals all the secrets to selecting, customizing, and managing a motley crew of pirates-cum-zombies. Imagine the consequences of pirates who have crossed the line to immortality: the breath-taking lack of respect for life?it's the ultimate pirate dream! Kenemore advises captions in:? Selecting Zombie Pirates: Fast or slow, chatty or quiet? Can a zombie hold a cutlass, or is it better off using its teeth? As readers will learn, pirate crews benefit from diversity.? Finding a Vessel Worthy of a Bunch of Dead Guys: Learn the ins-and-outs of pirate ships. Which ones best suit zombies, with their unique undead benefits and drawbacks?? Flying the Zombie Pirate Flags: Learn how to instill fear with something as simple as a brain and crossbones.? Going Full Zombie: Should the reader?an aspiring Pirate King or Queen?become a member of the walking dead? There are benefits and drawbacks to this, discussed here. This rollicking guide through the world that zombies and pirates both haunted and hunted will keep Zen of Zombie readers intrigued and win over legions of new fans.
The Grand Hotel
ISBN: 9781940456164 OCLC: 867765861 When a desk clerk welcomes a group of tourists into his mysterious and crumbling hotel, the last thing he expects is that a lone girl on his tour may hold the power to unravel the hidden mystery that has lain for untold centuries within the structure's walls.
The Zen of zombie :
ISBN: 9781634509503 OCLC: 918623585 Skyhorse Publishing, New York, NY : ©2015. While you may struggle to get out of bed each morning, swaying lifelessly across the room, mouth agape, arms hanging slack, and murmuring unintelligibly, take at heart that you are not alone. While many people feel this way, most of those staggering, limp, perpetually drowsy folks just happen to be zombies-and it turns out they can teach us a lot about enjoying life! Zen of Zombie will teach you their secrets to happiness, by learning how to slow down and move at your own pace, become your own boss, and just devour those irritating people who get in your way. And there's more, because zombies can offer no-nonsense advice on love, playing to your strengths, and on becoming more adaptable.
The Zen of Zombie :
ISBN: 9781602391871 OCLC: 176153089 Reanimate yourself for success with advice on life, love, and work from the undead!--Back cover.
Z.E.O.
ISBN: 9781849017008 OCLC: 660553251 Robinson, London : 2011.
Z.E.O. :
ISBN: 1602396485 OCLC: 824999901 Skyhorse Pub., New York : ©2009. Mutate to the next level in business-- learn to do business the zombie way!
Zombie, Illinois :
ISBN: 1616088850 OCLC: 783160480 Skyhorse Pub., New York : ©2012. When the mayor of Chicago is eaten by zombies on live television and a group of shady aldermen attempts to seize power in the vacuum, three unlikely friends stumble upon a conspiracy to overthrow the city ... and they alone may be capable of stopping it.
Zombie, Indiana :
ISBN: 9781940456003 OCLC: 878543501 In the third book of his Zombie series, Scott Kenemore brings the explosive horror thriller of an undead outbreak in the city of Indianapolis. Zombie, Indiana takes place during the same timeline as the outbreaks in his books Zombie, Ohio and Zombie, Illinois, and has the same punch as the previous two. Zombie, Indiana explores the impact of an invading zombie horde on a trio of Hoosier protagonists ... each of whom have some dark secrets to keep. When the governor's daughter mysteriously disappears on a field trip, IMPD Special Sergeant James Nolan, scholarship student Kesha Washington, and Governor Hank Burleson must all come together not only to find the governor's daughter, but also to undertake a quest to redeem the very soul of the state itself ... all while under constant attack from the living dead. With humorous, memorable characters, tense action sequences, and brutal zombie violence, Zombie, Indiana will put readers in mind of some of the most compelling works of popular fiction. At once a mystery, a thriller, and a horror novel, Kenemore strikes again with this rollicking tour through America's heartland that is nothing but a tour de force for zombie fiction fans!
Zombie, Ohio :
ISBN: 1616082062 OCLC: 658117254 Skyhorse Pub., New York : ©2011. No one is safe in a zombie apocalypse ... not even a zombie. With society decomposing before his eyes, and violence escalating into daily life, Peter, a rural Ohio college professor, finds his old friends are loath to associate with him. When he finds out that he automobile wreck that killed him wasn't an accident, Peter resolves to solve his own murder.
Zombies vs. Nazis :
ISBN: 9781628730500 OCLC: 854976740 Skyhorse Publishing, Inc., New York : 2011. Zombie expert Scott Kenemore (The Zen of Zombie) unearths a collection of top-secret lost documents from WWII (originally intercepted by the U.S. Signal Corps in 1941 and presented to Franklin Roosevelt in a confidential memorandum), describing efforts of the Nazi Sicherheitsdienst (or SD) to harness and weaponize Haitian Voodoo and zombie-creating technologies for military purposes. For the first time, here is the thrilling, humorous, and satisfyingly-gory story of an evil empire's foolhardy attempt to harness an ancient and unspeakable monster: the zombie!
Zombies vs. Nazis :
ISBN: 161608250X OCLC: 668194909 Skyhorse, New York : ©2011. It's zombies against Nazis in a fight for the secrets of the walking dead!