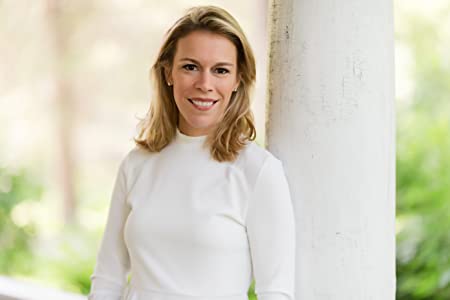 Allison Pataki
Born:
Pen Name:
None
Connection to Illinois
: Pataki lived in Chicago.
Biography
: Allison Pataki is a New York Times bestselling author. A former news writer and producer, Allison has written for The New York Times, ABC News, The Huffington Post, USA Today, Fox News and other outlets. She has appeared on The TODAY Show, Good Morning America, Fox & Friends, Good Day New York, Good Day Chicago and MSNBC's Morning Joe. Allison graduated Cum Laude from Yale University with a major in English and spent several years in journalism before switching to fiction writing. A member of The Historical Novel Society, Allison lives in New York .
---
Awards
:
Primary Literary Genre(s):
Fiction; History; Non-Fiction
Primary Audience(s):
Adult readers; Children
Facebook:
https://www.facebook.com/AllisonPatakiPage
Instagram:
https://www.instagram.com/allisonpataki/
Twitter:
https://twitter.com/allisonpataki
Web:
http://allisonpataki.com/
Web:
https://www.goodreads.com/author/show/7155436.Allison_Pataki
Wikipedia:
https://en.wikipedia.org/wiki/Allison_Pataki
---
Selected Titles
Beauty in the broken places :
ISBN: 0399591672 OCLC: Five months pregnant, on a flight to their 'babymoon, ' Allison Pataki turned to her husband when he asked if his eye looked strange and watched him lose consciousness. After an emergency landing, she discovered that Dave--a healthy thirty-year-old athlete and surgical resident--had suffered a rare, life-threatening stroke. Allison was unsure if her husband would survive the night. When Dave finally woke up, he could not carry memories from hour to hour, and Allison realized she had lost the man she knew and loved. Soon she was caring for both a newborn and a husband, struggling with the fear of what was to come. Trying to make sense of the unfathomable experiences unfolding around her, Allison started to write daily letters to Dave, to provide him with the memories that would preserve their past, protect their present, and fight for their future. Those letters became the foundation of this beautiful, intimate memoir--a manifesto for living and an uplifting story about the transformative power of finding joy in the broken places. --Page 4 of cover
Nelly takes New York :
ISBN: 1534425047 OCLC: Nelly and her beagle Bagel set out on a tour of their home, New York City, in search of the Big Apple.
Poppy takes Paris :
ISBN: 1534425063 OCLC: Poppy and her dog Baguette set out on a tour of their home, Paris, France, in search of the brightest light in the City of Light.
Sisi :
ISBN: 0812989058 OCLC: In imperial Vienna, where the court halls buzzed with waltzes and champagne, as well as temptation, rivals, and cutthroat intrigue, the intensely personal tale of Empress Sisi unraveled. Infamously beautiful, a mother of four, and wife of Emperor Franz Joseph - whom she unintentionally stole away from her sister - Sisi's reign was anything but simple. Against the backdrop of a rich, romantic, and volatile time period--marked by pivotal events such as the opening of the Suez Canal, Vienna's World Exhibition, and the lead up to WWI--Sisi, the beloved Fairy Queen, was a woman well ahead of her time during a true Golden Age in European history --
The accidental empress :
ISBN: 147679474X OCLC: The year is 1853, and the Habsburgs are Europe's most powerful ruling family. With his empire stretching from Austria to Russia, from Germany to Italy, Emperor Franz Joseph is young, rich, and ready to marry. Fifteen-year-old Elisabeth ( Sisi ), Duchess of Bavaria, travels to the Habsburg Court with her older sister, who is betrothed to the young emperor. But shortly after her arrival at court, Sisi finds herself in an unexpected dilemma: she has inadvertently fallen for and won the heart of her sister's groom. Franz Joseph reneges on his earlier proposal and declares his intention to marry Sisi instead. Thrust onto the throne of Europe's most treacherous imperial court, Sisi upsets political and familial loyalties in her quest to win, and keep, the love of her emperor, her people, and of the world.
The Magnificent Lives of Marjorie Post
ISBN: 0593355687 OCLC: Ballantine 2022 Presidents have come and gone, but Marjorie Merriweather Post has hosted them all. Growing up in the modest farmlands of Battle Creek, Michigan, Marjorie had an insatiable drive to live and love and to give more than she got. Her journey began gluing cereal boxes in her father's barn as a young girl. As the General Foods empire grew and reshaped the American way of life, Marjorie became its heiress and leading lady. But she dared to demand more, becoming the wealthiest woman in the United States. A wife four times over, Marjorie embraced her power-- while shaping history in the process. -- adapted from jacket
The Queen's Fortune: A Novel of Desiree, Napoleon, and the Dynasty That Outlasted the Empire
ISBN: 0593128184 OCLC: Ballantine 2020 As the French revolution ravages the country, Desiree Clary is faced with the life-altering truth that the world she has known and loved is gone. Her head -- as well as her family -- is at risk, and it's fallen on her to save them from the guillotine. A chance encounter with Napoleon Bonaparte, the ambitious and charismatic young military prodigy, provides her answer. When her beloved sister Julie marries his brother Joseph, Desiree and Napoleon's futures become irrevocably linked. Quickly entering into their own passionate, dizzying courtship followed by a secret engagement, they vow to meet in the capital once his career has been secured. But her newly laid plans with Napoleon turn to sudden heartbreak, due to the rising star of Parisian society, Josephine de Beauharnais. Once again, Desiree's life is turned upside down. Swept to the glittering halls of the French capital, Desiree is plunged into the inner circle of the new ruling class, becoming further entangled with Napoleon, his family, and his Empress. But her fortunes shift once again when she meets Napoleon's confidant and star general, the indomitable Jean-Baptiste Bernadotte. When these two men become political rivals and military foes, the question that arises is: will Desiree choose the love of her new husband or the love of her nation and its Emperor? From the lavish estates of the French Riviera to the raucous streets of Paris and Stockholm, Desiree finds herself at the epicenter of the rise and fall of an empire, navigating a constellation of political giants and dangerous, shifting alliances. Emerging from an impressionable girl into a fierce young woman, she discovers that to survive in this world she must learn to rely upon her instincts and her heart --
The traitor's wife :
ISBN: 1476738602 OCLC: Socialite Peggy Shippen is half Benedict Arnold's age when she seduces the war hero during his stint as military commander of Philadelphia. Blinded by his young bride's beauty and wit, Arnold does not realize that she harbors a secret: loyalty to the British. Nor does he know that she hides a past romance with the handsome British spy John André. Peggy watches as her husband, crippled from battle wounds and in debt from years of service to the colonies, grows ever more disillusioned with his hero, Washington, and the American cause. Together with her former love and her disaffected husband, Peggy hatches the plot to deliver West Point to the British and, in exchange, win fame and fortune for herself and Arnold. --Page 4 of cover.
Where the light falls :
ISBN: 0399591680 OCLC: Three years after the storming of the Bastille, Paris is emboldened with the ideals of liberty, equality, and fraternity. The monarchy of King Louis and Marie Antoinette has been dismantled and a new nation, for the people, is rising up in its place. Jean-Luc, a young optimistic lawyer, moves his wife, Marie, and their infant son from their comfortable life in Marseilles to Paris, inspired by a sense of duty to contribute to the new order. André, the son of a former wealthy Duke, sheds his privileged upbringing to fight in the unified French Army with his roguish brother, Remy. Sophie, a descendant of a wealthy aristocratic family and niece of a militant uncle, embarks on her own fight for independence. But underneath the glimmer of hope and freedom, chaos threatens to undo all the progress of the revolution and the lives of these compatriots become inextricably linked. As the demand for justice, aided by the new invention of the guillotine, breeds instability, creates enemies out of compatriots, and fuels a constant rush of blood in the streets, Jean-Luc, Andre, and Sophie are forced to question the sacrifices made for the revolution and determine what is right in the midst of a struggling society --