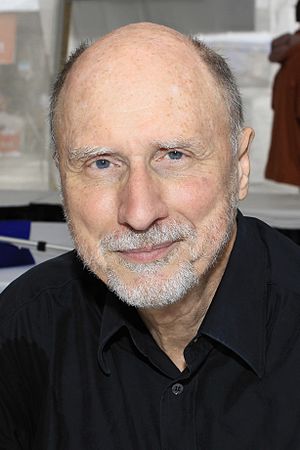 Robert Olen Butler
Born:
1945 in Granite City, Illinois
Pen Name:
None
Connection to Illinois
: Butler was born and grew up in Granite City. He attended Northwestern University in Evanston and lived in Illinois until 1967.
Biography
: Robert Olen Butler is an American fiction writer. He served in Vietnam from 1969 to 1971. He rose to the rank of sergeant in the Army Military Intelligence Corps. His experiences during that period have affected his writings, and as a result, in 1987 Butler received the Tu Do Chinh Kien Award from the Vietnam Veterans of America for outstanding contributions to American culture by a veteran.After working as a steel mill laborer, a taxi driver, and a substitute teacher in high schools in the years following his tour of duty in Vietnam, Butler joined Fairchild Publications, where he worked on the staffs of trade publications such as Electronic News. From 1975 until 1985, he was the editor-in-chief of Fairchild's Energy User News. Butler taught creative writing at McNeese State University in Lake Charles, Louisiana, from 1985 to 2000. He then joined the faculty of Florida State University as a Francis Eppes Distinguished Professor, holding the Michael Shaara Chair in Creative Writing. His short-story collection, ''A Good Scent from a Strange Mountain'' was awarded the Pulitzer Prize for fiction in 1993.
---
Awards
:
A Good Scent from a Strange Mountain Pulitzer Prize for Fiction, 1993, Southern Review/LSU Prize for Short Fiction for the best first collection of short fiction by an American writer, 1992, Richard and Hinda Rosenthal Foundation Award, American Ac
Perfume River - Longlisted, Andrew Carnegie Medal for Excellence in Fiction, 2017, Starred Review, Library Journal and Booklist
The Star of Instanbul - Starred Review, Booklist
A Small Hotel - Starred Review, Booklist
Other Awards In 2013 he became the seventeenth recipient of the F. Scott Fitzgerald Award for Outstanding Achievement in American Literature. He also won the Richard and Hinda Rosenthal Foundation Award from the American Academy of Arts and Letters
Primary Literary Genre(s):
Fiction; Non-Fiction
Primary Audience(s):
Adult readers
Blog:
https://www.robertolenbutler.com/the-ongoing-life-a-blog/
Web:
http://www.robertolenbutler.com/
Wikipedia:
https://en.wikipedia.org/wiki/Robert_Olen_Butler
---
Selected Titles
A good scent from a strange mountain :
ISBN: 0802137989 OCLC: New York : H. Holt, New York : 1992. The Vietnam War continues to play itself out in fiction, autobiography, and history books, but no American author has captured the experiences of the Vietnamese themselves--and caught their voices--more tellingly than Robert Olen Butler, who won the Pulitzer Prize in 1993 for A Good Scent From a Strange Mountain. The 15 stories collected here, all written in the first person, blend Vietnamese folklore, the terrible, lingering memories of war, American pop culture and family drama.
A small hotel /
ISBN: 0802119875 OCLC: New York : Grove Press, New York : ©2011. A tale set in reverse chronicles the failing marriage of New Orleans residents Michael and Kelly Hayes, who, on the day their divorce becomes final, revisit their shared history to evaluate the insecurities and inabilities that have driven them apart.
Countrymen of bones
ISBN: 0099268523 OCLC: London : Vintage, London : 1998, ©1983.
Countrymen of bones /
ISBN: 0818006390 OCLC: New York : Horizon Press, New York : ©1983.
Fair warning :
ISBN: 0871138336 OCLC: At age forty, Amy is the company's star employee, capable of selling a Renoir painting of a pudgy nude for twice its value. Hers are the charms and talents of a sophisticated woman; intelligence, ambition, wit, and endless charisma. --Jacket.
From where you dream :
ISBN: 0802117953 OCLC: New York : Grove Press, New York : ©2005. Janet Burroway, author of Writing Fiction, the classic text on creative writing ... introduces her edited transcripts of Butler's thought-provoking lectures. From Where You Dream reimagines the process of writing as emotional rather than intellectual and tells writers how to achieve the dreamspace necessary for composing honest, inspired fiction. Proposing fiction as the exploration of the human condition with yearning as its compass, Butler reinterprets the traditional tools of the craft using the dynamics of desire. --Publisher's website.
Had a good time :
ISBN: 0802142044 OCLC: New York : Grove Press, New York : ©2004. A collection of short fiction inspired by postcards from a bygone era and their messages offers fifteen pieces, including Carl and I, The Ironworkers' Hayride, and The One in White.
Hell /
ISBN: 0802145094 OCLC: New York : Grove Press, New York : ©2009. Hatcher McCord is an evening newscaster who has found himself in Hell and is struggling to explain his bad fortune. He's far from the only one to suffer this fate--in fact, he's surrounded by an outrageous cast of characters, including William Shakespeare, Humphrey Bogart, Richard M. Nixon, Jezebel, Judas Iscariot, Pope Boniface VIII, J. Edgar Hoover, and a panoply of present-day figures who will soon be in Hell. The question may be not who is in Hell but who isn't. Butler's Hell isn't as much a boiling lake of fire--although there is that--as it is a Sisyphean trial tailored to each inhabitant. One day, Hatcher McCord meets Dante's Beatrice, who believes there is a way out of Hell. Soon thereafter, by a twist of diabolical fate and an interviewer's savvy, he learns a deep, dark secret of the underworld. From there Butler is off on a madcap romp about good, evil, free will, and the possibility of escape.--From publisher's description.
Intercourse :
ISBN: 0811863573 OCLC: A collection of short fiction by the Pulitzer Prize-winning author offers a revealing look at what goes through a person's mind during sex as he captures the innermost thoughts of such couples as Bonnie and Clyde, Adam and Eve, and Richard Milhous Nixon and Pat Nixon.
Late City
ISBN: 0802160328 OCLC: Grove Press 2022 A visionary and deeply moving novel centered around former newspaperman Sam Cunningham as he prepares to die, Late City covers much of the early twentieth century, unfurling as a conversation between the dying man and a surprising God. As the two review Sam's life, from his childhood in the American South and his time in the French trenches during World War I to a newspaper career in Chicago in the Roaring Twenties and the decades that follow, moments of history are brought sharply into focus. Sam grows up in Louisiana with a harsh father and escapes by enlisting in the army as a sniper. The hardness his father instilled in him helps him make it out of World War I alive, but we come to realize that it also prevents him from contending with the emotional wounds of war. Back in the U.S., Sam moves to Chicago and begins a career as a newspaperman, meets his wife, and has a son, whose fate counters Sam's at almost every turn. As he contemplates his relationships-with his parents, his brothers in arms, his wife, his editor, and most importantly, his son-Sam is amazed at what he still has left to learn about himself after all these years in this heart-rending novel from the Pulitzer Prize winner --
Mr. Spaceman :
ISBN: 0802137822 OCLC: New York : Grove Press, New York : 2000. A spaceman orbits the Earth, gently abducting people to study humanity, then erasing the event from their memories. Problems arise when he falls in love with a beautician from Alabama.
On distant ground
ISBN: 0749396393 OCLC: London : Minerva, London : 1995.
Paris in the Dark
ISBN: 0802128378 OCLC: Mysterious Press 2018 Autumn 1915. World War I is raging across Europe but Woodrow Wilson has kept Americans out of the trenches--though that hasn't stopped young men and women from crossing the Atlantic to volunteer at the front. Christopher Kit Cobb, a Chicago reporter with a second job as undercover agent for the U.S. government, is officially in Paris doing a story on American ambulance drivers, but his intelligence handler, James Polk Trask, soon broadens his mission. City-dwelling civilians are meeting death by dynamite in a new string of bombings, and the German-speaking Kit seems just the man to figure out who is behind them--possibly a German operative who has snuck in with the waves of refugees coming in from the provinces and across the border in Belgium. But there are elements in this pursuit that will test Kit Cobb, in all his roles, to the very limits of his principles, wits, and talents for survival.
Perfume river :
ISBN: 0802125751 OCLC: Robert Quinlan is a seventy-year-old historian teaching at Florida State University, where his wife Darla is also tenured. Their marriage, forged in the fervor of anti-Vietnam War protests, now bears the fractures of time, both personal and historical, with the couple trapped in an existence of morning coffee and solitary jogging and separate offices. For Robert and Darla, the cracks remain under the surface, whereas the divisions in Robert's own family are more apparent: he has almost no relationship with his brother Jimmy, who became estranged from the family as the Vietnam War intensified. Robert and Jimmy's father, a veteran of WWII, is coming to the end of his life, and aftershocks of war ripple across their lives once again when Jimmy refuses to appear at his father's bedside. And an unstable homeless man whom Robert at first takes to be a fellow Vietnam veteran turns out to have a deep impact not just on Robert, but on his entire family.
Severance :
ISBN: 0811856143 OCLC: San Francisco : Chronicle Books, San Francisco : ©2006. Pulitzer-winning Butler presents 62 stories, each exactly 240 words long, capturing the flow of thoughts and feelings that go through a person's mind after their head has been severed. The characters are both real and imagined, including Medusa and Anne Boleyn.
Sun dogs :
ISBN: 0805032010 OCLC: New York : H. Holt, New York : 1994.
Tabloid dreams :
ISBN: 0805055894 OCLC: New York : H. Holt & Co., New York : 1996. Twelve off-beat stories. In JFK Secretly Attends Jackie's Auction, President Kennedy, who survived the assassination and is a prisoner of the CIA, is allowed to attend an auction of his wife's property, while in Jealous Husband Returns in Form of Parrot, a husband reincarnated as a parrot tries to make amends to his wife who now owns him.
The alleys of Eden
ISBN: 0099437163 OCLC: London : Vintage, London : 2002.
The deep green sea :
ISBN: 0802120962 OCLC: [A] ... tale of modern love between a Vietnamese woman, orphaned in 1975 when Saigon fell to the Communists, and a Vietnam War veteran returning from America to seek closure for decades-old emotional wounds. The more they nurture the love between them, and the more they learn about each other, the more complex and dangerous their relationship becomes --Publisher's website
The deuce :
ISBN: 0805031979 OCLC: New York : Henry Holt and Company, New York : [1994], ©1989.
The empire of night /
ISBN: 0802123236 OCLC: 880707314 "In the thrilling third installment of the Christopher Marlowe Cobb series, Kit discovers a secret plan to transform Zeppelins into dangerous killing machines--and to turn the tide of war in Germany's favor"--
The hot country /
ISBN: 0802121543 OCLC: 864428252 Christopher Marlowe ("Kit") Cobb, an early 20th-century American war correspondent reporting on Mexico's civil war, witnesses the attempted assassination of a priest and the arrival of strange ships bearing German officials.
The star of Istanbul :
ISBN: 0802121578 OCLC: 862062826 Mysterious Press, New York : ©2013. Christopher Marlowe ("Kit") Cobb, an American war correspondent reporting on World War I, has been tasked to follow a man named Brauer, a German intellectual and possible covert SS agent, into perilous waters aboard the ship Lusitania, as the man is believed to hold information vital to the war effort. Aboard the Lusitania on its fateful voyage, Cobb becomes smitten with famed actress Selene Bourgani, who for some reason appears to be working with German Intelligence.
They whisper :
ISBN: 0805019855 OCLC: 29223826 H. Holt, New York : 1994. This may be the sexiest book you've ever read. It is also, at turns, among the funniest and the most harrowing and the most moving and the most lyrically beautiful of books. And it is also a book of uncompromising artistic integrity. They Whisper is an astonishingly rare thing in this sex-conscious age: a serious-work of literary art that directly and unflinchingly addresses the subject of modern heterosexuality.
Wabash :
ISBN: 0805032002 OCLC: 28927519 H. Holt and Co., New York : 1994.