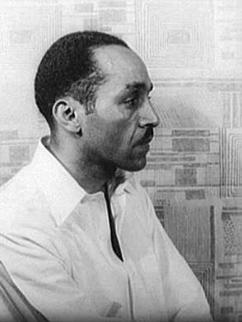 Willard Motley
Born:
July 14, 1909 in Chicago, Illinois
Died:
March 4, 1965 in Mexico City, Mexico
Pen Name:
Bud Billikin
Connection to Illinois
: Motley grew up in Chicago's Englewood neighborhood. After high school he left Chicago and returned in 1939.
Biography
: Willard Motley was an African-American writer. The Chicago Defender published some of Motley's fiction when he was only 13 years old, launching him on his career as a writer. He was soon writing a weekly column for young readers called 'Bud Says' under the pseudonym 'Bud Billikin'. After graduating from high school Motley traveled to New York, California and the western states, earning a living through various menial jobs, as well as by writing for the radio and newspapers. Returning to Chicago in 1939.He became associated with Hull House, and helped found the ''Hull House Magazine'', in which some of his fiction appeared. In 1940 he wrote for the ''Works Progress Administration Federal Writers Project'' along with Richard Wright and Nelson Algren. His first novel, ''Knock on Any Door'' appeared to critical acclaim in 1947. His third novel, ''Let No Man Write My Epitaph'' picks up the story of ''Knock on Any Door''. Columbia Pictures made it into a movie in 1960. The bulk of Motley's archive is held in Rare Books and Special Collections at Northern Illinois University.
---
Awards
:
-- Chicago Literary Hall of Fame, 2014
Primary Literary Genre(s):
Fiction
Primary Audience(s):
Adult readers
Willard Motley on WorldCat :
http://www.worldcat.org/search?q=willard++motley
---
Selected Titles
Knock on any door /
ISBN: 0875805434 OCLC: 18834494 Northern Illinois University Press, DeKalb, Ill. : 1989.
Let no man write my epitaph
ISBN: 0767822005 OCLC: 78285028 Columbia TriStar Home Video, Culver City, Calif. : ©1999. A drug-addled mother, Nellie Romano (Winters), herself the widow of a slain gangster, struggles to set her son, Nick (Darren), on the path to a better life. Nick takes on his toughest challenge when he enters into a dangerous battle with the neighborhood's most notorious drug dealer, Louie Ramponi (Montalban.) Set on the South side of Chicago, this gritty urban drama presents a portrait of good intentions amidst seemingly insurmountable obstacles.
Let noon be fair:
ISBN: 033002261X OCLC: 5819533 Pan Books Ltd. London, [1969, ©1966]
Vi stred i mørke.
ISBN: 8755706363 OCLC: 872299194 Fremad : 1975