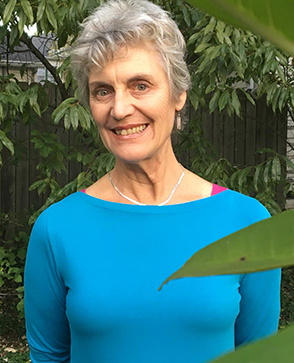 Patricia Hruby Powell
Born:
in Arlington Heights, Illinois
Pen Name:
None
Connection to Illinois
: Powell was born and raised in Arlington Heights. She currently resides in Champaign.
Biography
: Patricia Hruby Powell is an author, storyteller and dancer. She has graduated from London School of Contemporary Dance, University of Illinois – Urbana Champaign with a BFA in Dance, Temple University in Philadelphia with a MFA in Dance and the University of Illinois – Urbana Champaign with a MS in Library and Information Science. As a dancer/choreographer, Powell worked in London, Winnipeg, and New York City. She has also traveled over North and South America, Europe and the Caribbean with her own dance company ONE PLUS ONE. Powell uses her dance experience to accentuate her presentations and storytelling along with worldwide percussion instruments and animal sounds. She has also worked as a lithographer (printing from large stone slabs), trapeze artist, ballet teacher, modern dance teacher, composition teacher, mime and a substitute librarian. Her first book, ''Blossom Tales: Flower Stories of Many Folk'', is a beautifully illustrated collection of fourteen retold folktales from around the world, each one about a flower. Her books, ''Zinnia'' and ''Frog Brings Rain'', are bilingual Navajo/English picture books.
---
Awards
:
"""Frog Brings Rain"""
-- Spur Storyteller Finalist Award, 2007
-- Aesop Accolade Award, American Folklore Society, 2006
"""Zinnia"""
-- Land of Enchantment Book, 2006-07
"""Josephine"""
-- NPR Best Books of the Year List, 2014
-- Boston Globe Horn Book Nonfiction Honor, 2014
-- Parents Choice Gold Award for Poetry, 2014
-- International Bologna/Ragazzi Nonfiction Honor, 2014
-- Junior Library Guild Selection, 2014
-- Huffington Post Best Picture Book of the Year, Biography (artist), 2014
-- Wall Street Journal's 10 Best Children's Books of the Year List, 2014
-- Best Picture Books of 2014
"""Loving vs Virginia"""
-- Junior Library Guild Selection 2017
-- Winter Kids' Indie Next List Pick, Teen Readers
-- Arnold Adoff Poetry Award Honor
-- Audie Award for History/Biography 2018
-- 2018 CBC Notable Social Studies Trade Books for Young People
-- 2018 NCTE Notable Children's Books in Language Arts
-- 2018 International Literacy Association (ILA) Young Adult Choices
-- 2017 Kirkus Reviews Best Teen Romances of the Year
-- 2018 YALSA Best Fiction for Young Adults Nominee
-- 2018 Texas Tayshas Reading List Top Ten
-- 2018 Kansas NEA Reading Circle Catalog
-- Eureka Nonfiction Children's Book Awards 2017
-- Great Lakes Great Books Reading List 2018-19
-- 2017 Winter Okra Picks from Southern Independent Book Stores (SIBA)
-- Amazon Best YA Books of the Month, February 2017
-- 100 Best Children's Books for Black History Month
-- 10 new children's books for Black History Month
-- Alexander Prew Library Media Center Pick of the Week
-- 7 Books That Will Inspire You to #Resist
-- African American Literature Book Club Best Seller List
-- Top 10 Tuesday: Middle Grade Episodes of the All The Wonders Podcast
-- King County, Washington Best Teen Books of 2017
-- Nerdy Book Club Best Poetry and Novels-in-Verse List 2017
-- Buzzfeed Books to Read to Escape the Freeze
-- Capitol Choices 2018 – Category: 10-14
-- WSRA Just One More Page! 2018 Nominees – Category: YA
-- TeenReads List
-- Common Sense Media List
-- Barnes & Noble List
-- A Word Edgewise recommended middle grade books in verse List
-- Learning History Through Story List
-- A Mighty Girl List
-- 50 Must-Read Books For Sixth Graders – Bored Teachers List
-- 2019-2020 Virginia Readers' Choice Lists
-- Starred Review, Kirkus
-- Starred Review, Booklist
"""Struttin' with some Barbecue"""
-- 2020 Arnold Adoff Poetry Awards – Honor Award for Middle Readers
-- Winner of Society of Midland Authors Children's Nonfiction 2019
-- Junior Library Guild Selection 2019
-- The Children's Book Council: Best Middle-Grade of 2018 from Kirkus Reviews
-- SCBWI Recommended Reading List 2018
-- Betsy Bird's Best Nonfiction Chapter Books of 2018
-- 2018 Unique Biographies – Betsy Bird List
-- A Word Edgewise recommended middle grade books in verse List
-- The NCSS-CBC Notable Social Studies Trade Books for Young People 2019
-- Trio – collaboration of book, songwriter, artist List
Primary Literary Genre(s):
Fiction; History; Non-Fiction
Primary Audience(s):
Children; Young adult readers
Blog:
https://talesforallages.com/reviews-and-book-news/
Facebook:
https://www.facebook.com/patriciahruby.powell
LinkedIn:
https://www.linkedin.com/profile/view?id=74799769
Twitter:
https://twitter.com/rootatootoot
Website:
http://www.talesforallages.com
YouTube:
https://www.youtube.com/channel/UCmJg1kM89O5LF4OHPzig-Iw
---
Selected Titles
Blossom tales :
ISBN: 0967792983 OCLC: 47965386 Moon Mountain Pub., North Kingstown, R.I. : 2002. A collection of fourteen folk tales about flowers from many different cultures.
Frog Brings Rain
ISBN: 1893354083 OCLC: 58526343 Salina Bookshelf, Flagstaff, Ariz. : ©2006. As fire creeps toward the village of the First People, First Man and First Woman must find a way to quench the flames. First Woman asks the Bird People, the River People, and the Water People for assistance, but everyone she speaks to has an excuse. Not me, said Mockingbird. The smoke would hurt my voice and I would never sing again. Not me, said Snail. I carry my house with me and I am slow. No, said Beaver. We would like to help, but our river home would become a desert if we changed the flow of water. At last, First Woman asks the mysterious Frog for help. Will he be able to stop the flames before they reach the village? Author Patricia Hruby Powell's retelling of this Navajo folktale is as graceful as it is compelling, and as magical as the mythical time it describes. Enter the village of the First People and become a part of the time when the world was new.
Josephine :
ISBN: 9781452103143 OCLC: 808627968 A portrait of the passionate performer and civil rights advocate Josephine Baker, the woman who worked her way from the slums of St. Louis to the grandest stages in the world. Meticulously researched by both author and artist, Josephine's powerful story of struggle and triumph is an inspiration and a spectacle, just like the legend herself.
Lift as you climb :
ISBN: 1534406239 OCLC: 1007502075 "A picture book about the life of civil rights activist Ella Baker"--Provided by publisher.
Loving vs. Virginia :
ISBN: 1452125902 OCLC: 914256675 Written in blank verse, the story of Mildred Loving, an African American girl, and Richard Loving, a Caucasian boy, who challenge the Virginia law forbidding interracial marriages in the 1950s.
Struttin' with some barbecue :
ISBN: 9781580897402 OCLC: 993623869 This is the true story of Lil Hardin Armstrong: pianist, composer, and bandleader in the early days of jazz. Ahead of her time, Lil made a career for herself--and for Louis Armstrong, her modest, unassuming husband ... Scat-inspired verse celebrates how Lil overcame race and gender barriers to become the first lady of the Chicago jazz scene--Publisher marketing.
Zíiniyah :
ISBN: 1893354385 OCLC: 53130869 Salina Bookshelf, Flagstaff, Ariz. : ©2003. A retelling of the Indian legend which explains why the Navajo always plant a scattering of zinnia flowers among their food crops and respect every spider.