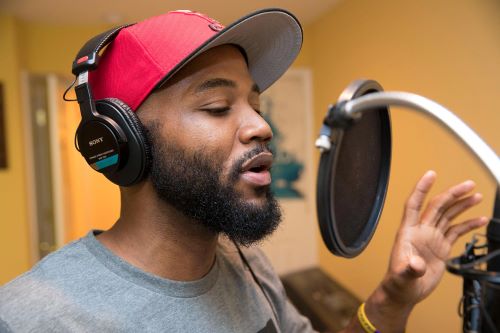 A.D. Carson
Born:
1979 in Decatur, Illinois
Pen Name:
None
Connection to Illinois
: Carson was born in Decatur and has lived all over the state from Joliet to Sandusky. He attended at least 10 different public schools from elementary through high school, ultimately graduating from Stephen Decatur High in 1997. He attended Eastern Illinois University in Charleston as a recipient of the Golden Apple Scholarship from 1997-1999, when he left to pursue a music career. In 2002 he enrolled at Millikin University, graduating in 2004. He taught at Springfield High School and served as a Writer-In-Residence for ''Quiddity International Literary Journal and National Public Radio Program'' at Benedictine University in Springfield.
Biography
: A.D. Carson is an educator, author, and performance artist. He received a B.A. in Education and Creative Writing from Millikin University and M.A. in English from the University of Illinois, Springfield. After releasing two albums independently and living out his rap dreams he chose education as a professional career. He has never lost his Hip-Hop ties, however, using his unique career path and avocations to engage students and audiences of all ages and disciplines. He continues bridging the gap between the music and literature through teaching, performing and conducting workshops. His first album, ''Writer's Block'', was released in 2000, followed by ''Aristotle XIV'' in 2002, ''White T-Shirt'' [EP] in 2004, ''Cold World Mix Tape Volume 1'' in 2010, ''Cold World Mix Tape Volume 2'' and ''Cold'' in 2011. The recipient of the Grace Patton Conant Award for Literary Creation, A.D. Carson's work has appeared in ''Collage'' and ''The Alchemist's Review'' and ''Quiddity International Literary Journal'' and Public-Radio Program. He has written hundreds of unpublished poems, stories, songs, and other tangentially related pieces, some of which he shares on his website, [http://AydeeTheGreat.com AydeeTheGreat.com]. His essay, ''Oedipus-Not-So-Complex: A Blueprint for Literary Education'', appears as a chapter in the critical reader, ''Jay-Z: Essays on Hip Hop's Philosopher King'' (McFarland Press, 2011).Currently, A.D. Carson is a PhD candidate at Clemson University studying rhetorics, communication and information design. He is getting a lot of buzz for his dissertation which is a 34-track hip hop album titled ''Owning My Masters: The Rhetorics of Rhymes and Revolutions.'' It explores everything from identity politics to citizenship. Carson states, 'The central thesis of my dissertation is: Are certain voices treated differently?" Carson said. "I'm trying to examine how an authentically identifiable black voice might be used or accepted as authentic, or ignored, or could answer academic questions and be considered rightly academic. So I have to present a voice rather than writing about a voice."
---
Awards
:
Grace Patton Conant Award for Literary Creation
Primary Literary Genre(s):
Fiction; Non-Fiction; Other ; Poetry
Email:
aydeethegreat@gmail.com
Twitter:
https://twitter.com/aydeethegreat?ref_src=twsrc%5Egoogle%7Ctwcamp%5Eserp%7Ctwgr%5Eauthor
Website:
http://aydeethegreat.com
A.D. Carson on WorldCat :
http://www.worldcat.org/search?q=a.d.++carson
---
Selected Titles
Cold :
ISBN: 1932278729 OCLC: 726821566 Mayhaven Pub., Mahomet, IL : 2011.
The city :
ISBN: 1932278915 OCLC: 828889144 Mayhaven Pub., Inc., Mahomet, IL : 2012.