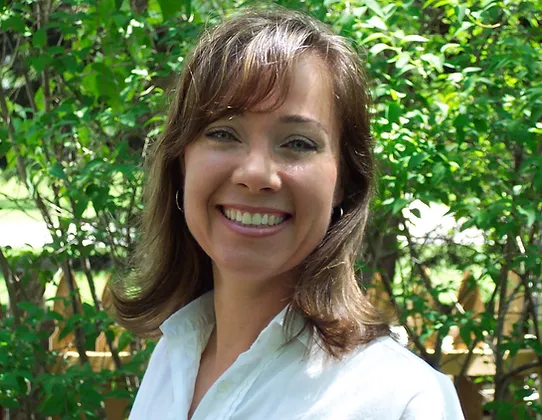 Suzanne Slade
Born:
1964 in Harvey, Illinois
Pen Name:
Suzanne Buckingham, Suzanne Buckingham Slade
Connection to Illinois
: Slade was born in Harvey and currently lives in Libertyville.
Biography
: Suzanne Slade is the author of more than 100 books for children. Her works include picture books, biographies, as well as many non-fiction titles about animals, sports, and nature. One of her favorite parts of the writing process is researching and learning new things.
---
Awards
:
Susan B. Anthony, Fighter for Freedom and Equality Recommended Titles List, Amelia Bloomer
What if There Were No Sea Otters? 2011 Silver Moonbeam Children's Book Award
From Seed to Apple Tree 2010 Blueberry Award Winner
The Great Divide Literary Classics Gold Award, 2012
Multiply on the Fly Eureka! Silver Honor Book, 2011; ILLINOIS READS Book Selection, Illinois Reading Council, 2014
What's New at the Zoo? Teachers' Choice Children's Book Award, 2011
Climbing Lincoln's Steps Paterson Prize for Books for Young People, 2011; CBC Notable Social Studies Trade Books For Young People, 2011; Scholastic School Book Fair Selection
The House That George Built Junior Library Guild Selection, 2012; Bank Street College of Education Best Book of the Year; Children's Book of the Month Selection; ILLINOIS READS Book Selection, Illinois Reading Council, 2016
A Computer Called Katherine Starred Review, Kirkus; Outstanding Science Trade Books, 2020; Best STEM Books list, NSTA, 2020
Daring Dozen Starred Review, Booklist; Youth Books List, PBS, 2019
Countdown: 2979 Days to the Moon Starred Review, Booklist, Publishers Weekly, School Library Journal; Outstanding Science Trade Books (K-12), 2019; Best STEM Books list, NSTA, 2019; Best Children's Books, Bank Street College of Education, 2019; Eureka Gold winner, California Reading Association; Junior Library Guild Selection, 2018; Best Children's Books List, Smithsonian Air & Space Magazine, 2018; Best of the Books, Chicago Public Library, 2018
Astronaut Annie Story Time From Space selection! April 26, 2019; Best Children's Books, Brightly, March 2018; Best Children's Picture Books of the Year, PBS, 2018
Dangerous Jane Best Books of the Year (STARRED, Ages 9-12), Bank Street College of Education, 2018; Notable Social Studies Trade Books for Young People, CBC, 2018; Best Informational Books for Younger Readers, Chicago Public Library, 2017; CBC "Book Power" Showcase; Books to Help Build Strong Girls, The Washington Post
Out of School and Into Nature: The Anna Comstock Story Outstanding Science Trade Books for Students List, 2018; Amelia Bloomer Recommended List, 2018; Green Earth Book Award Honor Winner, 2018; Sigurd F. Olson Nature Writing Award (SONWA), 2017; California Reading Assoc. Eureka! Silver Award, 2017
The Music in George's Head: George Gershwin Creates Rhapsody in Blue Junior Library Guild Selection; Booklist Editors' Top 10 Arts Books for Youth List; Eureka! Gold Award, California Reading Association; Notable Social Studies Trade Books for Young Readers, CBC; Parents' Choice Gold Award; Paterson Prize for Books for Young Readers (PreK-3rd), 2017; Best Books of the Year (Ages 5-9), Bank Street College of Education, 2017; Golden Kite Award for Picture Book Illustration, 2017; Starred Review, Kirkus, School Library Journal, Booklist, Publishers Weekly
The Inventor's Secret: What Thomas Edison Told Henry Ford Best STEM Books List, NSTA, 2017; Outstanding Science Trade Book, NSTA; ILLINOIS READS Book Selection, Illinois Reading Council, 2017; Notable Social Studies Trade Books for Young People, CBC, 2016; Ag in the Classroom Featured Book, 2017
The Soda Bottle School: A True Story of Recycling, Teamwork, and One Crazy Idea Multicultural Book List Selection, Reading is Fundamental (RIF); Eureka! Silver Award, California Reading Association; Green Prize, 2015; Recommended Book, BCCB
Friends for Freedom: The Story of Susan B. Anthony & Frederick Douglass Notable Social Studies Trade Books for Young Readers, CBC; Starred Review, Publishers Weekly; Amelia Bloomer Recommended Titles List; Black History Month Selection, Reading Rainbow;
June Almeida, Virus Detective! The Woman Who Discovered the First Human Coronavirus Illinois READS Book Selection, Illinois Reading Council, 2022
Exquisite, The Poetry and Life of Gwendolyn Brooks Robert F. Sibert Informational Honor Book, 2021; Coretta Scott King Book Award Illustrator Honor Book, 2021; Starred Review, School Library Journal, 2020; Starred Review, Horn Book Magazine, 2020; Illinois READS Book Selection, Illinois Reading Council, 2023
Primary Literary Genre(s):
Fiction; Non-Fiction
Primary Audience(s):
Children; Young adult readers
Blog:
https://picturebookbuilders.com/
Facebook:
https://www.facebook.com/suzanne.b.slade
Pinterest:
https://www.pinterest.com/suzannebslade/
Twitter:
https://twitter.com/AuthorSSlade
Web:
http://www.suzanneslade.com
---
Selected Titles
A Bill's Journey into Law (Follow It!)
ISBN: 9781404878174 OCLC: 785601208 Picture Window Books, Mankato, MN : ©2012. Follows a bill from the initial idea to its introduction to Congress to the President's approval.
A Computer Called Katherine: How Katherine Johnson Helped Put America on the Moon
ISBN: 0316435171 OCLC: NSTA Outstanding Science Trade Book, NSTA Best STEM Books list, Bank Street College Best Books of the Year list The inspiring true story of mathematician Katherine Johnson--made famous by the award-winning film Hidden Figures--who counted and computed her way to NASA and helped put a man on the moon! Katherine knew it was wrong that African Americans didn't have the same rights as others--as wrong as 5+5=12. She knew it was wrong that people thought women could only be teachers or nurses--as wrong as 10-5=3. And she proved everyone wrong by zooming ahead of her classmates, starting college at fifteen, and eventually joining NASA, where her calculations helped pioneer America's first manned flight into space, its first manned orbit of Earth, and the world's first trip to the moon! Award-winning author Suzanne Slade and debut artist Veronica Miller Jamison tell the story of a NASA "computer" in this smartly written, charmingly illustrated biography.
A Dollar Bill's Journey (Follow It!)
ISBN: 1404867090 OCLC: 655304122 Picture Window Books, Mankato, MN : ©2011. This book follows the journey of a dollar bill from the birth of a dollar bill at the Bureau of Printing and Engraving in Washington, D.C. to one of the Federal Reserve banks to commercial banks to people to a Federal Reserve bank for shredding to recycling into new products.
A look at Jupiter /
ISBN: 1404238298 OCLC: 84838832 PowerKids Press, New York : 2008. This book introduces Jupiter, the fifth planet from the sun, and explains that Jupiter is the biggest planet in our solar system.
A look at Neptune /
ISBN: 1404238328 OCLC: 86110108 PowerKids Press, New York : ©2008. An introduction to the physical features of the eighth planet from the sun.
A look at Saturn /
ISBN: 1404238301 OCLC: 85862152 PowerKids Press, New York : 2008. An introduction to the physical features of the second-largest planet in our solar system.
A look at Uranus /
ISBN: 140423831X OCLC: 85814198 PowerKids Press, New York, NY : 2008. This book introduces Uranus, the seventh planet from the sun, and explains that it has at least twenty-seven moons circling it.
A monarch butterfly's journey
ISBN: 9781404866553 OCLC: 707626612 Picture Window Books, Mankato, MN : ©2012. Explains the life cycle of the monarch butterfly from its time as a small egg to mating and laying its own eggs.
A Plastic Bottle's Journey (Follow It!)
ISBN: 1404867112 OCLC: 658200408 Picture Window Books, Mankato, MN : ©2011. Where did that plastic bottle in your hand come from? And where is it going next? A plastic bottle's journey is filled with bounces, bumps, and blasts. Pack your bags and get ready to follow it!
A Raindrop's Journey
ISBN: 9781404862661 OCLC: 658200414 Picture Window Books, Mankato, Minn. : ©2011. Where did that raindrop come from? And where is it going next? A raindrop's journey is filled with thrills, spills and chills. Pack your bags and get ready to follow it on its incredible journey!
Adopted: The Ultimate Teen Guide
ISBN: 0810885689 OCLC: 809365699 Scarecrow Press, Lanham : ©2013. The challenging teen years can be even more difficult for adopted teenagers, many of whom have unanswered questions that may result in fear, anger, and low self-esteem. These feelings may be compounded by the isolation they feel because most friends and family members cannot fully relate to their situation. Adopted: The Ultimate Teen Guide enables young adults to explore their feelings as they read about the personal experiences of other adopted teens. Through these stories, adopted teens can learn how others have resolved some of their adoption issues and gain powerful insights from those who have experienced some of the same frustrations, struggles, and concerns. This book addresses various issues such as: finding out you've been adopted fitting in searching for birth parents meeting birth parents international adoption transracial adoption what defines a family This revised edition also features discussion questions at the end of each chapter that help teens and loved ones acknowledge and verbalize their concerns. With up-to-date statistics, as well as insights from experienced adoption professionals who offer practical advice, this edition of Adopted: The Ultimate Teen Guide is a valuable resource for adopted teens as well as their families and friends.
Albert Einstein :
ISBN: 1404837302 OCLC: 82471795 Picture Window Books, Minneapolis, MN : ©2008. A biography of Albert Einstein, the brilliant physicist who changed the world's concepts of space, time, and energy.
Animals are sleeping /
ISBN: 1934359106 OCLC: 180882370 Sylvan Dell Publishing, Mount Pleasant, SC : ©2008. The rhyming text provides information on the sleeping habits of animals that live on land, in water, and fly through the air.
Ants (Under the Microscope: Backyard Bugs)
ISBN: 1404238239 OCLC: 82772665 PowerKids Press, New York : 2008. This book is a visually stunning and information-packed look at the ants that live right in the readers' backyard. Electron microscope technology opens up and magnifies the fascinating world of these insects for young explorers.
Astronaut Annie
ISBN: 0884485234 OCLC: Story Time From Space selection: Read by an astronaut on the Space Station!Annie's joyful exuberance and her family's whole-hearted support leave no doubt that her dream is within her grasp. This delightful story―with backmatter about women astronauts―encourages young readers to pursue their dreams and reach for the stars. Career Day is approaching, and Annie can't wait to show her family what she's planning to be when she grows up. But, she must keep it a secret until Friday! So curious family members each ask Annie for a clue. Convinced that she'll be a news reporter like he once was, Grandpop gives her his old camera for her presentation. Grandma is sure Annie wants to be a champion baker like her, so she offers a mixing bowl and oven mitts to Annie. Hopeful she'll become the mountain climber he aspired to be, Dad gives Annie an old backpack. Mom presents Annie with a pair of high-top sneakers to pursue Mom's favorite sport in high school -- basketball. Grateful for each gift, Annie cleverly finds a way to use them all to create her Career Day costume. When the big day arrives, Annie finally reveals her out-of-this-world dream to everyone.
Atoms and chemical reactions
ISBN: 1404223525 OCLC: 61704771 Rosen Pub. Group's PowerKids Press, New York : 2007. Examines chemical reactions, chemical equations, atoms and molecules.
Basketball :
ISBN: 9781429640213 OCLC: 427439453 Capstone Press, Mankato, Minn. : ©2010. Describes the science behind the sport of basketball, including offense, defense, arenas, and trick plays--Provided by publisher.
Bees /
ISBN: 1404238220 OCLC: 82772692 PowerKids Press, New York : 2008. Describes bees found in a backyard, how they work, eat, life cycle, and make honey.
Birds: Winged and Feathered Animals (Amazing Science: Animal Classification)
ISBN: 9781404855229 OCLC: 300982614 Picture Window Books, Minneapolis, Minn. : ©2010. What do a bird's bones look like? Can all birds fly? Soar through the pages of this book to learn all about birds!
Blast Off!: How Mary Sherman Morgan Fueled America into Space
ISBN: 1684372410 OCLC: Calkins Creek 2022 Chronicles the life of the first female rocket scientist who, chosen to create the fuel to launch a rocket carrying America's first satellite, broke gender barriers and overcame many challenges to succeed.
Booker T. Washington: Teacher, Speaker, and Leader (Biographies)
ISBN: 1404839771 OCLC: 165957019 Picture Window Books, Minneapolis : ©2008. Tells the story of Booker T. Washington's childhood following the end of slavery, his struggle to get an education, his journey at age sixteen to the Hampton Institute, and his lifelong interest in education for African Americans.
Butterflies /
ISBN: 1404238212 OCLC: 82772668 PowerKids Press, New York : 2008. Describes the physical characteristics of a butterfly, habitats, food, enemies, and more.
Cesar Chavez :
ISBN: 9781404837249 OCLC: 81252795 Picture Window Books, Minneapolis, Minn. : ©2008. A biography of the famous leader of the United Farm Workers.
Climbing Lincoln's steps :
ISBN: 0807512044 OCLC: 522429300 Albert Whitman, Chicago, Ill. : ©2010. "Climbing Lincoln's Steps" describes important moments of African- American history occurring at the Lincoln Memorial, including Dr. Martin Luther King's famous speech and a visit from the first African- American president and his family.
Cool physics activities for girls
ISBN: 9781429676755 OCLC: 730114008 Capstone Press, North Mankato, Minn. : ©2012. Provides step-by-step instructions for activities demonstrating physics concepts and scientific explanations of the concepts presented--Provided by publisher.
Countdown: 2979 Days to the Moon
ISBN: 1682630137 OCLC: Powerful free verse and stunning illustrations tell the true story of the American effort to land the first man on the Moon. In 1961, President John F. Kennedy announced that the United States would try to land a man on the Moon by the end of the decade. During the two thousand nine hundred and seventy-nine days following his speech, eighteen astronauts climbed into spaceships; three of them died before even leaving the ground. Eight rockets soared into space. And four hundred thousand people―engineers, technicians, scientists, mathematicians, and machinists―joined Project Apollo in hopes of making the dream a reality. Award-winning author and mechanical engineer Suzanne Slade joins up with New York Times best-selling illustrator Thomas Gonzalez to tell the powerful story of the successes, failures, triumphs, tragedies, and lessons from Apollos 1 through 10 that led to the first Moon landing.
Dangerous Jane
ISBN: 1561459135 OCLC: Jane's heart ached for the world, but what could she do to stop a war? This energetic and inspiring picture book biography of activist Jane Addams focuses on the peace work that won her the Nobel Peace Prize. From the time she was a child, Jane's heart ached for others. At first the focus of her efforts was on poverty, and lead to the creation of Hull House, the settlement house she built in Chicago. For twenty-five years, she'd helped people from different countries live in peace at Hull House. But when war broke out, Jane decided to take on the world and become a dangerous woman for the sake of peace. Suzanne Slade's powerful text written in free verse illuminates the life of this inspiring figure while Alice Ratterree's stunning illustrations bring Jane Addam's and her world to life.
Daring Dozen: The Twelve Who Walked on the Moon
ISBN: 1580897738 OCLC: A gorgeous introduction to the twelve brave men who have left footprints on the moon, just in time to celebrate the fiftieth anniversary of the first lunar landing. On July 20, 1969, Neil Armstrong took one small step and made history. Over the course of the next three-and-a-half years, twelve lunar explorers, including Alan Shepard and Gene Cernan, touched down on the moon's surface. Author and engineer Suzanne Slade reveals how the Apollo missions (1969-1972) built upon one another and led to important discoveries about our nearest neighbor in space. Back matter includes an afterword by Alan Bean (1932-2018), the fourth person to walk on the moon.
Dazzlin' Dolly: The Songwriting, Hit-Singing, Guitar-Picking Dolly Parton
ISBN: 1635928419 OCLC: Calkins Crekk 2022 The My Itty-Bitty Bio series are biographies for the earliest readers. This book examines the life of June Almeida, the scientist who discovered coronaviruses, in a simple, age-appropriate way that will help young readers develop word recognition and reading skills. Includes a table of contents, author biography, timeline, glossary, index, and other informative backmatter --
Do All Bugs Have Wings?: And Other Questions Kids Have About Bugs
ISBN: 1404857613 OCLC: Mankato, MN : Picture Window Books Mankato, MN : 2010 What's the most dangerous bug? Why do bees make honey? Can bugs talk? You've got questions about bugs, and Kids' Questions has answers!
Dr. Fauci: A Little Golden Book Biography
ISBN: 0593484061 OCLC: Golden Books 2022 Help your little one dream big with a Little Golden Book biography about Dr. Anthony Fauci! The perfect introduction to nonfiction for preschoolers! This Little Golden Book about Dr. Fauci--the chief medical advisor to many US presidents and America's doctor during the Covid-19 pandemic--is an inspiring read-aloud for young children.
Dragonflies /
ISBN: 1404238190 OCLC: 76064656 PowerKids Press, New York : 2008. This look at the dragonfly describes the traits and behavior of this common species.
Elements and the periodic table /
ISBN: 1404234187 OCLC: 62084315 Rosen Pub. Group's PowerKids Press, New York : ©2007. Examines elements that people have studied throughout history including the periodic table.
Elements in living organisms
ISBN: 1404234241 OCLC: 62381261 Rosen Pub. Group's PowerKids Press, New York : 2007. Examines a variety of elements in living organisms.
Exquisite :
ISBN: 1419734113 OCLC: 1035774238 Gwendolyn Brooks (1917–2000) is known for her poems about "real life." She wrote about love, loneliness, family, and poverty—showing readers how just about anything could become a beautiful poem. Exquisite follows Gwendolyn from early girlhood into her adult life, showcasing her desire to write poetry from a very young age. This picture-book biography explores the intersections of race, gender, and the ubiquitous poverty of the Great Depression—all with a lyrical touch worthy of the subject. Gwendolyn Brooks was the first Black person to win the Pulitzer Prize, receiving the award for poetry in 1950. And in 1958, she was named the poet laureate of Illinois. A bold artist who from a very young age dared to dream, Brooks will inspire young readers to create poetry from their own lives.
Feel the G's :
ISBN: 0756540526 OCLC: 245024725 Compass Point Books, Mankato, MN : ©2009. Explains the science behind G-forces using news stories and everyday applications.
Fencing for Fun! (For Fun!: Sports)
ISBN: 0756538661 OCLC: 196300574 Compass Point Books, Minneapolis, Minn. : ©2009. People have been sword fighting, or fencing, for thousands of years. Books and movies are full of sword-fighting heroes and now you can learn how a sword is handled, the different types of fencing weapons, and the equipment needed to protect a fencers body.
Fish :
ISBN: 1404855238 OCLC: 300982629 Picture Window Books, Minneapolis, Minn. : ©2010. Examines the physical characteristics that led to fish being scientifically classified as fish.
Frederick Douglass :
ISBN: 1404831029 OCLC: 71126774 Picture Window Books, Minneapolis, Minn. : ©2007. Highlights the life and accomplishments of the escaped slave who went on to fight for the abolition of slavery.
Friends for freedom :
ISBN: 1580895689 OCLC: 852681842 Discusses how a former slave and an outspoken woman, who came from two different worlds, shared deep-seated beliefs in equality and the need to fight for it.
From caterpillar to butterfly :
ISBN: 1404849165 OCLC: 192048223 Picture Window Books, Minneapolis, Minn. : ©2009. An introduction to the metamorphosis process.
From egg to snake :
ISBN: 1404851534 OCLC: 244661193 Picture Window Books, Minneapolis, Minn. : ©2009. An introduction to the development and growth of the green snake.
From pup to rat :
ISBN: 1404851569 OCLC: 245024110 Picture Window Books, Minneapolis, Minn. : ©2009. An introduction to the development and growth of the brown rat.
From puppy to dog :
ISBN: 1404849289 OCLC: 192045781 Picture Window Books, Minneapolis, Minn. : ©2009. Learn about the life cycle of a Golden retriever.
From seed to apple tree :
ISBN: 9781404851597 OCLC: 245023471 Picture Window Books, Minneapolis, Minn. : ©2009. An introduction to the growth and development of the apple.
From seed to pine tree :
ISBN: 1404851623 OCLC: 245023814 Picture Window Books, Minneapolis, Minn. : ©2009. An introduction to the development and growth of the pine tree.
From tadpole to frog :
ISBN: 140484922X OCLC: 192048220 Picture Window Books, Minneapolis, Minn. : ©2009. Hop through the pages of this book and discover the life cycle of a wood frog.
Grasshoppers
ISBN: 9781404238206 OCLC: 76074256 PowerKids Press, New York : 2008. Describes the physical characteristics of a grasshopper, habitats, food, and enemies.
How Do Tornadoes Form?: And Other Questions Kids Have About Weather
ISBN: 1404860487 OCLC: North Mankato, Minn. : Picture Window Books North Mankato, Minn. : 2010 What is the coldest place on Earth? How many kinds of clouds are there? Why do rainbows form? You've got questions about weather, and Kids' Questions has answers!
Insects :
ISBN: 1404855246 OCLC: 300983883 Picture Window Books, Minneapolis, Minn. : ©2010. What do insects eat? Do insects have bones? Buzz through the pages of this book to learn all about insects.
Jackie Robinson :
ISBN: 9781404839786 OCLC: 163813038 Picture Window Books, Minneapolis, MN : ©2008. Profiles Jackie Robinson and his contribution to baseball.
June Almeida
ISBN: 153418824X OCLC: Cherry Lake Publishing 2021 The My Itty-Bitty Bio series are biographies for the earliest readers. This book examines the life of June Almeida, the scientist who discovered coronaviruses, in a simple, age-appropriate way that will help young readers develop word recognition and reading skills. Includes a table of contents, author biography, timeline, glossary, index, and other informative backmatter --
June Almeida, virus detective! :
ISBN: 1534111328 OCLC: 1162765259 "Scientist June Almeida's skill in using the electron microscope helped identify viruses, and when she was 34 years old, she discovered the first human coronavirus"--
Ladybugs /
ISBN: 1404238182 OCLC: 76064657 PowerKids Press, New York : 2008. Describes the physical characteristics of a ladybug, habitat, food, enemies, and more.
Let's go camping
ISBN: 9781404236509 OCLC: 70131116 PowerKids Press, New York : 2007. This book describes camping, presenting information on plans and preparations, campsites, gear, tents, campfire cooking, and more.
Let's go canoeing and kayaking /
ISBN: 140423649X OCLC: 70230581 PowerKids Press, New York : 2007. This motivating book will inspire your students to head outdoors and experience the adventures of canoeing and kayaking.
Let's go fishing /
ISBN: 1404236473 OCLC: 70129126 PowerKids Press, New York : 2007. This book describes the sport of fishing, presenting information on fishing locations, fishing gear and supplies, bait and hook, casting, and more.
Let's go hiking
ISBN: 9781404236516 OCLC: 70208035 PowerKids Press, New York : 2007. This book describes hiking, presenting information on choosing a trail, hiking gear, backpacking, map reading, safety tips, and much more.
Let's go hunting
ISBN: 9781404236462 OCLC: 70129125 PowerKids Press, New York : 2007. An introduction to the history, techniques, and other facets of the sport of hunting.
Let's go snowboarding /
ISBN: 1404236481 OCLC: 70167601 PowerKids Press, New York : 2007. Describes the sport of snowboarding, from freeriding to Olympic competition, and explains basic equipment, techniques, and related topics.
Looking at atoms and molecules
ISBN: 1404234195 OCLC: 62430853 Rosen Pub. Group's PowerKids Press, New York : 2007. Examines atoms and molecules.
Mars is :
ISBN: 1682631885 OCLC: 1246302853 "For centuries, people have been intrigued by Mars, and over time, scientists have made exciting discoveries, such as the planet's Earth-like weather and seasons. But curious earthlings want to know more about the Red Planet. Does Mars have deserts? Volcanos? Or signs of life? Could people live there someday? Scientists decided to take a closer look. They built a powerful camera called the HiRISE (High Resolution Imaging Science Experiment) and loaded it onto a rocket. The rocket blasted off on August 12, 2005, and seven months later, the camera began orbiting Mars. It sent back surprising, revealing photos showing the world what Mars really is. Now, the world's space community and NASA have renewed their exploration efforts, and interest in the Red Planet is in high gear" --
Martha Washington: First Lady of the United States (Biographies)
ISBN: 1404837272 OCLC: 82673574 Picture Window Books, Minneapolis, MN : ©2008. Married to the first president of the United States, Martha Washington was a model of respect and grace. Find out how the brave girl from Virginia created high standards for other first ladies.
Meet the bearded dragon /
ISBN: 1404245006 OCLC: 191732410 Rosen Pub. Group's PowerKids Press, New York : ©2009. Learn about the appearance, habitat, mating, family life, behavior, and predators of the bearded dragon.
Meet the crocodile /
ISBN: 1404245049 OCLC: 212627301 PowerKids Press, New York : 2009. An introduction to the crocodile including its physical features, developmental stages, and behavior.
Meet the iguana /
ISBN: 1404244999 OCLC: 191258592 Rosen Pub. Group's PowerKids Press, New York : ©2009. An introduction to the iguana, including its physical features, developmental stages, and behavior.
Meet the peacock /
ISBN: 1404245030 OCLC: 212017138 PowerKids Press, New York : 2009. An introduction to the physical characteristics and behavior of the peacock, the male of which is called the peafowl.
Meet the ring-tailed lemur /
ISBN: 1404245014 OCLC: 196313564 Rosen Pub. Group's PowerKids Press, New York : ©2009. Photographs and simple text introduce readers to the habits and habitats of the ring-tailed lemur.
Multiply on the fly /
ISBN: 1607181282 OCLC: 723142953 Sylvan Dell Pub., Mt. Pleasant, SC : ©2011. Rhyming verse presents buggy word problems that can all be solved using multiplication.
Out of school and into nature :
ISBN: 9781585369867 OCLC: 951613749 A picture book biography about naturalist and artist Anna Comstock (1854-1930), who defied social conventions and pursued the study of science. She pioneered a movement to encourage schools to conduct science and nature classes for children outdoors, thereby increasing students' interest in nature--
Rock cycle.
ISBN: 1435826736 OCLC: 946257836 Rosen Pub Group, [Place of publication not identified] : 2009.
Sojourner Truth: Preacher for Freedom and Equality
ISBN: 1404837264 OCLC: Minneapolis, MN : Picture Window Books Minneapolis, MN : 2007 Sojourner Truth fought tirelessly for African American and women's rights. Find out how a young girl named Isabella rose from slavery, changed her name, and made her voice heard across the United States.
Splat!: Wile E. Coyote Experiments with States of Matter
ISBN: 1476542244 OCLC: Capstone Press 2014 Wile E. Coyote wants nothing more than to get hold of Road Runner. Watch as he uses liquids, solids, and gases in clever ways to catch that bird. Will the states of matter help him succeed? Or will his schemes dry up in the hot desert sun? Look inside to find out!
States of matter /
ISBN: 1404221638 OCLC: 61704801 Rosen Pub. Group's PowerKids Press, New York : 2007. Discusses the various states of matter.
Susan B. Anthony: Fighter for Freedom and Equalilty (Biographies)
ISBN: 1404831045 OCLC: 71126782 Picture Window Books, Minneapolis, Minn. : ©2007. An elementary biography of one of the first leaders of the campaign for women's rights who helped organize the women's suffrage movement.
Swish!: The Slam-Dunking, Alley-Ooping, High-Flying Harlem Globetrotters
ISBN: 9780316481670 OCLC: 1119062835 The true story of the high-flying Harlem Globetrotters -- the team that changed basketball forever. In this book you will find one-finger ball-spinning, rapid-fire mini-dribbling, and a ricochet head shot! You will find skilled athletes, expert players, and electrifying performers -- all rolled into one! You will find nonstop, give-it-all-you've-got, out-to-win-it, sky's-the-limit BASKETBALL! You will find The Harlem Globetrotters, who played the most groundbreaking, breathtaking ball the world had ever seen. With rhythmic writing and dynamic illustrations, Swish! is a celebration of the greatness, goodness, and grit of this remarkable team.
The carbon cycle
ISBN: 140423490X OCLC: 62593528 PowerKids Press, New York : 2007. Describes the jobs performed by carbon compounds and discusses the stops in its cycle throughout nature, including air, plants, and animals.
The four seasons
ISBN: 1404234896 OCLC: 62421215 Rosen Pub. Group's PowerKids Press, New York : 2007. Describes why seasons occur and signs, characteristics, living things, and events in each of the four seasons.
The great divide
ISBN: 9781607185390 OCLC: 752286928 Sylvan Dell Pub., Mt. Pleasant, SC : ©2012. Focuses on the mathematical skill of division, using different kinds of animal groups like bales (turtles), smacks (jellyfish), and mobs (wallabies).
The house that George built /
ISBN: 1580892620 OCLC: 733755513 Charlesbridge, Watertown, MA : ©2012. Shares the story of how George Washington had a home built for the future presidents.
The inventor's secret :
ISBN: 1580896677 OCLC: 877077570 Describes the friendship between the two inventors and how Thomas Edison's advice to the young Henry Ford inspired Ford to work on his automobiles until he came up with an inexpensive, reliable version which became the Model T.
The kids' guide to money in sports
ISBN: 9781476541549 OCLC: 856579573 Explores the role of money in sports, including scholarships, merchandise, endorsements, and sports agents.
The music in George's head :
ISBN: 9781629790992 OCLC: 936534472 With rhythmic swirls of words and pictures, Suzanne Slade and Stacy Innerst beautifully reveal just how brilliantly Gershwin reached inside his head to create his masterpiece, Rhapsody in Blue. It's a surprising and whirlwind composition of notes and sounds and one long wail of a clarinet-dazzling and daring, just like George Gershwin himself!--[from book jacket].
The New Kid Welcome
ISBN: 0593426320 OCLC: Rodale Kids 2022 Told from the perspective of a student, readers are presented with two versions of what happens when a new kid joins the protagonist's school.
The nitrogen cycle /
ISBN: 1404234918 OCLC: 62593526 PowerKids Press, New York : 2007. Describes the jobs performed by nitrogen and discusses the stops in its cycle throughout nature, such as air, plants, animals, and soil.
The phases of the moon /
ISBN: 1404234888 OCLC: 62085428 PowerKids Press, New York : 2007. Describes each of the moon's phases, explaining in text and diagrams why the moon appears as it does from Earth.
The rock cycle /
ISBN: 1404234934 OCLC: 64624953 PowerKids Press, New York : 2007. Readers discover how igneous, sedimentary, and metamorphic rocks live, die, and are reborn as part of the never-ending rock cycle.
The science of bicycle racing
ISBN: 9781476560571 OCLC: 852763628 Describes the science concepts involved in several types of bicycle racing--
The soda bottle school :
ISBN: 0884483711 OCLC: 864808545 In a Guatemalan village, students squished into their tiny schoolhouse, two grades to a classroom. The villagers had tried expanding the school, but the money ran out before the project was finished. No money meant no wall materials, and that meant no more room for the students. Until one boy got a wonderful, crazy idea: Why not use soda bottles, which were scattered all around, to form the cores of the walls?
The structure of atoms /
ISBN: 1404221611 OCLC: 61458284 PowerKids Press, New York : 2007. Learn what atoms are.
The Technology of Basketball
ISBN: 1620659085 OCLC: North Mankato, MN : Capstone Press North Mankato, MN : 2013 The game of basketball has come a long way from James Naismith's soccer ball and peach baskets. From high-tech shoes to an in-game player tracking system, technology has become a regular on the basketball court. Slam dunk your way to the latest advancements in The Technology of Basketball.
The universe and you /
ISBN: 1534111085 OCLC: 1231959752 "During the night, as a child sleeps in her bedroom, the reader is taken on an exploration of our solar system, galaxies beyond, and finally the universe as a whole"--
Water on the move
ISBN: 1404234926 OCLC: 62533916 PowerKids Press, New York : 2007. Describes each step of the water cycle, providing diagrams and discussing evaporation, condensation, the interaction of the cycle and living things, and other related topics.
What can we do about endangered animals?
ISBN: 9781404280809 OCLC: 270231780 PowerKids Press, New York : ©2010. Examines endangered species, the reasons they are under threat, and what is being done to protect plants and animals for the future.
What can we do about pollution?
ISBN: 9781404280830 OCLC: 289095950 PowerKids Press, New York : 2010. Provides information about pollution, discussing acid rain, hazardous waste, laws, and other related topics; and examines ways in which people can fight it.
What can we do about the energy crisis?
ISBN: 9781404280816 OCLC: 281091990 PowerKids Press, New York : 2010. Describes and explores issues related to energy, and how to develop cleaner, cheaper sources.
What do you know about animal adaptations?
ISBN: 9781404241992 OCLC: 165478599 PowerKids Press, New York : 2008. Explores twenty questions about animal adaptation, covering such topics as hibernation, camouflage, and habitats.
What do you know about food chains and food webs? /
ISBN: 1404242023 OCLC: 167507126 PowerKids Press, New York : 2008. Children's questions and answers highlight food chains, from how food chains start, to forming food webs and how people change food chains.
What do you know about fossils?
ISBN: 9781404241978 OCLC: 144330664 PowerKids Press, New York : 2008. This book answers questions about the special characteristics of different preserved animals and plants that lived long ago.
What do you know about life cycles? /
ISBN: 1404242015 OCLC: 166290663 PowerKids Press, New York : 2008. Explores twenty questions about life cycles, describing the development of insects, amphibians, birds, fish, and mammals.
What do you know about plant life? /
ISBN: 1404242007 OCLC: 164570926 Rosen Pub. Group / PowerKids Press, New York : 2008. Explores twenty questions about plant life, covering plant structure and growth, photosynthesis, jobs plants do, and other topics.
What do you know about world habitats? /
ISBN: 1404241981 OCLC: 156975323 PowerKids Press, New York : 2008. Explores twenty questions about habitats around the world, describing wetlands, grasslands, tundra, deserts, forests, and connections between habitats.
What eats what in a desert food chain? /
ISBN: 1404876901 OCLC: 773921228 Picture Window Books, North Mankato, MN : 2013. The Sonoran desert teems with life. From an Octillo plant to a Crested Caracara, the living things in this book are linked together in a food chain. Each one of them needs the others in order to live. Find out what eats what in the Sonoran Desert!
What eats what in an ocean food chain?
ISBN: 9781404873858 OCLC: 773921218 Picture Window Books, North Mankato, MN : 2013. The Great Barrier Reef teems with life. From algae to a grey reef shark, the animals in this book are linked together in a food chain. Each one of them needs the others in order to live. Find out what eats what in the ocean!
What if there were no bees? :
ISBN: 9781404860193 OCLC: 526809564 Picture Window Books, Mankato, MN : ©2011. Grassland ecosystems can be found on nearly every continent. Countless animals and plants live in them. So what difference could the loss of one animal species make? Follow the chain reaction, and discover how important bees are.
What if there were no gray wolves? :
ISBN: 1404863958 OCLC: 586123027 Discusses the temperate forest ecosystem and the role of the gray wolf in helping to maintain it, describing the wolf's place on the food chain and what would happen to the temperate forest if the gray wolf were to become extinct.
What if there were no lemmings? /
ISBN: 1404863966 OCLC: 648098627 The tundra ecosystem is vast, covering a large part of the far north. Countless animals and plants live there. So what difference could the loss of one animal species make? Follow the chain reaction, and discover how important lemmings are.
What if there were no sea otters? :
ISBN: 9781404860186 OCLC: 586123032 Picture Window Books, Mankato, MN : ©2011. Discusses the ocean ecosystem and the role of the sea otter as a keystone species in helping to maintain it, describing the otter's place on the food chain and what would happen if the sea otter were to become extinct.
What's new at the zoo? :
ISBN: 1607180383 OCLC: 314632762 "Travel through the zoo and learn about zoo animals through rhyme. Count up all of the animals you have seen. Includes section 'For Creative Minds' with cards and activities"--
What's the difference? :
ISBN: 9781607180708 OCLC: 465617956 Sylvan Dell Publishing, Mount Pleasant, S.C. : ©2010. Threatened and endangered animals are found all over the world, in all different types of habitats. Readers celebrate the huge difference that caring people make for these animals while practicing subtraction skills. Each animal is presented through a clever rhyming verse and subtraction problem. Includes For Creative Minds section.
Who Invented Basketball?: And Other Questions Kids Have About Sports
ISBN: 1404860495 OCLC: Minneapolis, Minn. : Picture Window Books Minneapolis, Minn. : 2010 How many players are on a football team? Why is a baseball white with red stitches? What are triathlons? You've got questions about sports, and Kids' Questions has answers!
Why Do Dogs Drool?: And Other Questions Kids Have About Dogs
ISBN: 1404857621 OCLC: Mankato, MN : Picture Window Books Mankato, MN : 2010 Why do dogs bark? Are they colorblind? How many teeth do they have? You've got questions about dogs, and Kids' Questions has answers!
With Books and Bricks: How Booker T. Washington Built a School
ISBN: 0807508977 OCLC: 871789483 "Booker T. Washington had an incredible passion for learning. Born a slave, he taught himself to read. When the Civil War ended, Booker finally fulfilled his dream of attending school. After graduation, he was invited to teach in Tuskegee, Alabama. Finding many eager students, but no school, Booker set out to build his own school--brick by brick"--
Zap!: Wile E. Coyote Experiments with Energy
ISBN: 1476552142 OCLC: 857405553 "Uses popular cartoon character Wile E. Coyote to demonstrate science concepts involved with energy"--Provided by publisher."--