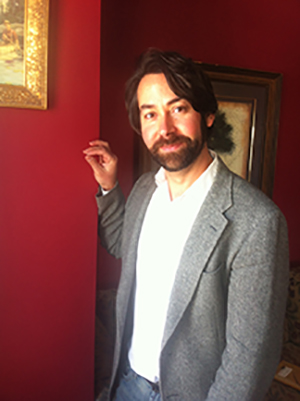 Zachary Michael Jack
Born:
Pen Name:
None
Connection to Illinois
: Jack is a Professor of English at North Central College in Naperville.
Biography
: ZACHARY MICHAEL JACK has published more than twenty-five award-winning books in a variety of genres, including fiction, poetry, literary journalism, creative nonfiction, and personal essay, and op-ed/commentary in addition to his work as an off-off Broadway and regional playwright. Jack's fiction has earned national runner-up honors in its class in the Foreword Reviews Book of the Year Award; his poetry has been awarded the Prentice Hall Prize, and his nonfiction has received nominations for the Pushcart Prize, the Theodore Saloutos Award, the William Hill Sports Book of the Year Award, the Herbert Warren Wind Award, and the Shambaugh Award, among others. The author and his work have been featured in USA Today, the Los Angeles Times, San Francisco Chronicle, and the Chicago Tribune. Jack's books have been favorably reviewed by the The New York Review of Books, Publisher's Weekly, Choice, Kirkus, Foreword Reviews, and other industry-shaping opinion-makers. His book March of the Suffragettes: Rosalie Gardiner Jones and the March for Voting Rights, was an American Booksellers Association (ABA) pick for its Best Books for Young Readers list of 2016.
---
Awards
:
"""Wish You Were Here"""
-- Nominee, Hamlin Garland Prize in Popular History
-- Jon Gjerde Book Prize """March of Suffragettes"""
-- Best Books for Young Readers, American Booksellers Association, 2016 """The Midwest Farmer's Daughter"""
-- Nominee,
Primary Literary Genre(s):
Fiction; Non-Fiction; Poetry
Primary Audience(s):
Adult readers; Young adult readers
E-Mail:
loveofiowa@live.com
Website:
http://www.zacharyjack.org
Zachary Michael Jack on WorldCat:
http://www.worldcat.org/search?q=zachary++michael++jack
---
Selected Titles
An Education in Place: On Higher Education, Home, and the Necessity of Local Learning
ISBN: 160797858X OCLC:
Black Earth And Ivory Tower: New American Essays From Farm And Classroom
ISBN: 157003611X OCLC:
Corn Poll: A Novel of the Iowa Caucuses
ISBN: 1888160896 OCLC: 922631141 Tall Corn Books, North Liberty, Iowa : ©2015.
Country Views: The Essential Agrarian Commentaries of Zachary Michael Jack
ISBN: 1948509164 OCLC:
Homer Croy Corn Country
ISBN: 1888160748 OCLC:
Inside the Ropes: Sportswriters Get Their Game On
ISBN: 0803259972 OCLC:
Iowa: The Definitive Collection
ISBN: 9781888160383 OCLC: 326878066 Tall Corn Books, North Liberty, Iowa : ©2009. Iowa, the Definitive Collection gathers for student, teacher, researcher, and leisure reader alike a rich harvest of Iowa lore as told by a bevy of its most famous and forgotten voices Iowa history as made and told by Iowans, for Iowans. Totaling over 500 browsable pages and nearly 100 highly readable, classic and contemporary selections, this mammoth compendium of Iowa history, literature, and lore captures the Hawkeye State more diversely and more comprehensively than ever before. Here is a book a big book of Iowa readings of every conceivable kind (campaign platforms, creeds, diaries, editorials, ethnographic studies, fictions, government documents, history, humor, journalism, legal opinions, letters, memoirs, pamphlets, speeches, travel narratives, and more) and of every historical vintage (from Black Hawk s lament on being ordered to move west to Iowa in 1831 to Iowa writer-anthropologist Robert Leonard s freshly-penned roll call of the many different Iowans he has known). Between these covers, world-famous sons and daughters of Iowa, including Carrie Chapman Catt, Bob Feller, Susan Glaspell, Herbert Hoover, Ted Kooser, Aldo Leopold, Glenn Miller, Wallace Stegner, Henry Wallace, Grant Wood, and many others join a chorus of forgotten or neglected native greats to tell the story of their home state as only Iowans can tell it. Perfect fodder for Iowa history and literature classes, book clubs, civic organizations, museums, libraries, and visitor centers across the Land Between Two Rivers, Iowa, the Definitive Collection offers a first-of-its-kind, popular documentary history suitable for singing loudly, proudly, and circumspectly across the State, and across generations.
Let there be Pebble :
ISBN: 9780803233577 OCLC: 742513586 University of Nebraska Press, Lincoln : ©2011. Up close look at Pebble Beach Golf Links/Carmel, CA in the year leading up to the 2010 U.S. Open.
Letters To A Young Iowan: Good Sense From The Good Folks of Iowa For Young People Everywhere
ISBN: 1888160217 OCLC:
Love of the Land: Essential Farm and Conservation Readings from an American Golden Age, 1880-1920
ISBN: 1934043338 OCLC:
March of the suffragettes :
ISBN: 1936976803 OCLC: 932576375 Shares the story of how "General" Rosalie Gardner Jones marched an army of women nearly one hundred seventy-five miles to win support for voting rights for women.
Native Soulmate: A Season in Search of a Love Homegrown
ISBN: 9781888160567 OCLC: 713186021 Tall Corn Books, North Liberty, Iowa : ©2011. Love Fresh. Love Local. What happened during the author?s search for a bride this past year (What Cheer:A Love Story)? At the height of summer, seventh-generation Iowan Zachary Michael Jack embarks on an unforgettable journey to test what he calls the Beach Boys hypothesis:?What if we really do live in a world where native boy meets native girl?What if the cutest boys and girls in the world really are those right under our nose?? So begins a Cinderella season in search of a love homegrown in the Heartland. Jack delivers speeches in farflung farm burgs and readings in well-to-do college towns while setting up listening posts in public libraries and chautaquas in 4-H cattle barns. One part travelogue and two parts love story, Native Soulmate offers not just an account of a magical quest and its unlikely settings, but a moving argument for why voting with your feet and leading with your heart really do matter. Much more than a look into marriage, brain drain, or dating. An honest, caring, and heart-felt look at our Midwestern world of agriculture, community, family, and love. --from author's website.
Participatory Sportswriting: An Anthology, 1870–1937
ISBN: 078643953X OCLC:
Perfectly Against the Sun
ISBN: 0977721701 OCLC: 85368056 Smithtown Press, West Plains, MO : ©2006.
Pond Ball Clintock and the Gods of Golf: A Novel for True Believers
ISBN: 9781888160703 OCLC: 840460952
Student Body: A Benefit Mystery Novella
ISBN: 0595412696 OCLC:
The Furrow And Us
ISBN: 076183317X OCLC:
The Green Roosevelt: Theodore Roosevelt in Appreciation of Wilderness, Wildlife, and Wild Places
ISBN: 1604976934 OCLC:
The Inanity of Music and Wings
ISBN: 1595409610 OCLC: 74663271 New Buffalo Press ; St. Charles, Ill. : 2005.
The Links of Evalon
ISBN: 9780984508303 OCLC: 649720230 Sportswriters Collaborative, Chicago : 2010.
The Midwest Farmer's Daughter: In Search of an American Icon
ISBN: 1612492193 OCLC: 821726186 Purdue University Press, West Lafayette, Ind. : ©2012. From yesterday's gingham girls to today's Farmer Janes, The Midwest Farmer's Daughter unearths the untold history and renewed cultural currency of an American icon at a time when fully 30 percent of new farms in the US are woman-owned. From farm women bloggers, to back-to-the-land homesteaders and seed-savers, to rural graphic novelists and, ultimately, to the seven generations of farm daughters who have animated his own family since before the Civil War, the author travels across the region to shine new documentary light on this seedbed for American virtue, energy, and ingenuity. Packed with many memorable interviews, print artifacts, and historic images, this groundbreaking documentary history describes the centuries-long reiteration and reinterpretation of agrarian daughters in the field, over the airwaves, on the printed page, and in the court of public opinion. Offering a sweeping cultural and social history, it ranges widely and well from Jane Smiley's Pulitzer Prize-winning A Thousand Acres to Laura Ingalls Wilder's proto-feminist commentaries for the Missouri Ruralist; from the critical importance of rural girls and young women to time-honored organizations such as the Farm Bureau, 4-H, and FFA to the entrepreneurial role today's female agriculturalists and sustainable farm advocates play in farmers' markets, urban farms, and community-supported agriculture. For all those whose lives have been graced by the enduring strength of this regional and national touchstone, The Midwest Farmer's Daughter offers a one-of-a-kind scholarly examination and contemporary appreciation.
The Plowman sings : The essential fiction, poetry, and drama of America's forgotten regionalist Jay G. Sigmund
ISBN: 0761842829 OCLC:
Uncle Henry Wallace: Letters to Farm Families
ISBN: 1557534934 OCLC:
What Cheer :
ISBN: 188816042X OCLC: 642848829 Tall Corn Books, North Liberty, Iowa : ©2010. "Here's a comedy of errors featuring three not-yet-over-the-hill friends, a series of dreamy love letters, and a mysterious list of warm, nearly-gone touchstones that inspire a rollicking ride through the Heartland."--Page 4 of cover.
Wish you were here :
ISBN: 9781612481715 OCLC: 959080960 Wish You Were Here offers a clear-eyed yet tender look at life in the modern Midwest from the perspective of a seventh-generation ruralite. Championing the romance of wide-open spaces in a rapidly urbanizing world, Zachary Michael Jack challenges the stereotypes of rural and small-town midwestern life in a well-grounded and deeply felt counter-narrative of love and longing sustained in communities where young and old alike plant roots.