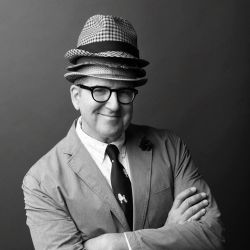 David Lee Csicsko
Born:
Pen Name:
None
Connection to Illinois
: Csicsko lives in Chicago.
Biography
: David Lee Csicsko is an internationally recognized and celebrated designer and artist currently living and working in Chicago, Illinois. During his 30 year career, David has engaged in a wide variety of projects at nearly every scale; from small privately commissioned prints to to his more recent explorations of the possibilities inherent in working with stained glass and mosaics at large scales. These monumental projects have included work for hospitals, universities, elementary schools, churches, and various private homes. Csicsko has created graphic designs for the Chicago Public Library; the Museum of Science and Industry's exhibition, "History of the Video Games;" "Behind the Lions", a children's book for the Art Institute; "The Skin You Live In", a children's book for the Chicago Children's Museum written by Chicago author, Michael Tyler; and even the posters for the Gay Games. While David's aesthetic and striking use of color and pattern is distinctive, each project he engages in is entirely unique. Through his work, David celebrates the diversity and richness of the human imagination and expresses the joys of life through his dynamic use of color, bold graphics and playful patterns. As an artist Csicsko draws upon various sources of inspiration, looking to nature, human diversity, community, and even needlepoint patterning. As a result, the crisp, graphic results are uniquely his own. Csicsko is perhaps best known for his highly visible, joyful and large-scale mosaic projects that beautify Chicago. His larger projects have included work for public spaces throughout the city. His tile and glass mosaics have vitalized and beautified the Belmont Red-Line CTA station. Other mosaic projects include Margaret Donahue Park, St. Columbanus church, and the Loyola School of Nursing. His stained-glass mosaics adorn the hospital chapel at the Ann & Robert H. Lurie Children's Hospital of Chicago and St Benedict the African Church. In 2012, Csicsko was honored with designing the holiday displays at the White House. Despite the attention from enormous projects such as these, Csicsko has also found the time to design a series of volunteer t-shirts for the Groceryland food pantry. Through his use of color, bold graphics and playful patterns, David Lee Csicsko celebrates the richness and diversity of life. His vision and art have beautified and enhanced our world. Csicsko was inducted into The Chicago LGBT Hall of Fame in 2016.
---
Awards
:
Primary Literary Genre(s):
Illustrator
Primary Audience(s):
Children
E-Mail:
david@csicsko.com
Web:
http://csicsko.com/
YouTube:
https://www.youtube.com/watch?v=qWOy4hJmdU8
---
Selected Titles
Behind the Lions
ISBN: 0865591563 OCLC: 37457919 The Institute, [Chicago, Ill.] : ©1998. A family guidebook to the Art Institute of Chicago and the art displayed there, presenting entries on over sixty works from all areas of the museum's collections.
Fashion Icons: A Celebration of Fashion's Legendary Designers
ISBN: 1951963156 OCLC: [S.l.] : Trope Publishing Co. [S.l.] : 2023 Fashion Icons celebrates the origins and contributions of some of the world's most remarkable and gifted fashion designers throughout history Bold, whimsical illustrations by David Lee Csicsko along with concise, engaging bios written by Gillion Carrara celebrate a diverse group of designers. From Paul Piorret, the visionary who shunned the corset, to Elsa Schiaparelli, who shocked the world with her "shoe hat", to Comme des Garcon's Rei Kawakubo, Fashion Icons celebrates 50 fashion designers who have influenced historical trends, how we dress today, and what the future of fashion will look like.Featured designers include: Jeanne-Marie Lanvin, Madeleine Vionnet, Paul Poiret, Coco Chanel, Elsa Schiaparelli, Cristobal Balenciaga, Ann Lowe, Christian Dior, Pierre Cardin, Hubert de Givenchy, Sonia Rykiel, Halston, Valentino Garavani, Karl Lagerfeld, Giorgio Armani, Azzedine Alaia, Yves Saint-Laurent, Issey Miyake, Vivienne Westwood, Rei Kawakubo, Stephen Burrows, Yohji Yamamoto, Gianni Versace, Miuccia Prada, Franco Moschino, Jean Paul Gaultier, Martin Margiela, Dries Van Noten, Domenico Dolce & Stefano Gabbana, Ann Demeulemeester, Isabel & Ruben Toledo, John Galliano, Junya Watanabe, Alber Elbaz, Tom Ford, Rick Owens, Marc Jacobs, Thom Browne, Duro Olowu, Hedi Slimane, Alexander McQueen, Viktor Horsting & Rolf Snoeren, Nicolas Ghesquiere, Stella McCartney, Rabih Kayrouz, Phoebe Philo, Kate & Laura Mulleavy, Virgil Abloh, Simone Rocha, and Kerby Jean-Raymond
Iconic Composers: A Celebration of Music's Extraordinary Composers
ISBN: 1951963148 OCLC: [S.l.] : Trope Publishing Co. [S.l.] : 2023 Iconic Composers highlights the origin and contributions of some of the world's most remarkable and gifted composers throughout history. Bold, whimsical illustrations by David Lee Csicsko along with concise, engaging bios by Nicholas Csicsko and Emi Ferguson celebrate a diverse group of composers from the past 1000 years. Iconic Composers features historical giants of music like Johann Sebastian Bach and Ludwig van Beethoven alongside 20th-century composers such as Astor Piazzolla and Meredith Monk. Showcasing the true range of classical music history not typically acknowledged – exhibiting a wide number of genders, races, and nationalities – Iconic Composers celebrates 50 composers who have influenced the field of music and collectively broadened its scope.
LGBTQ+ Icons: A Celebration of Historical LGBTQ+ Icons in the Arts
ISBN: 1951963113 OCLC: Trope Publishing Co. 2022 From music to movies, literature to dance – the arts have always been influenced by the work of LGBTQ people. LGBTQ+ Icons spotlights the history and contributions of 50 pioneering artists who lived and worked around the world.Bold, whimsical illustrations by David Lee Csicsko (The Skin You Live In) and concise bios from historian Owen Keehnen celebrate a diverse group of artists, from LGBTQ icons James Baldwin, Frida Kahlo, and Freddie Mercury to lesser-known colorful characters like vaudeville performer Ada "Bricktop" Smith, the toast of 1920s Paris café society who opened a queer-friendly club where all were welcomed, and Australian dandy Leigh Bowery, whose unapologetic flamboyance influenced an entire generation of fashion designers.LGBTQ+ Icons is an entertaining exploration of a part of history most people don't know is even missing. It will inspire readers young and old to be confident in who they are, and to take pride in their own creativity. Produced with premium materials, this book is a must-read for Pride month and a perfect collectible year-round!
Magic Bird, Silly Fish
ISBN: 9780692481646 OCLC: 929682305 Magic Bird, Silly Fish is set in a land far away. The Magic Bird changes colors as the antics of three silly fish unfold in their sparkling lake of blue. Though written to delight a child, Magic Bird, Silly Fish contains a deeper message that will not be lost on adults.
Science People: A Celebration of Our Diverse People of Science
ISBN: 1951963075 OCLC: Trope Publishing Co. 2022 Science People celebrates the diversity of the scientific community around the world. Meet more than 50 trailblazers in botany, biology, physics, engineering, mathematics, and a host of other STEM fields.Bold, whimsical illustrations by David Lee Csicsko (The Skin You Live In) along with concise, engaging bios celebrate a diverse group of scientists, from around the world and all eras of history. Classic figures like Galileo and Marie Curie are included alongside scientists and activists working in the field right now – like geneticists (and Nobel Prize winners) Jennifer Doudna and Emmanuelle Charpentier, or Phillip Alviola, a bat virologist from the Philippines on the cutting edge of coronavirus research.From astronomers to zoologists, Science People highlights explorers in a wide range of fields – representing a multicultural mix of genders, races, and nationalities, in walks of life – showing that science is for everyone. It will inspire readers young and old to ask their own questions about the world around them.
The Skin You Live In
ISBN: 0975958003 OCLC: 58752224 With the ease and simplicity of a nursery rhyme, this lively story delivers an important message of social acceptance to young readers. Themes associated with child development and social harmony, such as friendship, acceptance, self-esteem, and diversity are promoted in simple and straightforward prose. Vivid illustrations of children's activities for all cultures, such as swimming in the ocean, hugging, catching butterflies, and eating birthday cake are also provided. This delightful picturebook offers a wonderful venue through which parents and teachers can discuss important social concepts with their children.