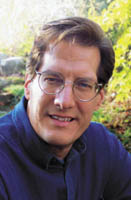 Jeff Weigel
Born:
1958 in Freeport, Illinois
Pen Name:
None
Connection to Illinois
: Weigel lives in Belleville.
Biography
: Jeff Weigel has been a graphic designer for many years. His career began at Warner Books and Warner Publisher Services in New York City, designing promotional materials for books and magazines as diverse as ''Mad'' and ''Playboy'', novelizations of major motion pictures and national best sellers. For over ten years, he contributed as both a writer and an artist to ''Big Bang Comics'' published by Image Comics. Weigel also wrote and illustrated ''Stop Math'', an interactive storybook app for iPad. With exciting, engaging artwork, lively narration from a kid's point of view, and playful, interactive animation. ''Stop Math'' introduces kids to concepts like Arabic numbers, Roman numerals, relativity theory and gravitational attraction—all explained with fun and easy-to-understand interactive diagrams. Young readers also use simple math themselves, helping the characters navigate their trip through time with the amazing Chronoport Calculator. A designer and creative director in St. Louis, Missouri for more than 20 years, Weigle worked on a wide variety of design projects such as product packaging, annual reports, national and local print advertising, and corporate identity. Jeff is now a freelance designer and illustrator. His work has earned him many awards over the years.
---
Awards
:
Primary Literary Genre(s):
Fiction; Illustrator
Primary Audience(s):
Children
Facebook:
https://www.facebook.com/jeff.weigel.12
Twitter:
https://twitter.com/jeffweigelart
Website:
http://www.jeffweigel.com
---
Selected Titles
Atomic Ace
ISBN: 1435264711 OCLC: 226355086 Paw Prints 2008.
Atomic Ace and the robot rampage /
ISBN: 080750484X OCLC: 63679909 Albert Whitman and Company, Morton Grove, Ill. : ©2006. As the son of superhero Atomic Ace, a boy is eager for adventures of his own until a horde of robots descends upon his school and he learns that his powers are not yet strong enough to save even himself.
Every zombie eats somebody sometime :
ISBN: 0062011820 OCLC: 643082041 Harper, New York : ©2010. "From the author of It's Beginning to Look a Lot Like Zombies! comes a collection of classic love songs, zombie style"--
It's beginning to look a lot like zombies! :
ISBN: 9780061956430 OCLC: 351316424 Harper, New York : 2009. ... In celebration of this merry macabre season, we present a peerless compendium of more than two dozen of the most soul-stirring, brain-boiling carols composed specifically for the decomposing. Holiday favorites such as 'I saw mommy chewing santa claus, ' 'Deck the halls with parts of wally' and 'We three spleens' are guaranteed to lift the spirits of the lumbering, shuffling undead and their temporarily still breathing meals-to-be ...--Back cover.
Jack and Jill went up to kill :
ISBN: 9780062083609 OCLC: 773581441 Harper, New York : ©2011. Mother Goose is doing the undead shuffle! Every kiddie loves nursery rhymes'even the little ones in advanced state of decay who enjoy chowing down on human viscera. Now the twisted madmen who brought you
Jazzy's quest :
ISBN: 9780996720748 OCLC: 965550081 What matters most to you? That's what Jazzy and her new friend Michael need to figure out when faced with some tough decisions. Is what matters most being at the coolest birthday party in town? Is it competing in an amazing Star Wars contest? Or is it helping a friend in need? Join Jazzy on her quest to discover what matters most -- Page [4] cover.
Quantum mechanics /
ISBN: 1941302661 OCLC: 1057446967 Two young alien girls, Rox and Zam, spend their days repairing clunkers in a spaceship junkyard on a faraway asteroid when the captain of a mysterious ship enlists them for repair work but they are soon kidnapped by a band of space pirates.
SMASH! /
ISBN: 1512430706 OCLC: 981123010 "Nick and Sophie, two cousins from the United States, visit the European Organization for Nuclear Research and learn about the Large Hadron Collider. Throughout their tour, they chat about the mysteries of particle physics and the building blocks of matter"--
The monster alphabet
ISBN: 9780843169843 OCLC: 758098608 Price Stern Sloan, New York : 2012. Illustrations and rhyming text introduce the alphabet, from the Abominable Snowman to Zombies.
The secret valley /
ISBN: 1449441831 OCLC: 862589576 Eleven-year-old Alanna and her older brother Hamel are orphans and doing their best to take care of each other until one day Alanna stumbles upon a cave full of dragon eggs. When the eggs hatch with no mother dragon in sight, Alanna decides to take care of the babies herself, even creating a clever costume so that the babies think she, too, is a dragon. With their large appetites and accidental fire burps, Alanna learns that dragon babies are hard work! And when a mama dragon finally comes to claim the babies, Alanna's costume is so convincing that she is swept along for the ride as they journey to Dragon Rock, a mysterious magnetic force that draws dragons of all shapes and sizes to a magical, untouched valley.
The Sphinx
ISBN: 9781490316826 OCLC: 1085908576 Who is The Sphinx? Adventurer? Entrepreneur? Mankind's Saviour? That's been the question on everyone's mind since Peter Chefren appeared out of nowhere and saved countless lives with his daring spirit and almost magical technology... But who exactly is the mysterious SPHINX?
Thunder from the sea :
ISBN: 0399250891 OCLC: 457151672 G.P. Putnam's Sons, New York, NY : ©2010. Jack Hoyton is only twelve years old in 1805 when he enlists in the Royal Navy and is assigned to the HMS Defender. He learns about discipline and danger, and when the ship is betrayed by a spy, it is up to Jack to let the crew know that the Defender is headed into a trap! This graphic novel has sidebars on most pages, explaining historical aspects of the story.