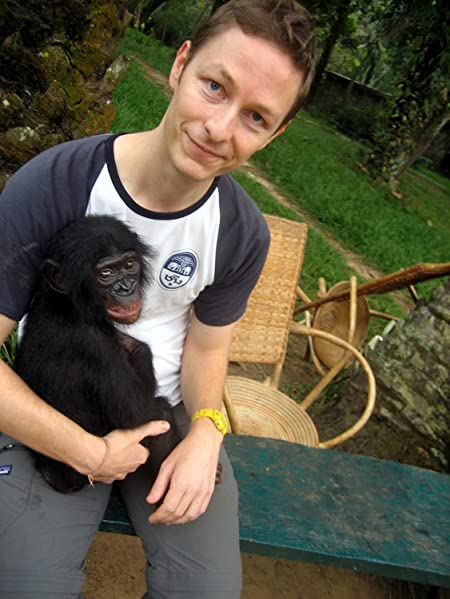 Eliot Schrefer
Born:
1978 in Chicago, Illinois
Pen Name:
E. Archer
Connection to Illinois
: Schrefer was born in Chicago.
Biography
: Eliot Schrefer was born in Chicago and spent his childhood in Illinois, Connecticut, Maryland, and Florida. Now, he is a resident of New York City and an honors graduate of Harvard College. A contributor to The Huffington Post and a reviewer for USAToday, Eliot has been profiled in Newsweek, New York Magazine, the New York Post, WWD, and NPR's "Leonard Lopate Show." His first novel, Glamorous Disasters, became an international bestseller. He has since been writing for young adults. His books have been translated into Russian, Polish, Romanian, and German.
---
Awards
:
The Darkness Outside of Us Starred Review, Booklist, Stonewall Honor Award Winner, Chicago Public Library's Best of the Best Books of the Year, A Booklist Editor's Choice of the Year, A BCCB Blue Ribbon Book of the Year, YALSA's 2022 Best Fiction for Yo
Queer Ducks Michael L. Printz Honor; Starred Reviews, Publishers Weekly, BookPage, Booklist and BCCB
Spirit Animals Series New York Times Bestsellers, A USAToday Bestseller, Sold in over 20 languages!
The Lost Rainforest: Mez's Magic Starred Review, Kirkus
The Lost Rainforset: Rumi's Riddle Starred Review, Kirkus
Orphaned Starred Review, School Library Journal
Rescued Starred Reviews, School Library Journal and Publishers Weekly, A Junior Library Guild Selection
Threatened National Book Award Finalist, Starred Reviews, Kirkus and Publishers Weekly
Endangered Finalist for the National Book Award in Young People's Literature, 2012 , NPR "Best Books 2012: 5 Young Adult Novels That You'll Never Outgrow", ALA Best Fiction for Young Adults, 2013, Finalist for the Cybils award for young adult lite
Geek Starred Review, BCCB
The Deadly Sister Starred Review, School Library Journal
The School for Dangerous Girls A New York Public Library 'Best of the Teen Age.'
Primary Literary Genre(s):
Fiction; Non-Fiction
Primary Audience(s):
Young adult readers
Blog:
http://www.eliotschrefer.com/tumblr-feed
Facebook:
https://www.facebook.com/schrefer
Twitter:
https://twitter.com/EliotSchrefer
Web:
http://www.eliotschrefer.com/
---
Selected Titles
Endangered (Ape Quartet Book 1)
ISBN: 0545165776 OCLC: New York, N.Y. : Scholastic Press, New York, N.Y. : 2012. Sophie is not happy to be back in the Congo for the summer, but when she rescues an abused baby bonobo she becomes more involved in her mother's sanctuary--and when fighting breaks out and the sanctuary is attacked, it is up to Sophie to rescue the apes and somehow survive in the jungle.
Geek :
ISBN: 0545160405 OCLC: New York, NY : Scholastic Press, New York, NY : 2011. Ralph is asked to spend the summer with his strange British relatives at their old manor house in order to set up their Wi-Fi network. And thus begins his strange adventure.
Glamorous disasters :
ISBN: 0743281675 OCLC: New York : Simon & Schuster, New York : 2006. In the glossy private world of Fifth Avenue teens, some millionaire parents will do, pay, or say anything to help their children ace the SATs.
Hack the SAT: Strategies and Sneaky Shortcuts That Can Raise Your Score Hundreds of Points
ISBN: 9781592403691 OCLC: New York, N.Y. : Gotham Books, New York, N.Y. : ©2008. Offers guidance and tools for scoring well on the SAT, including a vocabulary list, subject reviews, test-taking tips, and advice on writing an essay.
Immortal Guardians (Spirit Animals: Fall of the Beasts, Book 1)
ISBN: 0545830001 OCLC: When an ancient dark force emerges from a centuries-long slumber, Conor, Abeke, Meilin, and Rollan must stop it from sweeping through Erdas and destroying their spirit animals--and the world.
Orphaned (Ape Quartet #4)
ISBN: 0545655056 OCLC: Scholastic 2018 Snub is a young female gorilla, somewhat jealous because her mother is occupied with a new baby, curious of the world around her, a world that is being reshaped by shaking ground and mountains that bleed fire, and most terrifyingly by a new form of predator that walks on two legs; when her mother is killed Snub finds herself in charge of her baby brother--and accompanied by one of the not-gorillas, a very young female who has been orphaned by the violence of her own kind.
Queer Ducks (and Other Animals): The Natural World of Animal Sexuality
ISBN: 0063069490 OCLC: Katherine Tegen Books 2022 A research-based exploration of queer behavior in different animal species is interspersed with personal anecdotes and interviews with scientists --
Rescued (Ape Quartet Book 3)
ISBN: 054565503X OCLC: When John was ten years old his father brought back a baby orangutan from Indonesia, and Raja quickly becomes John's brother and responsibility--so years later, after his parents divorce, and his father has sold Raja to a roadside zoo, John sets out to rescue him and bring him to a sanctuary in Indonesia.
Rise and Fall (Spirit Animals, Book 6)
ISBN: 054552248X OCLC: Deep in the desert there sits a beautiful oasis, ruled by a monarch unlike any other in Erdas. His name is Cabaro, the Great Lion, and he reigns over a kingdom of animals, jealously guarding his golden talisman. No human has ever set foot on the Great Beast's territory. The journey to his oasis is impossible. As a team, Conor, Abeke, Meilin, and Rollan have achieved the impossible before. But now that team is broken--the friends scattered by a devastating betrayal. The young heroes and their spirit animals have already sacrificed much in their quest for the talismans. But with the world crumbling all around them--and a ruthless enemy opposing their every move--their greatest sacrifices are yet to come. --Back cover.
The Animal Rescue Agency #1: Case File: Little Claws
ISBN: 0062982338 OCLC: Katherine Tegen Books 2021 When an animal is in trouble, there's only one place to turn: the Animal Rescue Agency! Dashing Esquire Fox used to organize the world's most elaborate chicken raids until the day she encountered Mr. Pepper. Meeting the blustery old rooster changed her heart, convincing her to turn from a life of crime and instead form the Animal Rescue Agency, which masterminds rescue operations across the globe. Esquire and her unlikely chicken business manager coordinate their far-flung agents to get them to the Arctic. In that frozen land they learn that what happened to the polar bear cub was no accident--and that saving him will pit them against the scariest predator in the world: a human. --
The Animal Rescue Agency #2: Case File: Pangolin Pop Star
ISBN: 0062982362 OCLC: Katherine Tegen Books 2022 After a frigid arctic rescue, Esquire and Mr. Pepper get the perfect opportunity to warm up--an invitation to Beatle the Pangolin's private island concert. Sun and sand await! But when Esquire and Mr. Pepper arrive, the island is in chaos. Field agent Alphonse delivers the bad news: due to an incident during dress rehearsal, Beatle is trapped underground, and foul play is likely. The worst news: There's no way to reach Beatle and there are multiple suspects: Jewel, Beatle's sister and backup dancer Arabella, the monkey stage manager Butch, a vengeful wildcat Finding the culprit and saving Beatle before it's too late--this might be the Animal Rescue Agency's most challenging case yet!
The Darkness Outside Us
ISBN: 0062888285 OCLC: Katherine Tegen Books 2021 Earth's population is divided between only two existing countries which cannot manage to cooperate in any way, until a distress signal arrives from Titan's first settler. Neither country can afford to rescue her on their own if they act separately. Ambrose wakes up on board the Coordinated Endeavour under strange circumstances: he doesn't remember the launch, the ship's OS is voiced by his mother, strangers have been aboard, and Kodiak, the only other person on this mission, has barricaded himself away from sight. But nothing will stop Ambrose from making this mission succeed-- not when the settler he's rescuing is his sister.
The deadly sister
ISBN: 9780545165754 OCLC: New York : Scholastic, New York : 2010. Abby Goodwin has always covered for her sister, Maya. but now Maya has been accused of murder, and Abby's not sure she'll be able to cover for her sister anymore. Abby helps Maya escape. But when Abby begins investigating the death, she find that you can't trust anyone, not even the people you think you know.
The Lost Rainforest #1: Mez's Magic
ISBN: 0062491075 OCLC: Katherine Tegen Books 2018 Caldera has forever been divided into those animals who walk by night and those who walk by day. Nightwalker panthers, like young Mez and her beloved sister, have always feared daywalkers as creatures of myth and legend. Until the eclipse. Now Mez has discovered that she can cross the Veil and enter the daylight world. Her magical power has unknown depths, but she must rush to discover it after a mysterious stranger arrives at her family's den, bearing warnings of a reawakened evil. Saving Caldera means Mez must leave her sister behind and unite an unlikely group of animal friends to unravel an ancient mystery and protect their rainforest home.
The Lost Rainforest #2: Gogi's Gambit
ISBN: 0062491113 OCLC: Katherine Tegen Books 2019 Gogi and the other shadowwalkers race to save their magical rainforest home before the Ant Queen makes it her own --
The Lost Rainforest #3: Rumi's Riddle
ISBN: 0062491202 OCLC: Katherine Tegen Books 2020 When the shadowwalkers were victorious in their battle against the Ant Queen, they hoped their work to save Caldera was done. But the rainforest has begun to rumble. Rumi, a scholarly tree frog who can control the wind, must bring his band of animal friends to face the greatest danger they've yet encountered--the giant volcano beneath the jungle itself. While the volcano roars, rumors of a mysterious evil blanket Caldera--the Elemental of Darkness has emerged and is building a legion of followers. When the shadowwalkers are forced to divide and conquer, Rumi finds himself an unlikely leader and must grapple with his own secrets before he can unlock the full scope of his magical powers. Can Rumi rally the shadowwalkers to save their rainforest home? --
The new kid :
ISBN: 0743299094 OCLC: New York : Simon & Schuster, New York : 2007. Rendered a perpetual newcomer due to his parents' frequent job losses and relocations, Humphrey unsuccessfully struggles to fit into his new Florida community and joins his heartbroken older sister during a fateful trip to Italy.
The Popper Penguin Rescue
ISBN: 0316495425 OCLC: Little Brown 2020 Long after Mr. Popper found his famous penguins a proper home, his distant relatives, Nina and Joel, move to a new house with their mother and find mysterious eggs in the basement.
The school for dangerous girls /
ISBN: 0545035295 OCLC: New York : Point, New York : 2010, ©2009. Sent to a remote, run-down reform school in Colorado, fifteen-year-old Angela is placed with the better girls, but upon learning that her dangerous friends are being isolated and left to live as animals, she takes radical steps to join them and help them escape.
Threatened (Ape Quartet Book 2)
ISBN: 0545551439 OCLC: Luc is an orphan, living in debt slavery in Gabon, until he meets a man calling himself Prof who claims to be studying chimpanzees, and they head off into the jungle--but when Prof disappears, Luc has to fend for himself and join forces with the chimps to save their forest.