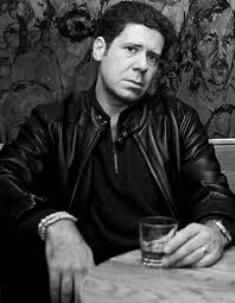 Sean Chercover
Born:
1966 in Toronto, Canada
Pen Name:
None
Connection to Illinois
: After Chercover moved to Chicago, he earned a BA at Columbia College Chicago. He then attended the American Security Training Institute, qualifying him to work as a Private Detective in Chicago.
Biography
: Sean Chercover was formerly a private investigator in Chicago and New Orleans. He wrote documentaries and children's shows for television before turning his focus to crime fiction. Along with the books written below, Chercover has also written many ebooks and contributed to several anthologies. Over the years, Chercover has worked a myriad of different jobs, including film and video editor, waiter, truck driver, nightclub magician, encyclopedia salesman … and a whole host of others. He currently resides in Toronto.
---
Awards
:
'''''Big City, Bad Blood'''''
-- Gumshoe Award for best first novel
-- Crimespree Award for best first novel
-- Shamus Award
-- Lovey Award '''''Trigger City'''''
-- Dilys Award, IMBA
-- Crimespree Award
Primary Literary Genre(s):
Crime Fiction; Literary Suspense; Mystery
Primary Audience(s):
Adult readers
Email:
sean@chercover.com
Website:
http://www.chercover.com
Sean Chercover on WorldCat :
http://www.worldcat.org/search?q=sean++chercover
---
Selected Titles
Big city, bad blood
ISBN: 9780061856266 OCLC: 877890833 HarperCollins e-Books, [Place of publication not identified] : 2014. A disillusioned newspaper reporter turned private detective, Ray Dudgeon isn't trying to save the world. He just wants to do an honest job, and do it well. But when doing an honest job threatens society's most powerful and corrupt, Ray's odds for survival make for a sucker's bet. ... While working on a movie in Chicago, Hollywood locations manager Bob Loniski saw something he shouldn't have. Now he's a prosecution witness against a suspected member of the Chicago Outfit. Petrified, he comes to Ray for protection. Ray's mob contacts insist that they have no interest in Loniski, so he takes the bodyguard gig. Then people start dying and everything goes to hell. Ray's investigation leads to a stash of blackmail files involving the sex trade, Washington political corruption, and a deadly power struggle among Chicago's organized crime bosses'setting the FBI, the Chicago police, and the mob on his tail. He now holds evidence against top-ranking cops and politicians ... but with the line between good and bad blurring, he doesn't know who he can trust. If he does the right thing, Ray is sure to die. But if he doesn't, how can he live with himself' From the back alleys of Chicago to the man-sions of Beverly Hills to the corridors of power in Washington, D.C., Sean Chercover's Big City, Bad Blood propels readers relentlessly forward on a bullet-fast, adrenaline-pumping ride they will not soon forget.
Big city, bad blood /
ISBN: 0061128686 OCLC: 156815094 Harper, New York : 2008, ©2007. Reluctantly hiring on as a bodyguard to a Hollywood locations manager who is testifying as a prosecution witness against a suspected mobster, private detective Ray Dudgeon is forced into an investigation with corrupt ties to Washington.
The devil's game :
ISBN: 9781503944572 OCLC: 910635885 Daniel Byrne is an investigator that infiltrated a covert medical facility. In there he discovered a strain of a plague with unusual side effects. It is up to Daniel to trace the origins of this deadly pathogen.
The Savior's Game /
ISBN: 1477848797 OCLC: 975362761 "Daniel Byrne is haunted by the future. Literally. It happened to his uncle. It happened to the woman he loves. And now it's happening to him. It started as a voice only he could hear. Then he found himself visiting another world. A world both familiar and strange. A world inextricably linked to our own. And the things he sees there, come true-- here. It's a power others are willing to kill for. There's no one Daniel can trust. Nowhere to hid. Chased across the globe by mysterious assassins, he struggles to decipher the visions plaguing him. Visions of miracles and massacres, conspiracy and catastrophe. And behind it all, a powerful adversary the likes of which we've never seen before. One thing that's clear-- the universe is warning him of a cataclysmic change, an event that is either a bloody Armageddon or a shining new beginning. Daniel thinks he can see the answer-- and maybe even change the outcome, before it's too late. But there is a fine line between messiah and madman."--Amazon.com.
The trinity game :
ISBN: 9781612183503 OCLC: 802385867 Thomas & Mercer, Las Vegas : ©2012. A Vatican special investigator is told to look into the predictions of an American televangelist and finds himself investigating his own estranged uncle, an admitted conman, who might finally be telling the truth.
Trigger city
ISBN: 9780061981807 OCLC: 877982946 HarperCollins e-Books, [Place of publication not identified] : 2014. The facts: A lonely woman was murdered by her disturbed coworker. The police have investigated. The case is closed. But facts are not truth. A routine investigation of an open-and-shut case is just what PI Ray Dudgeon needs to recover from the physical and emotional consequences of confronting the Chicago Outfit'until routine spirals out of control. The victim was no quiet, unassuming, unlucky single woman; she lived a double life in the shadowy realm of covert intelligence ... and she died for the truth. Suddenly, Ray's ensnared in a conspiracy of darkness that weaves its way through the very fabric of the nation, and in grave danger of becoming collateral damage in America's war on terror. And his greatest enemy may be himself.
Trigger city /
ISBN: 0061128694 OCLC: 179807290 William Morrow, New York : ©2008. Investigating the death of a shy, unassuming woman for a grieving father brings Chicago PI Ray Dudgeon into a covert war between private contractors and the darkest sectors of our own government --a war that stretches from the closed-door hearings of Congress to the frontlines of Iraq.