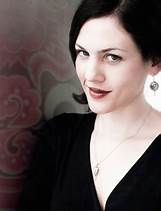 Rachel DeWoskin
Born:
1972 in Kyoto, Japan
Pen Name:
None
Connection to Illinois
: DeWoskin teaches fiction at the University of Chicago.
Biography
: Rachel DeWoskin graduated from Columbia University and moved to Beijing to work in Public Relations, but ended up starring in the hit Chinese soap opera ''Foreign Babes in Beijing''. After spending time there and returning to the US, she earned a masters in poetry from Boston University and published a memoir about her experiences on the Chinese soap, which had 600 million viewers. DeWoskin's memoir is currently in production with HBO. Currently, DeWoskin is on the fiction faculty of the University of Chicago and is an affiliated faculty member in Jewish studies and East Asian Studies.
---
Awards
:
"""Repeat After Me"""
-- Book of the Year, Forward Magazine, 1989
"""Big Girl Small"""
-- Top Three Books, Newsday, 2011
-- Alex Award, American Library Association, 2012
"""Blind"""
-- Library Guild Selection
-- Starred Review, Kirkus
-- ILLINOIS READS Book Selection, Illinois Reading Council, 2016
"""Someday We Will Fly"""
-- Sydney Taylor Book Award for Young Adults, Association of Jewish Libraries, 2020
-- Starred Review, Kirkus
-- Starred Review, Booklist
Primary Literary Genre(s):
Fiction; History; Poetry
Primary Audience(s):
Adult readers; Young adult readers
Facebook:
https://www.facebook.com/www.racheldewoskinbks/
Twitter:
https://twitter.com/racheldewoskin
Website:
http://racheldewoskin.com/index.html
---
Selected Titles
Banshee /
ISBN: 1948340119 OCLC: 1056778532 Samantha Baxter has a full, sane life--creative job, lovely family, and all the trappings of middle-age happiness. But when she gets a diagnosis that terrifies her, a lifetime of polite pleasing and putting others first ignites in her a surprising, pure rage.
Big girl small /
ISBN: 0374112576 OCLC: 650212498 Farrar, Straus and Giroux, New York : 2011. With a singing voice that can shake an auditorium, Judy should be the star of Darcy Academy, the local performing arts high school. So why is a girl this promising hiding out in a seedy motel room on the edge of town? A scathingly funny and moving book about dreams and reality, at once light on its feet and profound.
Blind /
ISBN: 0670785229 OCLC: 862575284 After a horrific accident leaves her blind, fifteen-year-old Emma, one of seven children, eagerly starts high school as a sophomore, and finds that nearly everything has changed--sometimes for the better.
Foreign babes in Beijing :
ISBN: 0393328597 OCLC: 57422307 W.W. Norton, New York : ©2005. DeWoskin moved to Beijing in 1989, just as China's younger population began embracing Western ideologies and commodities. An executive for an American PR firm by day, by night DeWoskin became the star of one of China's first television soap operas, a melodrama involving a sexy American college student who wins the love of a rebellious young Chinese man. The merging of two worlds onscreen is nothing compared to the cultural assimilation DeWoskin observes within China itself in the years immediately following Tiananmen Square. Her memoir weaves humorous tales of culture clashes with astute observations of a traditional and repressed society's tumultuous confrontation with liberated, energetic, and economically dynamic Western influences.
Repeat after me /
ISBN: 1590202228 OCLC: 276819720 Overlook Press, New York : 2009. Aysha Silvermintz is a marginally neurotic, sublimely needy young instructor of English to immigrants in Manhattan?s Upper West Side. Her student Da Ge is an intriguingly taciturn, softly menacing Chinese national who came to the U.S. in the wake of the Tiananmen Square uprisings. What they lack in fluid communication skills they more than make up for in shared emotional fragility, born of family tragedies and personal failures. Aysha falls instantly and secretly in love with Da Ge, long before he bluntly asks her to marry him so he can become a U.S. citizen. Aysha becomes pregnant, but before she can tell him, Da Ge commits suicide just days before his citizenship is finalized. Determined to understand what plagued this tortured, enigmatic man, Aysha moves to China, where she?ll raise the daughter he never knew.--From Booklist.
SOMEDAY WE WILL FLY.
ISBN: 0147508916 OCLC: 1105148232
Two menus /
ISBN: 022668217X OCLC: 1104872961 ""There's a language for other / languages," writes Rachel DeWoskin in "Two Menus" in a poem titled "Foreigners." But what if the "foreigner" referred to exists within us? Indeed, how do we reconcile our multiple selves, the ones we're born into with those that we develop far from childhood histories and familiar geographies? How do we reconcile the language of our parents with the ones we ourselves adopt as adults? "Two Menus" shows us what it's like to live between languages (English and Chinese) and cultures (the US and China), between histories (youth and adulthood), and how thinking in different languages and locales, over time, shifts our perspectives and our forms of expression. In traditional lyrics and experimental forms, in language that reflects the awkwardness of human communication itself, DeWoskin crosses back and forth between the divided worlds of the self, exploring the elusiveness of understanding in the midst of contradictory social norms. The result is a unique book of poems, partaking in equal parts of humor and bitterness, confusion and delight"--