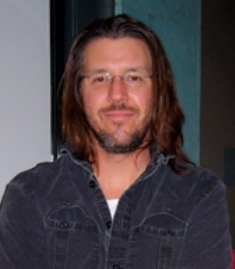 David Foster Wallace
Born:
1962 in Ithaca, New York
Died:
2008 in Claremont, California
Pen Name:
None
Connection to Illinois
: Wallace was raised in Champaign-Urbana.
Biography
: David Foster Wallace was born in Ithaca, New York, in 1962 and raised in Illinois, where he was a regionally ranked junior tennis player. He received bachelor of arts degrees in philosophy and English from Amherst College and wrote what would become his first novel, ''The Broom of the System'', as his senior English thesis. He received a masters of fine arts from University of Arizona in 1987 and briefly pursued graduate work in philosophy at Harvard University. Wallace published short fiction in ''Might, GQ, Playboy, The Paris Review, Harper's Magazine, Mid-American Review, Conjunctions, Esquire, Open City, Timothy McSweeney's Quarterly Concern, The New Yorker,'' and ''Science''. In 1997, Wallace received the Aga Khan Prize for Fiction, awarded by editors of ''The Paris Review'' for one of the stories in ''Brief Interviews''—'Brief Interviews with Hideous Men #6'—which had appeared in the magazine.His second novel, ''Infinite Jest'', was published in 1996. Wallace taught creative writing at Emerson College, Illinois State University, and Pomona College, where he was the first Roy E. Disney Professor of Creative Writing. He published the story collections ''Girl with Curious Hair'', ''Brief Interviews with Hideous Men'', ''Oblivion'', the essay collections ''A Supposedly Fun Thing I'll Never Do Again'', and ''Consider the Lobster''. He was awarded the MacArthur Fellowship, a Lannan Literary Award, and a Whiting Writers' Award, and was appointed to the Usage Panel for The American Heritage Dictionary of the English Language. He died in 2008. His last novel, ''The Pale King'', was published in 2011.
---
Awards
:
Primary Literary Genre(s):
Fiction
Primary Audience(s):
Adult readers
Website:
http://www.davidfosterwallacebooks.com/index.html
Website:
https://www.famousauthors.org/david-foster-wallace
Wikipedia:
https://en.wikipedia.org/wiki/David_Foster_Wallace
on WorldCat:
http://www.worldcat.org/search?q=david+foster+wallace
---
Selected Titles
A supposedly fun thing I'll never do again :
ISBN: 0316925284 OCLC: 41459863 A collection of keen observations, witty analyses, and essays on a wide range of subjects exposes the fault lines in today's society.
Both flesh and not :
ISBN: 0316182389 OCLC: 865175714 A compilation of fifteen of Wallace's seminal essays, all published in book form for the first time.
Brief interviews with hideous men /
ISBN: 0316925195 OCLC: 40354776 Little, Brown, Boston : ©1999. A collection of 23 stories, several of which deal with misunderstandings between men and women. In one, a man assumes that women find his mutilated arm sexy, in another a wife is inhibited in her lovemaking by fear that her husband will think she is a slut.
Consider the lobster and other essays /
ISBN: 0316013323 OCLC: 244642394 For this collection, Wallace immerses himself in the three-ring circus that is the presidential race in order to document one of the most vicious campaigns in recent history. Later he strolls from booth to booth at a lobster festival in Maine and risks life and limb to get to the bottom of the lobster question. Then he wheedles his way into an L.A. radio studio, armed with tubs of chicken, to get the behind-the-scenes view of a conservative talk show featuring a host with an unnatural penchant for clothing that looks good only on the radio. Do lobsters feel pain? Did Franz Kafka have a sick sense of humor? What is John Updike's deal anyway? And who won the Adult Video News' Female Performer of the Year Award the same year Gwyneth Paltrow won her Oscar? Wallace answers these questions and more.--From publisher description.
Everything and more :
ISBN: 9780393339284 OCLC: 658003884 W.W. Norton, New York : 2010. Wallace brings his talents to the history of one of math's most enduring puzzles: the seemingly paradoxical nature of infinity.
Fate, time, and language :
ISBN: 0231151578 OCLC: 694147464 Long before he published Infinite Jest, David Foster Wallace wrote a brilliant critique of Richard Taylor's argument for fatalism. In 1962, Taylor used six commonly-accepted presuppositions to imply that humans have no control over the future. Not only did Wallace take issue with Taylor's method, which, according to him, scrambled the relations of logic, language, and the physical world, but he also called out a semantic trick that lie at the heart of Taylor's argument. Wallace was a great skeptic of abstract thinking as a negation of something more genuine and real. He w.
Girl with curious hair /
ISBN: 0349111022 OCLC: 38069162 Abacus, London : 1997, ©1989. David Foster Wallace is one of the most prodigiously talented young writers in America today and Girl With Curious Hair is replete with his remarkable and unsettling re-imaginations of reality. From an eerily 'real', almost holographic evocation of Lyndon B. Johnson, to over-televised game-show hosts and late-night comedians, to the title story, where terminal punk nihilism meets Young Republicanism, Wallace renders the incredible comprehensible, the bizarre normal, the absurd hilarious, the familiar strange.
Infinite jest :
ISBN: 0316920045 OCLC: 32738491 Little, Brown and Company, Boston : ©1996. A spoof on our culture featuring a drug-and-alcohol rehabilitation house near Boston. The center becomes a hotbed of revolutionary activity by Quebec separatists in revolt against the Organization of North American Nations which now rules the continent.
McCain's promise :
ISBN: 0316040533 OCLC: 225874601 Offers a close-up look at John McCain and his campaign for president in 2000, exploring both the candidate's personality and the posturing, spin, and media manipulation of presidential elections.
Oblivion :
ISBN: 0316010766 OCLC: 63136458 Presents a collection of eight short fiction stories by American author David Foster Wallace.
The broom of the system /
ISBN: 0143116932 OCLC: 457151478 Penguin Books, New York : 2010. "When her great-grandmother goes missing along with twenty-five other inmates of the Shaker Heights, Ohio, Nursing Home, Lenore's life is thrown into chaos. Featuring an insanely jealous boss and a cockatiel that quotes Auden and the King James Bible, Lenore's quest to find her great-grandmother against daunting odds cleverly moves into an exploration of the paradoxes of language, storytelling, and reality."--Inside blurb.
The David Foster Wallace Reader
ISBN: 9780316182409 OCLC: 887606116 Where do you begin with a writer as original and brilliant as David Foster Wallace? Here--with a carefully considered selection of his extraordinary body of work, chosen by a range of great writers, critics, and those who worked with him most closely. This volume presents his most dazzling, funniest, and most heartbreaking work--essays like his famous cruise-ship piece, A Supposedly Fun Thing I'll Never Do Again, excerpts from his novels The Broom of the System, Infinite Jest, and The Pale King, and legendary stories like The Depressed Person. Wallace's explorations of morality, self-consciousness, addiction, sports, love, and the many other subjects that occupied him are represented here in both fiction and nonfiction. Collected for the first time are Wallace's first published story, The View from Planet Trillaphon as Seen In Relation to the Bad Thing and a selection of his work as a writing instructor, including reading lists, grammar guides, and general guidelines for his students. A dozen writers and critics, including Hari Kunzru, Anne Fadiman, and Nam Le, add afterwords to favorite pieces, expanding our appreciation of the unique pleasures of Wallace's writing. The result is an astonishing volume that shows the breadth and range of one of America's most daring and talented writers (Los Angeles Times Book Review) whose work was full of humor, insight, and beauty--
The pale king
ISBN: 9780141046730 OCLC: 754167864 Hamish Hamilton, London : 2012.
The pale king :
ISBN: 0316074225 OCLC: 668192483 Little, Brown and Co., New York : 2011. The character David Foster Wallace is introduced to the banal world of the IRS Regional Examination Center in Peoria, Illinois, and the host of strange people who work there, in a novel that was unfinished at the time of the author's death.
This is water :
ISBN: 0316068225 OCLC: 290479013 Little, Brown, New York : 2009. "Only once did David Foster Wallace give a public talk on his views on life, during a commencement address given in 2005 at Kenyon College. The speech is reprinted for the first time in book form in THIS IS WATER. How does one keep from going through their comfortable, prosperous adult life unconsciously? How do we get ourselves out of the foreground of our thoughts and achieve compassion? The speech captures Wallace's electric intellect as well as his grace in attention to others."--