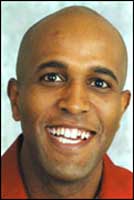 Mawi Asgedom
Born:
1976 in Adi Wahla, Ethiopia
Pen Name:
None
Connection to Illinois
: Asgedom grew up in the Chicago suburb of Wheaton.
Biography
: Mawi Asgedom was born Selamawi Haileab Asgedom. He is an author and a successful inspirational speaker for students, community groups, and businesses.Mawi was a refugee of Ethiopian. For about two years of his childhood, he was separated from his father and had to flee to Sudan to avoid the war in Ethiopia. Mawi was seven years old when he and his family arrived in the U.S. in 1983, sponsored by World Relief. They had spent the previous three years in a refugee camp in Sudan. He grew up in the Chicago suburb of Wheaton, Illinois. He graduated with top honors from Harvard University, receiving a degree in American history and giving the commencement address at his graduation in 1999. Since graduating from Harvard, Mawi has dedicated himself to uplifting teenagers. He is the bestselling author of ''Of Beetles and Angels: A Boy's Remarkable Journey from a Refugee Camp to Harvard'' and ''The Code: The 5 Secrets of Teen Success''.He is a very popular speaking guest at middle and high schools. He has spoken to over 500,000 students in more than thirty states. He has trained educators at The Harvard School of Education, The Midwest Principal's Center and many teaching conferences. Mawi is also the founder of ''Mental Karate'', an organization that helps youth take positive action.Oprah Winfrey named her interview of Mr. Asgedom as one of her 20 Unforgettable Moments in October 2005.He has developed a suite of online student courses to increase student efficacy and achievement.He has created a professional development program for educators to put Growth Mindset into action to inspire student achievement called Powerful Educator.
---
Awards
:
'''Body of Work'''
-- Illinois Author of the Year, Illinois Association of Teachers of English, 2006 '''''Of Beetles and Angels'''''
-- 2013 ILLINOIS READS Book
Primary Audience(s):
Adult readers
Email:
info@mawilearning.com
Mawi's Mental Karate Website :
http://mentalkarate.com/
Website:
http://www.mawilearning.com/
Mawi Asgedom on WorldCat :
http://www.worldcat.org/search?q=mawi+asgedom
---
Selected Titles
Beetles
ISBN: 1567111750 OCLC: 42823643 Blackbirch Press, Woodbridge, Conn. : ©2000. Explains the characteristics, habits, life cycle, and appearance of the many species of beetles. Includes experiments.
Nothing is impossible /
ISBN: 0974390119 OCLC: 62235014 Mawi Asgedom, [Place of publication not identified] : ℗2004. Dozens of inspiring stories with the best strategies for teen success.
Of beetles & angels :
ISBN: 0316826200 OCLC: 49805987 Little, Brown, and Co., Boston : 2002. An autobiography of a boy who, at the age of three, fled civil war in Ethiopia by walking with his mother and brother to a Sudanese refugee camp, and later moved to Chicago and earned a scholarship to Harvard University. Includes recipes and discussion questions.
The 5 powers of an educator :
ISBN: 9780986077203 OCLC: 896182955 Mawi, Inc., [Place of publication not identified] : ©2014. As an educator or parent, you have tremendous power to inspire students. Reminds you of your power and gives you practical methods you can use immediately. You will learn how to leverage the latest research on mindset, grit, executive function, and non-cognitive skills to profoundly impact the youth in your life.
The code :
ISBN: 9780316141666 OCLC: 879203099 A guide intended to assist teens in setting goals, building friendships, and overcoming challenges.
The code :
ISBN: 0316736899 OCLC: 53435211 Little, Brown, New York : 2003. A guide intended to assist teens in setting goals, building friendships, and overcoming challenges.
The success GPA :
ISBN: 9780974390154 OCLC: 809758382 Mawi Learning, [Place of publication not identified] : ©2011.
The third harmony /
ISBN: 0974390135 OCLC: 731708662 Mawi Books, [United States] : ©2010.
Win the inner battle :
ISBN: 0974390186 OCLC: 301689210 Mawi, Inc., [Chicago, Ill.] : 2003.