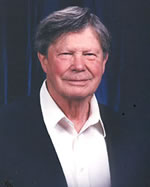 John Knoepfle
Born:
February 4, 1923 in Cincinnati, Ohio
Died:
November 16, 2019
Pen Name:
None
Connection to Illinois
: Knoepfle lived in Auburn and Springfield.
Biography
: John Knoepfle was known for his poetry about the Midwest. He attended Xavier University and St. Louis University. He was a professor and insturctor at St. Louis University and then at Sangamon State University - now, University of Illinois at Springfield. Currently, he was a professor emeritus of literature at the University of Illinois at Springfield.In 1986 the Illinois Association of Teachers of English named him Illinois Author of the Year. He has also received the Mark Twain award for contributions to Midwestern literature.
---
Awards
:
-- ''Mark Twain Award'' for Distinguished Contributions to Midwestern Literature, Society for the Study of Midwestern Literature, Michigan State University, 1986
-- Illinois Author of the Year, Illinois Association of Teachers of English, 19
Primary Literary Genre(s):
Poetry
Primary Audience(s):
Adult readers
Website:
http://www.johnknoepfle.com/
Website:
https://www2.illinois.gov/sites/poetlaureate/Pages/featuredpoet_Knoepfle.aspx
John Knoepfle on WorldCat:
http://www.worldcat.org/search?q=john+knoepfle
---
Selected Titles
An Affair of Culture
ISBN: B001871MSS OCLC: An Affair of Culture
Begging an amnesty :
ISBN: 0945301103 OCLC: 32256048 Druid Press, Birmingham, Ala. : ©1994.
Dim Tales
ISBN: 0935153128 OCLC:
Dogs and cats and things like that;
ISBN: 0070351252 OCLC: 216402 McGraw-Hill New York, [1971] Seventeen poems about familiar and unfamiliar animals.
I look around for my life :
ISBN: 9780977731831 OCLC: 228139464 Burning Daylight, Boulder, CO : ©2008.
Our street feels good; Poems for Children
ISBN: 0070351287 OCLC: 219910 McGraw-Hill New York, [1972] A collection of poems reflecting the activities of city children.
Poems from the Sangamon :
ISBN: 0252012437 OCLC: 11841286
Prayer against famine and other Irish poems /
ISBN: 1886157456 OCLC: 54425127 BkMk Press, Kansas City, Mo. : ©2004.
Rivers Into Islands
ISBN: 0226448118 OCLC:
Shadows and starlight
ISBN: 9780984652341 OCLC: 796933954
Songs for Gail Guidry's Guitar
ISBN: 0912284021 OCLC:
The aloe of evening /
ISBN: 0989724255 OCLC: 939554010
The chinkapin oak :
ISBN: 0964603748 OCLC: 33931462 Rosehill Press, Springfield, Ill. : ©1995.
The intricate land /
ISBN: 0912284102 OCLC: 124281 New Rivers Press, New York : 1970.
Thinking of Offerings: Poems, 1970-1973
ISBN: 0686618939 OCLC:
Walking in snow
ISBN: 9780977731879 OCLC: 317714769