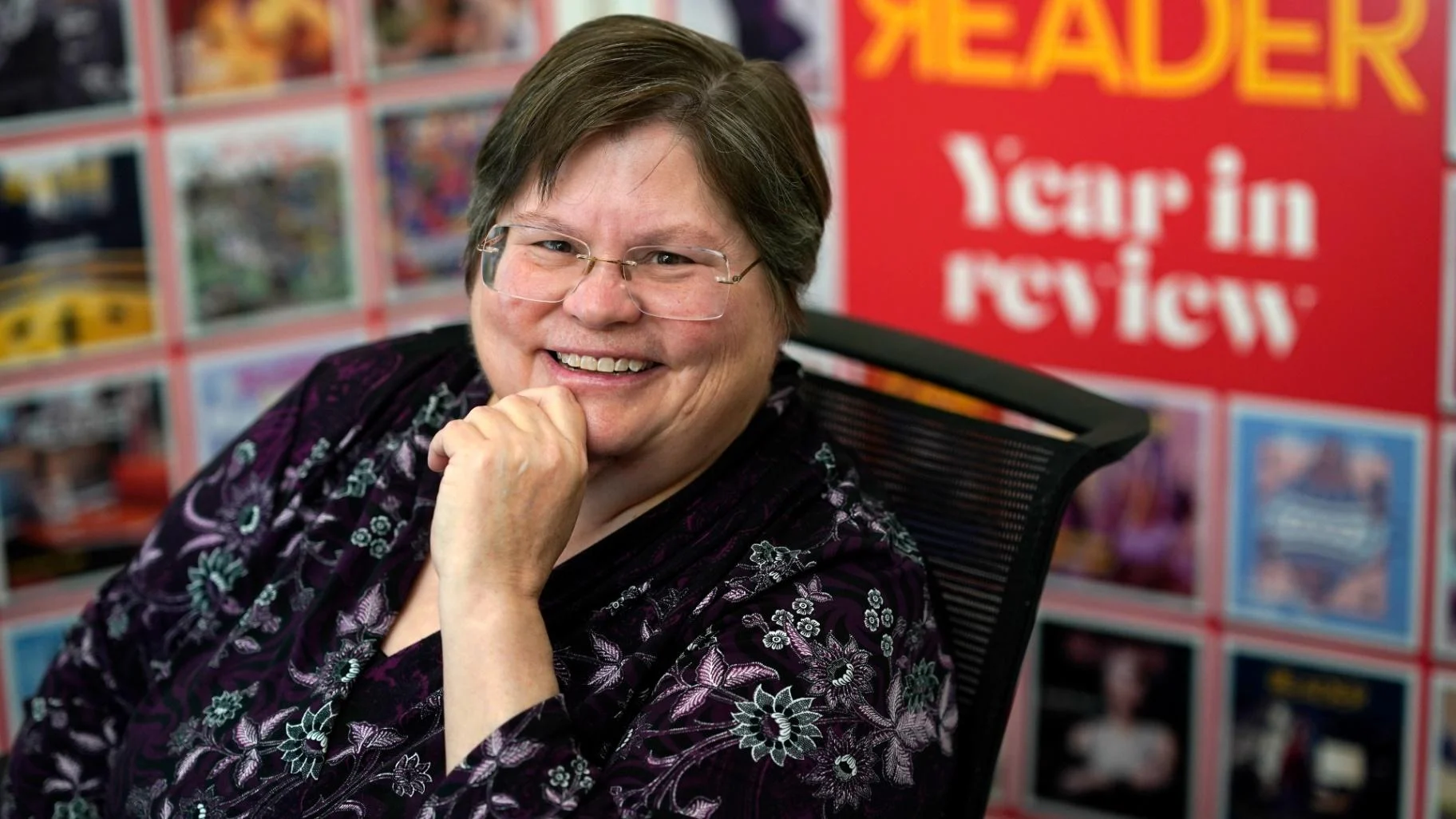 Tracy Baim
Born:
1963 in Chicago, Illinois
Pen Name:
None
Connection to Illinois
: Baim is a native Chicagoan.
Biography
: Tracy Baim is publisher and executive editor at Windy City Media Group, which produces Windy City Times, Nightspots, and other gay media. She co-founded Windy City Times in 1985 and Outlines newspaper in 1987. She has won numerous gay community and journalism honors, including the Community Media Workshop's Studs Terkel Award in 2005. She started in Chicago gay journalism in 1984 at GayLife newspaper, one month after graduating with a news-editorial degree from Drake University. In 2013, she produced a 2400-question LGBTQ trivia game: That's So Gay! to help counter negative comments about the community. Baim was executive producer of the lesbian feature film Hannah Free (2008, Ripe Fruit Films), starring Sharon Gless. She also produced Scrooge & Marley, a gay Christmas film out December 2012. She was inducted into the Chicago Gay and Lesbian Hall of Fame in 1994 and was named a Crain's Chicago Business 40 Under 40 leader in 1995. Baim is a native Chicagoan and has been with her partner, 20-year Air Force veteran Jean Albright, since 1994.
---
Awards
:
Primary Literary Genre(s):
History; Non-Fiction
Primary Audience(s):
Adult readers
E-Mail:
tracybaim@gmail.com
LinkedIn:
https://www.linkedin.com/in/tracybaim
Twitter:
https://twitter.com/TracyBaimWCMG
Web:
http://www.windycitymediagroup.com
Wikipedia:
https://en.wikipedia.org/wiki/Tracy_Baim
---
Selected Titles
Barbara Gittings: Gay Pioneer
ISBN: 1512019747 OCLC: CreateSpace 2015 Barbara Gittings: Gay Pioneer is the first full-length biography of the woman who has been called the mother of the gay-rights movement, Barbara Gittings. Her work in the LGBT movement spanned from the late 1950s until her death in 2007. Her partner in life, Kay Lahusen, photographed many of the movement's biggest actions during the 1960s, and more than 270 photos accompany this biography. This book is available in both color and B&W editions, and in color on Kindle by July 2015. Gittings was active in a wide range of pre- and post-Stonewall groups, including the Daughters of Bilitis. She served as editor of DOB's newsletter, The Ladder. She worked with Frank Kameny on many protests and legal cases fighting government discrimination. She also was among the leaders of the push to change the American Psychiatric Association diagnosis of homosexuality as an illness, and among those pushing the American Library Association to be more inclusive of gays. The book is available in both B&W and color editions on Amazon, and also in color on Kindle.
Gay Games VII: Where the World Meets
ISBN: B005D2YJUW OCLC: CreateSpace 2008 More than 1,000 photos from Gay Games VII in Chicago, July 15-22, 2006, sports, culture, ceremonies; 4-color, 208 pages. Athletes from nearly 70 countries competed in 31 sports and cultural events. Opening and Closing ceremonies at Soldier and Wrigley fields; Cyndi Lauper, Margaret Cho, Heather Small, BETTY, Megan Mullally, ANT, Andy Bell, The L Word, Jody Watley, Kate Clinton, Kristine W, plus Mayor Richard M. Daley, poets and more. Photographers include Steve Becker, Kat Fitzgerald, Amy Moseley, Patsy Lynch, Victor Skrebneski. While we would have loved to include photos from all nearly 12,000 participants, that would not be possible. Pics for sale individually at www.gaygameschicago.org. For results from sports events see www.gaygames.org (the book does not include sports results). For the video of Gay Games VII, see www.wolfevideo.com. Gay Games VIII will be in Cologne, Germany in 2010, www.games-cologne.com. All proceeds from book sale go to Federation of Gay Games.
Gay Press, Gay Power: The Growth of LGBT Community Newspapers in America
ISBN: 1480080527 OCLC: CreateSpace 2012 This book provides an overview of the history of LGBT community newspapers and magazines in America. It provides a specific focus on weekly and biweekly newspapers, but also assesses the LGBT state of print media overall. Finalist for the 2013 Lambda Literary Awards; Top 10 selection for the American Library Association Over the Rainbow Project Book List, a committee of the GLBT Round Table of the ALA. The book starts with an in-depth look into the reasons a gay press started in the 1900s--as a response to either absent or anti-gay coverage by the mainstream media. It then explores the early gay media and journalists working in the gay press from the 1950s to the 1980s. The book includes chapters on some of the longer-lasting LGBT newspapers, such as the Washington Blade, Bay Area Reporter and Philadelphia Gay News. There is also an in-depth exploration of advertising and marketing in LGBT media, and a look at the future of queer media in America.
Jim Flint: The Boy From Peoria
ISBN: 146639840X OCLC: CreateSpace 2011 Available in both black-and-white and color editions. Meet Jim Flint, known to many as Felicia—a truly remarkable man who has done some truly remarkable things. Raised in Peoria, Illinois, Flint was a precocious kid who "shined shoes" for older gentlemen at age 8 and joined the Navy at 17. He was a serviceman with a distinguished record who dreamed of becoming a missionary brother, yet only months later became one of the most popular gay bartenders in Chicago. Before long, he was stopping traffic on Clark Street as a roller-skating, baton-twirling drag queen, eager to garner attention for his now-legendary female impersonation bar, the Baton Show Lounge. Running a gay bar in Chicago in the 1960s and 1970s meant placating corrupt police and city inspectors eager for bribes, as well as shadowy, silk-suited Mafiosi. In addition to the Baton, in a few scant years Flint was also running a down-and-dirty leather bar and heading a gay motorcycle club. In the process he became a community leader, eventually even running for the Cook County Board as one of Chicago's first openly gay candidates for public office. Flint also found the time to lay the foundations for a gay sports league. Flint's story includes dozens of unforgettable characters such as Baton stars Chilli Pepper, Ginger Grant and Mimi Marks, transgender entertainment legends Alexandra Billings and Candis Cayne, and many others who inhabit the spotlights, the dressing rooms, and the evolving world of female impersonation. Flint is also the founder of the celebrated Continental Pageant System. As a witness to and a pioneer in the formation of the modern LGBT community, Flint has attracted memorable people from all walks of life. Meet Richie, the Baton doorman who hurled insults at the customers, Tillie the Dirty Old Lady, a parade of madcap patrons, battling bartender boyfriends, handsome S&M bikers and club kids, sports stars, celebrities, political bigwigs, and gay-rights activists of all descriptions. Unfortunately, domestic violence, serial killers, and drug addictions were some of the dangers in Flint's circle, and of course the AIDS epidemic ushered in its own storm of drama and deep tragedy. In the midst of all this is Flint himself: energetic, warmhearted and generous, yet quick-tempered and opinionated, always respectful of his flamboyant, ultraglamorous, often emotionally fragile bevy of super talented performers. Jim Flint: The Boy From Peoria is the colorful story of an amazing man and the LGBT community he helped to shape, as he championed an out-of-the-closet, be-who-you-are lifestyle. Authors Tracy Baim and Owen Keehnen unravel the many mysteries of Chicago gay community icon Jim Flint in this provocative new biography.
Leatherman: The Legend of Chuck Renslow
ISBN: 1461096022 OCLC: 728063271 A prominent Chicago gay activist and entrepreneur is the subject of an in-depth biography, Leatherman: The Legend of Chuck Renslow, by journalists and authors Tracy Baim and Owen Keehnen. The book contains more than 300 images, including murals and drawings by Dom "Etienne" Orejudos, posters for International Mr. Leather (IML), and photos from the Gold Coast, Pride Parades, IML contests, physique magazines and more. The book is published by Prairie Avenue Productions, 414 pages, $24.99 black and white (ISBN 1-46109602-2), $79.99 color (1-46111908-1). It is available on Amazon.com. Living as an openly gay man in 1950s Chicago was no easy task. For Chuck Renslow, that was only his first of many bold moves. Just out of high school he began what was to become a six-decade empire, starting more than two dozen businesses in Chicago, as well as a few in other cities. He has owned bars, discos, photo studios, health clubs, bathhouses, gay magazines and newspapers, hotels, restaurants, and bookstores. Throughout it all he dealt with Mafia and police payoffs, anti-gay political policies, harassment from censors, and even controversy within the gay community. In the mid-1950s, after having a portrait and then cheesecake studio, Renslow began experimenting with beefcake photography and began Kris Studio. With his longtime lover, the artist Dom Orejudos aka Etienne and Stephen, at his side, Renslow created Kris Studio a leader in male physique photography, resulting in such magazines as Triumph, Mars and The Rawhide Male, producing thousands of erotic images as well as several films. In 1959 Renslow took over the Gold Coast Show Lounge and transformed it into one of the most lowdown libidinous gay leather bars in the world. With Etienne's murals adorning the walls, a leather/Western/uniform dress code for patrons, and a dark Pit that featured all sorts of goings-on, the Gold Coast set the standard for raunchy kink and gay sexual liberation. It was the birthplace of motorcycle clubs and sex groups, but above all a place for people to meet, connect, and explore themselves and their sexuality. The Gold Coast was also the birthplace of the first leather contest, which in the span of a few short years evolved beyond the bar's capacity and became International Mr. Leather in 1979. More than three decades later, it continues to be one of the world's most popular gay events. Renslow was also one of the pioneers in taking a bathhouse beyond merely the borders of a mere sex club. Man's Country became something truly unforgettable in the 1970s - a sex-and-entertainment complex with a variety of rooms, shops, and a Music Hall that attracted top names touring in the "K-Y circuit," from Sally Rand to Wayland Flowers to Rusty Warren and Charles Pierce. Renslow was a dynamic force in Chicago politics under mayors starting with Richard J. Daley, and he ran to be a delegate for Sen. Ted Kennedy's 1980 presidential run. He danced with another man at a 1977 inaugural ball for Jimmy Carter. Renslow helped protest against unfair policies, fought censorship and entrapment, and battled Anita Bryant. He even served as a field contact for the pioneering work at the Kinsey Institute, as well as performing sexual acts for Kinsey researchers. He knew entertainment celebrities from Marlene Dietrich to Rudolf Nureyev, from Divine to Grace Jones, and from Sylvester to Quentin Crisp. In their heyday Chuck Renslow's annual White Parties were celebrations beyond compare. When Chicago's gay community faced the loss of its newspaper, Renslow bailed out and ran GayLife. He also co-founded the Leather Archives & Museum (with Tony DeBlase). Through it all Renslow has also been Daddy of the Family, a unique created group of lovers, tricks, and friends who were bound by sex and oftentimes love and by a goal of providing comfort and support to one another.
Mom: A Tribute to Mothers of LGBTs
ISBN: 1478147040 OCLC: CreateSpace 2012 Mothers of LGBT individuals are the focus of this photo essay book from Windy City Times. The Chicago-based weekly newspaper solicited submissions from LGBTs in the Chicago area, or those formerly from Chicago, for this book. Some nationally known moms are featured, including: — Judy Shepard, mother of murdered gay activist Matthew Shepard. — Dorothy Hajdys-Holman, whose son Allen Schindler was brutally killed by military colleagues in 1992. — Go-Gos singer Belinda Carlisle and her son James Duke Mason. — Charlene Sonenberg and her son, actor/model Ronnie Kroell. The majority of photos were taken by Kat Fitzgerald of MysticImagesPhotography.com. Fitzgerald spent six years photographing LGBT events in Chicago and now resides in the San Francisco area. The book was designed by Kirk Williamson. Windy City Times sought a diversity of families to include in the book. "Both Kat and I have lost our own amazing mothers," said Windy City Times Publisher Tracy Baim, who coordinated the project. "We wanted to have a book as tribute to our own moms, but also to all of the loving and accepting moms out there. We hear a lot of stories of families who do not accept their LGBT children, and this book tells the other side of the story, with moms who are wonderfully supportive." The book ends with a heartwarming and anonymous essay by Huffington Post blogger "Amelia," to her son, who came out to her as gay at a very young age. She is only anonymous to protect her child, and her love is unconditional for all her children.
Obama and the Gays: A Political Marriage
ISBN: 1453801715 OCLC: 676813287 Prairie Avenue Productions, Chicago, Ill. : 2010. An in-depth look at the career of President Barack Obama and his views about gay-related issues, starting when he ran for Illinois senate in 1996 and ending mid-way through his term as president. Written by Tracy Baim, publisher of Windy City Times, the book also includes articles and essays by some of the most respected journalists, bloggers and activists in gay media. This book, with 570 pages and 140 images/photos, has extensive coverage, in words and images, of Obama's record on gay and AIDS issues, including detailed quotes from his speeches, photos at gay events, and answers to surveys early in his career. Essayists and writers in the book include Lisa Keen, Kerry Eleveld, Michelangelo Signorile, Phill Wilson, Chuck Colbert, Pam Spaulding, Wayne Besen, and many more.
Out and Proud in Chicago: An Overview of the City's Gay Community
ISBN: 1572841001 OCLC: 212859533 Out and Proud in Chicago takes readers through the long and rich history of the city's LGBT community. Lavishly illustrated with color and black-and white-photographs, the book draws on a wealth of scholarly, historical, and journalistic sources. Individual sections cover the early days of the 1800s to World War II, the challenging community-building years from World War II to the 1960s, the era of gay liberation and AIDS from the 1970s to the 1990s, and on to the city's vital, post-liberation present.
The Fight for Marriage Equality in the Land of Lincoln
ISBN: 1500142980 OCLC: CreateSpace 2014 The Fight for Marriage Equality in the Land of Lincoln is the focus of a new book from Windy City Times writers Kate Sosin and Tracy Baim. The book looks at the financial and political pressure from the LGBT community and its allies to pass the marriage-equality law in 2013, including heated internal battles and intense heat put on elected officials in the final days of the legislative session. The book also includes more than 100 photos from the historic push for marriage, including photos and documents from the 1950s through the 2013 demonstrations. Money. Votes, Activism. These three ingredients were key to the passage of the Religious Freedom and Marriage Fairness Act on November 5, 2013 in the Illinois House. Otherwise known as the marriage-equality law, supporters originally felt it would be a slam-dunk effort, since the Democrats captured a super majority in the state Senate and House in the November 2012 elections. But this is Illinois, and nothing comes without a cost—in money and labor. S.B. 10 did pass quickly in the state Senate, on Valentine's Day 2013. But months of lobbying by pro– and anti–marriage-equality forces left the state's representatives in the House without the courage to vote by the end of the spring legislative session, May 31, 2013. What happened next was a show of force by donors, lobbyists, politicians and most importantly the general citizens of Illinois. There were protests, benefits, phone banks, door-to-door canvassing, lobbying in the Capitol building, and a 5,000-strong March on Springfield for Marriage Equality on October 22, 2013. This book takes an in-depth look at the behind-the-scenes efforts that were enhanced by the grassroots activists taking it to the streets. There were surprising opponents—and surprising allies—in the battle to get marriage for LGBTs in Illinois. This book provides a deep look into the inner-workings of passing legislation in Illinois. It is not always about the "will of the people" or "what is right." It often comes down to horse-trading, political manipulation, threats and check books. It's not quite the simplicity of the song "I'm Just a Bill" from the TV show Schoolhouse Rock! But it can be just as fun.
The Half Life of Sgt. Jen Hunter
ISBN: 1456461923 OCLC: CreateSpace 2010 In the early 1990s, prior to Don't Ask, Don't Tell, the U.S. military discharged gay and lesbian servicemembers under a longstanding ban. During the first Gulf War, many of those soldiers were kept in under a "stop loss" order, only to be discharged upon their return home. Now that DADT has been struck down, this novel is perfectly timed to give a closer look at the lives of people impacted by any policies or laws that ask them to compromise who they are. In The Half Life of Sgt. Jen Hunter, long-time lesbian journalist Tracy Baim takes a fictional look at this era in our nation's history, when gays and lesbians served proudly, but quietly, risking their lives for a country that disrespected and attacked who they were. What would happen if an out lesbian journalist met a closeted military spokeswoman? Would sparks fly? Would the sergeant risk her career for love? Would the journalist compromise her ideals for a chance at happiness? What about the servicemembers on the ground in Iraq? They faced bullets and dangerous chemicals, and some came back wounded and faced the loss of their career. See what happens in this fast-paced tale of war, pride, sacrifice, and love. This story was adapted for the Chicago stage as Half Life, in 2004.
Vernita Gray: From Woodstock to the White House
ISBN: 1499500157 OCLC: Chicago : CreateSpace Chicago : 2014 Vernita Gray lived through some of the country's most riveting civil-rights dramas, as an African American girl from the South Side of Chicago. She came out as a lesbian soon after attending the 1969 Woodstock concert, where she heard about the uprising at the Stonewall gay bar in New York City. Her fight for lesbian equality, and the rights of the entire LGBTQ community, would be her passion for the remaining decades of her life. She was also a poet and a writer, a key player in Chicago's gay liberation movement, and a lesbian separatist during the 1970s. In the 1980s, she opened her own restaurant, Sol Sands, and in the early 1990s, she began an 18-year career with the Cook County state's attorney's office. Along the way, she also managed to have a lot of fun. Her visits to the White House brought tears to her eyes. She never thought she would see an African-American president, especially from her hometown of Chicago. A few months after attending the Obama selection at the Democratic National Convention in Denver, she attended his inauguration and related parties in D.C. She first went to the White House for a June 2009 Pride reception. Vernita's struggle with cancer would soon take a turn for the worse, and in her final years, her passion was used to fight for both at-risk LGBTQ youth as well as marriage equality in Illinois. In this new book by Tracy Baim and Owen Keehnen, friends, partners and family share their memories of Vernita. Primarily written before Vernita's death in March 2014, the book also includes extensive interviews with Vernita, and her own poetry. Vernita loved long and deeply, she worked against racism, sexism and homophobia, and she did it all with a smile, dancing her way to victory on her last lap.