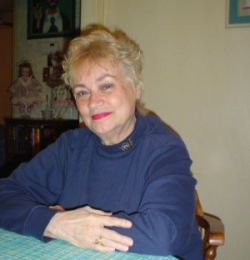 Beth Anderson
Born:
Baltimore, Maryland
Pen Name:
None
Connection to Illinois
: Anderson is a Chicago crime writer.
Biography
: N/A
---
Awards
:
Primary Literary Genre(s):
Fiction
Primary Audience(s):
Adult readers
Email:
bethanderson43@gmail.com
Website:
http://www.bethanderson-hotclue.com/
Beth Anderson on WorldCat :
http://www.worldcat.org/search?q=beth+anderson
---
Selected Titles
All that glitters /
ISBN: 0804103224 OCLC: 19984631 Ivy Books : New York : 1989.
Count on me /
ISBN: 0373704860 OCLC: 25175944 Harlequin Books, Toronto ; 1992.
Diamonds /
ISBN: 0843930608 OCLC: 23170939 Leisure Books, New York City : ©1991.
Dr. Quinn, medicine woman.
ISBN: 1422943526 OCLC: 549526061 A & E Home Video : [New York] : ©2009. In an age when women were expected to be seen but not heard, Dr Michaela Mike Quinn is an independent spirit who forsakes her home in genteel Boston for the rough and tumble life on the Western frontier. With a new family and mountain man Bryon Sully by her side, Quinn finds a new set of challenges, and rewards, in life as a pioneer.
Murder online /
ISBN: 0743300688 OCLC: 49280298 Clocktower Books, San Diego, CA : ©2000.
Night sounds
ISBN: 1592798993 OCLC: 57708137 Amber Quill Press, [United States] : ©2003.
Night sounds /
ISBN: 0743300971 OCLC: 48386839 Clocktower Books, San Diego, CA : ©2000.
One size does not fit all :
ISBN: 9781607141150 OCLC: 646166123 Kaplan Pub., New York : ©2010. From cultural diversity to behavioral issues and special needs students, today's educators are under more pressure than ever to ensure that their students are getting the best possible classroom experience. To that end, these essays show us not only where teachers have gone before but also offer practical advice for embracing diversity in the classroom. And as this fascinating collection of stories shows, sometimes it's not just the students but the teachers who learn the most from these everyday trials and challenges.--Back cover.
Second generation /
ISBN: 159279968x OCLC: 56197324 Amber Quill Press, LLC, Bellevue, Wash. : ©2003.