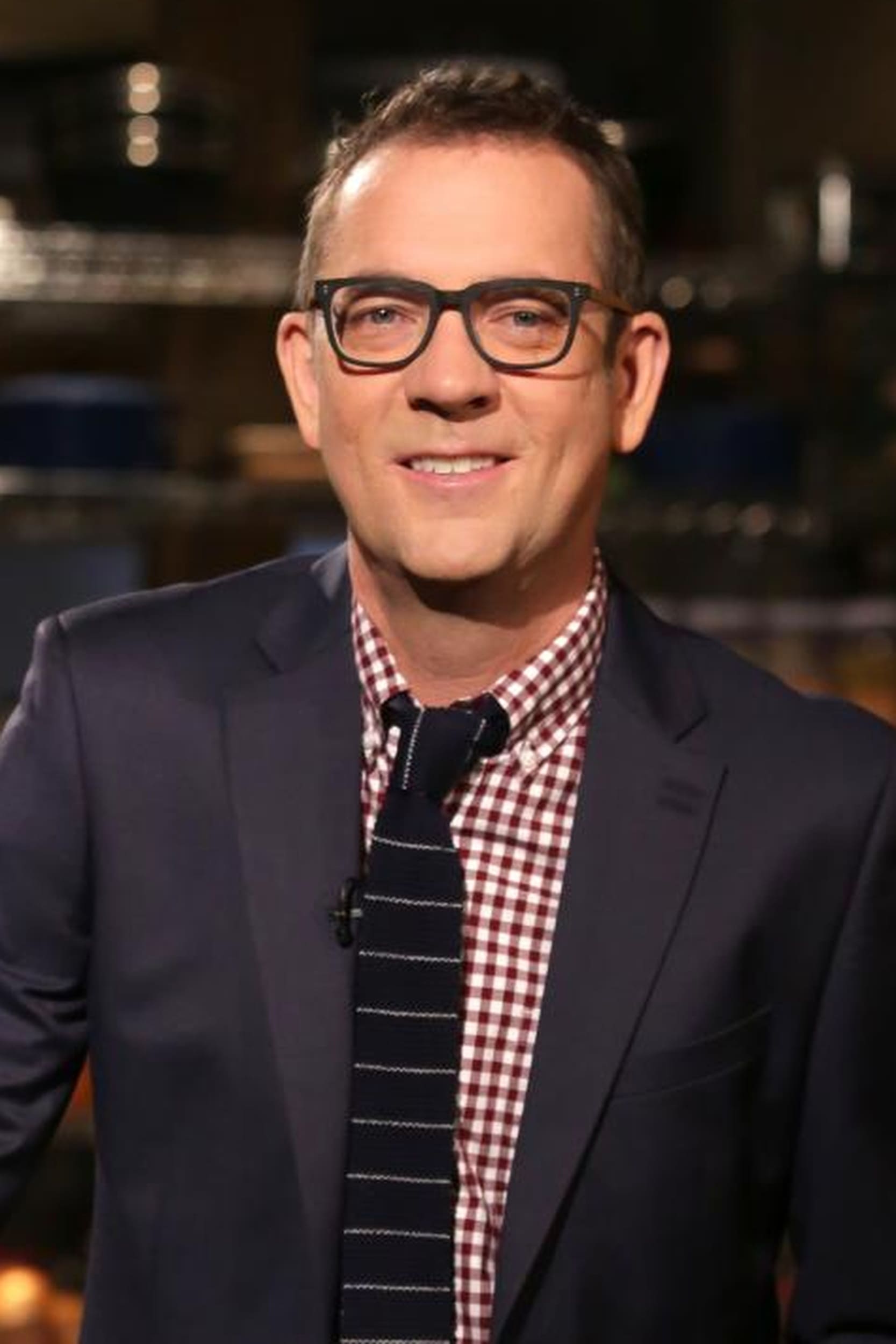 Ted Allen
Born:
1965 in Columbus, Ohio
Pen Name:
None
Connection to Illinois
: After receiving his MA, Allen moved to Chicago, where he worked as a reporter for Lerner Newspapers. He got his start in restaurant criticism in Chicago as one quarter of a bi-weekly group-review team called 'The Famished Four.' He also went on to become a freelancer for Chicago magazine, eventually signing on as a senior editor and often writing about food, wine, and luminaries of the culinary world.
Biography
: Emmy winner Ted Allen is the host of the long-running hit shows "Chopped" and "Chopped Junior"—with a combined run of nearly 1,000 episodes so far, one of the most successful projects in Food Network history. Chopped also is the winner of two James Beard Awards. Ted rounds out his Food Network presence on many shows, including regular co-hosting work on holiday specials and "Beat Bobby Flay." He also took on voice acting as the villainous, recipe-stealing Cast-Iron Chef in the 2020 animated reboot of Disney's "The Rocketeer." Previously, Ted was a judge on the first four seasons of Bravo's "Top Chef" and Food Network's "Iron Chef America." He also was the food and wine specialist on the groundbreaking Bravo series "Queer Eye," which was nominated twice for an Emmy Award and took the prize in 2004. In 2001, he was a finalist in the National Magazine Awards for an Esquire feature on the little-known phenomenon of male breast cancer. He later contributed to an Esquire food series that was a finalist in the National Magazine Award in 2003. In 2011, he received a Visibility Award from the Human Rights Campaign in San Francisco. He also holds two awards from the Gay and Lesbian Alliance Against Defamation for Queer Eye, presented in 2004 and 2005.
---
Awards
:
Primary Literary Genre(s):
Non-Fiction
Primary Audience(s):
Adult readers
E-Mail:
info@tedallen.net
Facebook:
https://www.facebook.com/thetedallen
IMDB:
https://www.imdb.com/name/nm1388270/
Instagram:
https://www.instagram.com/thetedallen/
Twitter:
https://twitter.com/thetedallen
Web:
http://www.tedallen.net
Wikipedia:
https://en.wikipedia.org/wiki/Ted_Allen
---
Selected Titles
Esquire Things a Man Should Know About Handshakes, White Lies and Which Fork Goes Where: Easy Business Etiquette for Complicated Times
ISBN: 1588160688 OCLC: 46872168 [Hearst Books], [New York] : [©2001] Part humor, part handbook, this to-the-point volume sprinkles wit amid wisdom on putting the best face forward in the job interview, at the office, over the business luncheon--all the thorniest situations faced by the modern working man.
Esquire Things a Man Should Know About Work and Sex (and Some Things in Between)
ISBN: 1588162141 OCLC: 56387111 Hearst Books, New York : ©2005. All men need to know the rules that lead to success in every professional and social situation, and no one can explain them with more humor and verve than Esquire's experts: "Queer Eye Guy" Ted Allen and Scott Omelianuk. With lots of wit and plenty of wisdom, this to-the-point handbook advises men on all aspects of life, from topics to discuss during a plane flight with the boss to surefire signs a woman wants to get you into bed. (There are no surefire signs.) Written by Ted Allen, one of the Fab Five on Queer Eye for the Straight Guy, and Scott Omelianuk, Esquire's former executive editor, it presents the rules of the game that every man who wants to get ahead should follow in these complicated times. Need etiquette guidance on the job? Find out what to wear on an interview, what things never to order at a business dinner, how to fire somebody, how to ask for a raise, and more. Want ideas to heat up the bedroom? Always remember: It's about her. Except when it's about her. Every page offers a delicious new tidbit of enlightening amusement. Things a Man Should Know: The thing is, the clothes do make the man. Use all the mouthwash and breath mints you like. Sticky notes are not stationery. Everybody who drinks the office coffee should occasionally make a pot. On the notion that good girls don't: Yes, they do. Menage à trois: French for "In your dreams."
Esquire's Things a Man Should Know About Marriage: A Groom's Guide to the Wedding and Beyond
ISBN: 1573227773 OCLC: 42462917 Riverhead Books, New York : 1999. Presents a survival guide for husbands-to-be, offering practical advice on how to cope with the wedding ceremony, reception, family members, the bachelor party, and the honeymoon.
Esquire's Things a Man Should Know About Style
ISBN: 1573227633 OCLC: 40980010 Riverhead Books, New York : ©1999. The most useful advice from Esquire's popular style column is collected here, answering such timeless questions as, "Do women notice shoes?" and "What should you do if someone calls you a dandy?"
In My Kitchen: 100 Recipes and Discoveries for Passionate Cooks
ISBN: 0307951863 OCLC: 745609540 Clarkson Potter Publishers, New York : ©2012. A book for food lovers who want to lose themselves in the delight of perfectly slow-roasting a leg of lamb, or whipping up a showstopping triple-layer cake. And where there's a will to make something from scratch, Ted provides a way. This book is perfect for passionate home cooks looking for inspiring new recipes and techniques to add to their playbooks.
Queer Eye for the Straight Guy : The Fab 5's Guide to Looking Better, Cooking Better, Dressing Better, Behaving Better and Living Better
ISBN: 140005446X OCLC: 53369092 Clarkson Potter/Publishers, New York : ©2004. Imagine this: Five eminently stylish and hilariously witty gay men -- authoritative experts in food and wine, grooming, decorating, fashion, and culture -- invade your life, assess your strengths and weaknesses, and, in the course of a day, make you better dressed, better groomed, better mannered, and a better cook, living in a better home. All of this is painless (unless you have a really egregious body-hair situation), liberating, and downright fun. This is what Queer Eye for the Straight Guy does each week on one of the hottest TV shows in memory, as the Fab 5 -- Ted Allen, Kyan Douglas, Thom Filicia, Carson Kressley, and Jai Rodriguez -- turn an everyman frog into an every-girl's-dream prince. And this is what the book offers: the essential "make better" advice from each of the Fab 5. Just like the show, the book focuses on easy but lasting lifestyle transformation -- the tasks, the projects, the modest purchases, and, most important, the new attitudes that immediately make a noticeable difference. From Kyan's instructions on how often to wash your hair to Carson's explanation of why shirts are the new ties, from Ted's strategies for ordering wine and Thom's suggestions on a better bathroom to Jai's hints on shaking hands, Queer Eye for the Straight Guy is filled with clear, direct advice on the issues that confront every man. But Queer Eye doesn't try to make you dress like Carson or dance like Jai; it's about teaching you how to refine your own personal style, without throwing away your entire closet and buying a whole new everything. It's about helping you realize the best expression of yourself -- the real you. Queer Eye introduces men to the rewards that women -- and a lot of gay men -- have long reaped by thinking about the day-to-day details that make them look better, feel better, and get more out of life. Many straight men have long felt that these subjects are not for them. Nothing could be sillier. In this book, the Fab 5 sets them straight (so to speak).
The Food You Want to Eat: 100 Smart, Simple Recipes
ISBN: 1400080908 OCLC: 56876934 Clarkson Potter/Publishers, New York : ©2005. Presents one hundred recipes for accessible, easy-to-prepare, hassle-free dishes, including a variety of old favorites, pastas, and make-ahead crowd-pleasing food.
Things a Man Should Know About Style
ISBN: 1853754412 OCLC: 47150187 Prion, London : 2001. There are many areas of life in which you are a master - brilliant, confident, assured. But when it comes to dressing well and comporting yourself with style, what you don't know could fill a book. This is the book. It is an amusing and pleasureable book. It might even yield a quote or two for cocktail parties. It is arranged as simple nuggets of truth, lore, exhortation and caution which respond, talk to and feed off each other. The book does not pretend to comprise the be-all and end-all in matter of sartorial. Rather it offers basic guidelines, rules of the road; some of which may even been broken, so long as you know what your doing. Which you don't. Though you will. The perfect gift for the sartorially- challenged man in your life, even if that man is yourself.