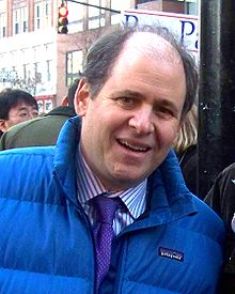 Jonathan Alter
Born:
1957 in Chicago
Pen Name:
None
Connection to Illinois
: Alter was born and raised in Chicago.
Biography
: Jonathan Alter is journalist and author who was a columnist and senior editor for Newsweek magazine from 1983 until 2011. He was a lead columnist for Bloomberg View, a new commentary website. Currently, he is a columnist for the Daily Beast, a political analyst for NBC News and MSNBC and at work on a biography of Jimmy Carter and an HBO documentary on The great newspapermen Jimmy Breslin and Pete Hamill. Today, Alter lives in Montclair, New Jersey, with his wife Emily Lazar, a former executive producer of the Comedy Central show ''The Colbert Report''.
---
Awards
:
Primary Literary Genre(s):
History; Non-Fiction
Primary Audience(s):
Adult readers
Facebook:
https://www.facebook.com/jonathanalter1/
Twitter:
https://twitter.com/jonathanalter?ref_src=twsrc%5Egoogle%7Ctwcamp%5Eserp%7Ctwgr%5Eauthor
Website:
http://www.jonathanalter.com
Jonathan Alter on WorldCat :
http://www.worldcat.org/search?q=jonathan+alter
---
Selected Titles
Between the lines :
ISBN: 9780681497559 OCLC: 237877718 State Street Press, [Brockport, N.Y.?] : ©2008.
The center holds :
ISBN: 9781451646078 OCLC: 839527535 A narrative thriller about the battle royale surrounding Barack Obama's quest for a second term amid widespread joblessness and one of the most poisonous political climates in American history.
The defining moment :
ISBN: 0743246012 OCLC: 141382660 Simon & Schuster Paperbacks, New York : 2007. This is the story of a political miracle--the perfect match of man and moment. FDR took office in 1933 as America touched bottom. Banks were closing, millions of people lost everything--the Great Depression had caused a national breakdown. Journalist Alter brings us closer than ever before to the Roosevelt magic. Facing the gravest crisis since the Civil War, instead of circumventing Congress and becoming the dictator so many thought they needed, FDR used his cagey political instincts and ebullient temperament in the storied first Hundred Days of his presidency to pull off a conjuring act that lifted the country and saved both democracy and capitalism. Alter shows us how a snobbish and apparently lightweight young aristocrat was forged into an incandescent leader by his domineering mother; his independent wife; his eccentric top adviser, Louis Howe; and his ally-turned-bitter-rival, Al Smith.--From publisher description.
The promise :
ISBN: 1439101191 OCLC: 517275024 Simon & Schuster, New York, NY : 2010. Jonathan Alter, one of the country's most respected journalists and historians, uses his unique access to the White House to produce the first inside look at Obama's difficult debut. In Alter's telling, the real Obama is an authentic, demanding, unsentimental, and sometimes overconfident leader.