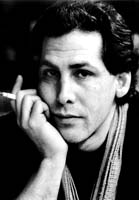 Douglas Isaac Busch
Born:
1951 in Miami Beach, Florida
Pen Name:
Douglas I. Busch
Connection to Illinois
: Douglas Isaac Busch attended and graduated from the University of Illinois with BFA in Art. He moved to Rockford Illinois in 1975. Restored 1880 Queen Ann Building in Rockford, Illinois. This building became his studio, darkroom and living quarters.
Biography
: Douglas Isaac Busch is an internationally respected photographer, master printmaker, camera designer, and teacher.
---
Awards
:
In Plain Sight- Best Book from a small publisher award in 1992
Primary Literary Genre(s):
Fine Art Photography
Primary Audience(s):
Adult readers; Young adult readers
Email:
doug@superlarge.com
Website:
http://www.superlarge.com
Douglas Isaac Busch on WorldCat :
http://www.worldcat.org/search?q=douglas+isaac+busch
---
Selected Titles
In plain sight :
ISBN: 1568630018 OCLC: 29580415
Italian gardens /
ISBN: 3899042182 OCLC: 71376204 Edition Braus, Heidelberg : 2006.
Retrospektive Douglas I. Busch /
ISBN: 3899041704 OCLC: 62143774
Silent waves
ISBN: 0970727852 OCLC: 233578839
Tides in time :
ISBN: 0884964132 OCLC: 35198569 Photo Dept. : Santa Monica, Calif. : 1996.
Vestiges :
ISBN: 3895062529 OCLC: 68804774 Lindemanns, Stuttgart : 2005.