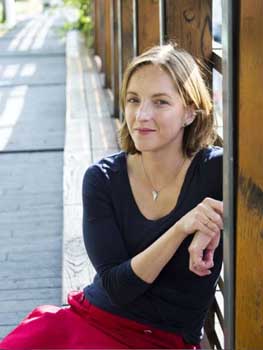 Rebecca Makkai
Born:
Pen Name:
None
Connection to Illinois
: Makkai is a Chicago-based author.
Biography
: Rebecca Makkai teaches the MFA program at Lake Forest College and Sierra Nevada College and runs StoryStudio Chicago's Novel-in-a-Year workshop. She holds a MA from Middlebury College's Bread Loaf School of English and a BA from Washington and Lee University. Her work was chosen to be included The Best American Short Stories anthology for four consecutive years - 2008, 2009, 2010, and 2011. It also appears regularly in publications such as Harper's, Tin House, Ploughshares, New England Review and Ecotone, and on public radio's This American Life and Selected Shorts. Makkai is the recipient of several fellowships including a 2014 NEA Fellowship.
---
Awards
:
"""The Borrower"""
-- Finalist, Pulitzer Prize
-- Finalist, National Book Award
-- Carnegie Medal, ALA
-- Winner, LA Times Book Prize
-- Winner, Stonewall Award
-- Ten Best Books of 2018, New York Times
"""The Hundred Year House"""
-- Starred Reviews, Library Journal, Booklist, Publishers Weekly, Shelf Awareness
"""Music for Wartime"""
-- Starred Reviews, Publishers Weekly,
-- Must-read Lists, Chicago Tribune, O Magazine, BuzzFeed, The Huffington Post, Minneapolis Star-Tribune, and The L Magazine
"""The Great Believers"""
-- Finalist, Pulitzer Prize in Fiction
-- Andrew Carnegie Medal
-- Los Angeles Times Book Prize for Fiction
-- Stonewall Book Award
-- New York Times Top 10 Book, 2018
-- Finalist, National Book Award
-- Starred Review, Booklist and Publishers Weekly
Primary Literary Genre(s):
Fiction
Primary Audience(s):
Adult readers
E-Mail:
rebeccamakkai@gmail.com
Facebook:
https://www.facebook.com/RebeccaMakkai
Twitter:
https://twitter.com/rebeccamakkai
Website:
http://rebeccamakkai.com/
Wikipedia:
https://en.wikipedia.org/wiki/Rebecca_Makkai
---
Selected Titles
Music for Wartime :
ISBN: 0525426698 OCLC: 893895002 Presents a collection of wide-ranging, evocative short stories, including several inspired by the author's family history or featuring protagonists whose lives are shaped by irony.
The Borrower
ISBN: 9780143120957 OCLC: 757470559 Lucy Hull, a young children's librarian in Hannibal, Missouri, finds herself both a kidnapper and kidnapped when her favorite patron, ten-year-old Ian Drake, runs away from home. The precocious Ian is addicted to reading, but needs Lucy's help to smuggle books past his overbearing mother, who has enrolled Ian in weekly antigay classes with celebrity Pastor Bob. Lucy stumbles into a moral dilemma when she finds Ian camped out in the library after hours with a knapsack of provisions and an escape plan. Desperate to save him from Pastor Bob and the Drakes, Lucy allows herself to be hijacked by Ian. The odd pair embarks on a crazy road trip from Missouri to Vermont, with ferrets, an inconvenient boyfriend, and upsetting family history thrown in their path. But is it just Ian who is running away? Who is the man who seems to be on their tail? And should Lucy be trying to save a boy from his own parents?
The Great Believers
ISBN: 0735223521 OCLC: 1031046204 "A dazzling new novel of friendship and redemption in the face of tragedy and loss set in 1980s Chicago and contemporary Paris, by the acclaimed and award-winning author Rebecca Makkai. In 1985, Yale Tishman, the development director for an art gallery in Chicago, is about to pull off an amazing coup, bringing in an extraordinary collection of 1920s paintings as a gift to the gallery. Yet as his career begins to flourish, the carnage of the AIDS epidemic grows around him. One by one, his friends are dying and after his friend Nico's funeral, the virus circles closer and closer to Yale himself. Soon the only person he has left is Fiona, Nico's little sister. Thirty years later, Fiona is in Paris tracking down her estranged daughter who disappeared into a cult. While staying with an old friend, a famous photographer who documented the Chicago crisis, she finds herself finally grappling with the devastating ways AIDS affected her life and her relationship with her daughter. The two intertwining stories take us through the heartbreak of the eighties and the chaos of the modern world, as both Yale and Fiona struggle to find goodness in the midst of disaster"--
The Hundred-Year House
ISBN: 052542668X OCLC: 861478903 "A dazzlingly original new novel from the acclaimed author of The Borrower. Now, Makkai returns with an ingenious novel set on an historic estate that once housed an arts colony. Doug, the husband of the estate's heir, desperately needs the colony files to get his stalled academic career back on track. But what he discovers when he finally gets his hands on them is more than he bargained for. Doug may never learn the house's secrets, but the reader will, as Makkai leads us on a thrilling journey into the past of this eccentric family"--