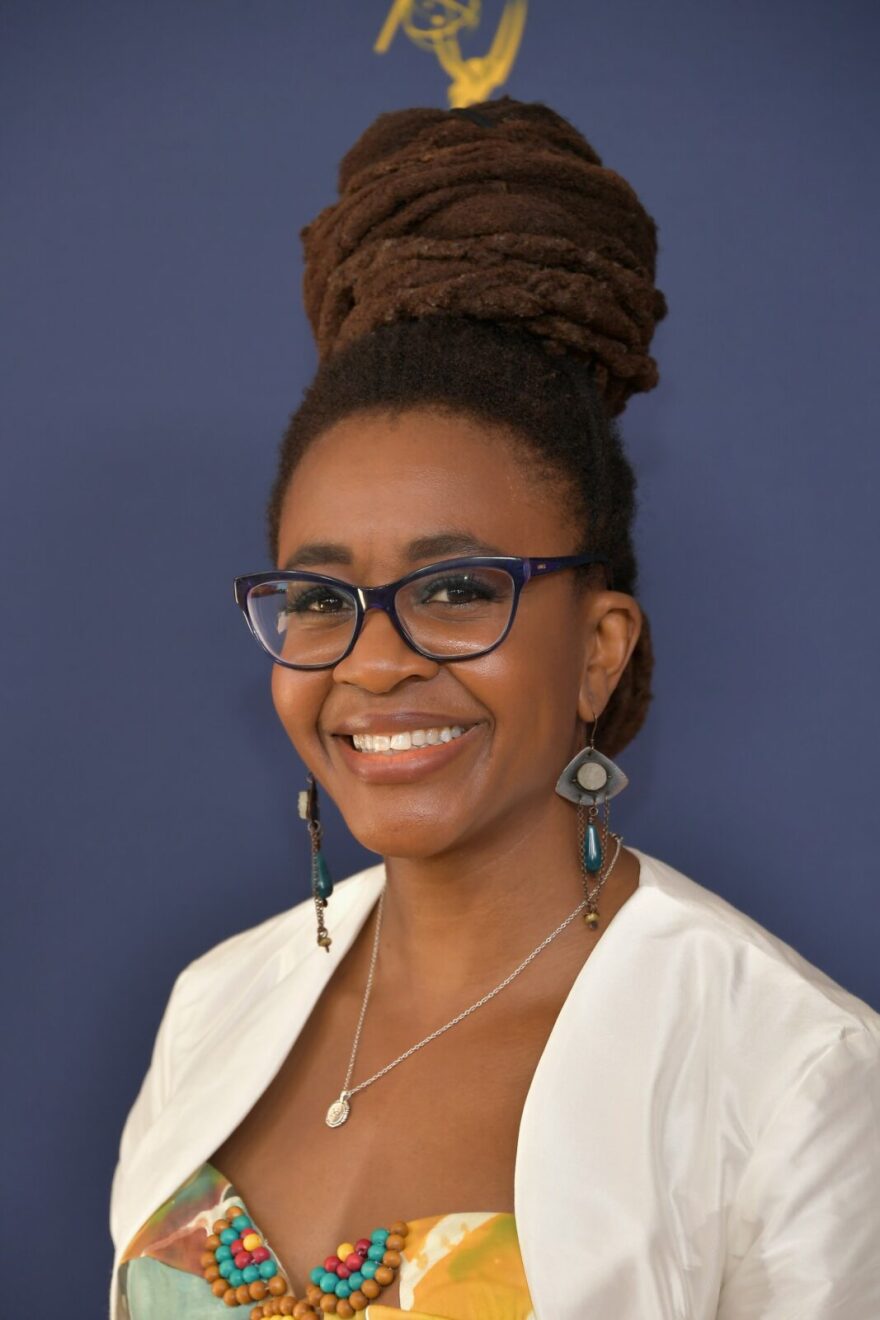 Nnedi Okorafor
Born:
Cincinnati, Ohio 1974
Pen Name:
Nnedi Okorafor-Mbachu
Connection to Illinois
: Okorafor graduated from Homewood-Flossmoor High School and from the University of Illinois at Urbana-Champaign in 1996 with her Bachelor's degree. She went on to receive her Masters in English from the University of Illinois, Chicago and in 2007, received a Ph. D. in English from there as well. She was a professor of creative writing at Chicago State University from 2008 through 2014.
Biography
: Nnedi Okorafor is an award-winning Nigerian-American novelist of African-based science fiction, fantasy and magical realism for both children and adults. She has won multi-Hugo, Nebula, Eisner Award-winning, New York Times bestselling writer and is known for weaving African culture into creative evocative settings and memorable characters. Formerly known by her married name of: Nnedi Okorafor-Mbachu, she no longer goes by that name even though some of her earlier works are written under it. A Creative Writer at Amazon Studios, Novelist at Dark Horse Comics, Writer at Marvel, Consultant at HBO, and writes books for other well-known publishers as well. Nnedi holds a PhD (literature) and two MAs (journalism and literature). She is also a Professor of Practice at Arizona State University and resides in Phoenix, Arizona.
---
Awards
:
Akata Witch - One of the 100 Best Fantasy and Young Adult Books of All Time - Time Magazine
Warrior - Nebula Award Nominee, Starred Reviews - Booklist, BCCB, School Library Journal
Noor - Illinois Reads Book Selection 2022 - Illinois Reading Council, Starred Reviews - Kirkus, Publishers Weekly, Booklist
Who Fears Death - World Fantasy Award for Best Novel, Le Prix Imaginales (France) for Best Translated Novel French title: Qui a Peur de la Mort? (Panini Books), Finalist - Nebula Award, RT Reviewer's Choice Best Book Award (Science Fiction), A T
The Shadow Speaker - Parallax Award, Image Award Nominee, Finalist - Essence Magazine Literary Award, Finalist - The Golden Duck Award, CCBC 2008 Choice, Finalist - Andre Norton Award, Tiptree Honor Book, Amelia Bloomer Project Book Selection
Long Juju Man - Macmillan Writers' Prize for Africa
Ikenga- Edgar Award Nominee, NPR Best Book of the Year, Amazon Best Children's Book of 2020
Chicken in the Kitchen - Children's Africana Book Award for Best Book for Young Readers, Starred Review - Kirkus
LaGuardia - Eisner and Hugo Award Winner
Lagoon - Illinois Reads Book Selection 2017 - Illinois Reading Council
Primary Literary Genre(s):
Fiction; Science Fiction
Primary Audience(s):
Adult readers; Children; Young adult readers
Facebook:
https://www.facebook.com/nnedi
Instagram:
https://www.instagram.com/nnediokorafor/
Twitter:
https://twitter.com/Nnedi
Web:
http://nnedi.com
Wikipedia:
https://en.wikipedia.org/wiki/Nnedi_Okorafor
---
Selected Titles
Akata Warrior
ISBN: 067078561x OCLC: Viking 2018 Now stronger, feistier, and a bit older, Sunny Nwazue, along with her friends from the Leopard Society, travel through worlds, both visible and invisible, to the mysterious town of Osisi, where they fight in a climactic battle to save humanity.
Akata Witch
ISBN: 0670011967 OCLC: New York : Viking New York : 2011 Twelve-year-old Sunny Nwazue, an American-born albino child of Nigerian parents, moves with her family back to Nigeria, where she learns that she has latent magical powers which she and three similarly gifted friends use to catch a serial killer.
Akata Woman
ISBN: 0451480589 OCLC: Viking 2022 With the help of her friends, fifteen-year-old Sunny embarks on a mission to find a precious object and return it to the spider deity Udide, but defeating the guardians of Udide's ghazal will put all of Sunny's hard lessons and abilities to the test.
Binti
ISBN: 0765385252 OCLC: Tor 2015 Her name is Binti, and she is the first of the Himba people ever to be offered a place at Oomza University, the finest institution of higher learning in the galaxy. But to accept the offer will mean giving up her place in her family to travel between the stars among strangers who do not share her ways or respect her customs. Knowledge comes at a cost, one that Binti is willing to pay, but her journey will not be easy. The world she seeks to enter has long warred with the Meduse, an alien race that has become the stuff of nightmares. Oomza University has wronged the Meduse, and Binti's stellar travel will bring her within their deadly reach. If Binti hopes to survive the legacy of a war not of her making, she will need both the gifts of her people and the wisdom enshrined within the University, itself--but first she has to make it there, alive.
Binti: Home
ISBN: 0765393115 OCLC: Tor 2017 It's been a year since Binti and Okwu enrolled at Oomza University. A year since Binti was declared a hero for uniting two warring planets. A year since she found friendship in the unlikeliest of places. And now she must return home to her people, with her friend Okwu by her side, to face her family and face her elders. But Okwu will be the first of his race to set foot on Earth in over a hundred years, and the first ever to come in peace. After generations of conflict can human and Meduse ever learn to truly live in harmony?
Binti: The Night Masquerade
ISBN: 0765393131 OCLC: Tor 2018 Binti has returned to her home planet, believing that the violence of the Meduse has been left behind. Unfortunately, although her people are peaceful on the whole, the same cannot be said for the Khoush, who fan the flames of their ancient rivalry with the Meduse. Far from her village when the conflicts start, Binti hurries home, but anger and resentment has already claimed the lives of many close to her. Once again it is up to Binti, and her intriguing new friend Mwinyi, to intervene--though the elders of her people do not entirely trust her motives--and try to prevent a war that could wipe out her people, once and for all. --Publisher's description.
Broken Places & Outer Spaces
ISBN: 1501195476 OCLC: Simon & Schuster 2019 Nnedi Okorafor was never supposed to be paralyzed. A college track star and budding entomologist, Nnedi's lifelong battle with scoliosis was just a bump in her plan--something a simple operation would easily correct. But when Nnedi wakes from the surgery to find she can't move her legs, her entire sense of self begins to waver. Confined to a hospital bed for months, unusual things begin to happen. Psychedelic bugs crawl her hospital walls; strange dreams visit her nightly. Nnedi begins to put these experiences into writing, conjuring up strange, fantastical stories. What Nnedi discovers during her confinement would prove to be the key to her life as a successful science fiction author: In science fiction, when something breaks, something greater often emerges from the cracks. In Broken Places & Outer Spaces, Nnedi takes the reader on a journey from her hospital bed deep into her memories, from her painful first experiences with racism as a child in Chicago to her powerful visits to her parents' hometown in Nigeria. From Frida Kahlo to Mary Shelly, she examines great artists and writers who have pushed through their limitations, using hardship to fuel their work. Through these compelling stories and her own, Nnedi reveals a universal truth: What we perceive as limitations have the potential to become our greatest strengths--far greater than when we were unbroken. A guidebook for anyone eager to understand how their limitations might actually be used as a creative springboard, Broken Places & Outer Spaces is an inspiring look at how to open up new windows in your mind. --Provided by publisher.
Chicken in the Kitchen
ISBN: 1911373153 OCLC: Lantana Publishing 2017 Awakened by strange sounds, Anyaugo discovers a giant chicken in her kitchen and has to muster the courage to remove it before the chicken destroys her family's preparations for the New Yam Festival.
Ikenga
ISBN: 0593113535 OCLC: Viking 2021 In southeastern Nigeria, twelve-year-old Nnamdi is determined to avenge his police chief father, who was murdered while triyng to rid the town of criminals, but Nnamdi feels powerless until he receives a magical object which gives him superpowers.
Kabu Kabu: Stories
ISBN: 160701405X OCLC: Prime Books 2013 Presents a variety of takes on the future of Africa, including robots serving foreign interests find common cause with artists, women fall victim to society's order, and assassins ponder the effects of their efforts to provoke reform.
Lagoon
ISBN: 148144087X OCLC: Gallery 2015 It's up to a famous rapper, a biologist, and a rogue soldier to handle humanity's first contact with an alien ambassador--and prevent mass extinction--in this novel that blends magical realism with high-stakes action. After word gets out on the Internet that aliens have landed in the waters outside of the world's fifth most populous city, chaos ensues. Soon the military, religious leaders, thieves, and crackpots are trying to control the message on YouTube and on the streets. Meanwhile, the earth's political superpowers are considering a preemptive nuclear launch to eradicate the intruders. All that stands between 17 million anarchic residents and death is an alien ambassador, a biologist, a rapper, a soldier, and a myth that may be the size of a giant spider, or a god revealed --
Long Juju Man
ISBN: 0230722075 OCLC: MacMillan 2009
Noor
ISBN: 0756416094 OCLC: DAW 2021 When everything goes wrong on a trip to the local market, AO, a woman with a ton of major and necessary body augmentations, must race against time across the deserts of Northern Nigeria with a Fulani herdsman named DNA in a world where everything is streamed.
Remote Control
ISBN: 125077280X OCLC: Tor 2021 The day Fatima forgot her name, Death paid a visit. From here on in she would be known as Sankofa--a name that meant nothing to anyone but her, the only tie to her family and her past. Her touch is death, and with a glance a town can fall. And she walks--alone, except for her fox companion--searching for the object that came from the sky and gave itself to her when the meteors fell and when she was yet unchanged; searching for answers. But is there a greater purpose for Sankofa, now that Death is her constant companion? --
SHURI #3
ISBN: B07LB8WNTP OCLC: Marvel 2018
SHURI #5
ISBN: B07NRHVBX2 OCLC: Marvel 2019
Shuri: The Search for Black Panther
ISBN: 1302915231 OCLC: Marvel 2013 T'Challa has disappeared, and everyone is looking at the next in line for the throne. Wakanda expects Shuri to take on the mantle of Black Panther and lead their nation -- but she's happiest in a lab, surrounded by her own inventions. She'd rather be testing gauntlets than throwing them down! So it's time for Shuri to go rescue her brother yet again -- with a little help from Storm, Rocket Raccoon and Groot! But when her outer-space adventure puts the entire cultural history of her continent and risk from an energy-sapping alien threat, can Shuri and Iron Man save Africa? --Back cover of Volume 1
The Shadow Speaker
ISBN: 143100336 OCLC: Hyperion 2007
Who Fears Death
ISBN: 0756407281 OCLC: DAW 2014 In a post-apocalyptic Africa, the world has changed in many ways; yet in one region, genocide between tribes still bloodies the land. A woman who has survived the annihilation of her village and a terrible rape by an enemy general wanders into the desert, hoping to die. Instead, she gives birth to an angry baby girl with hair and skin the color of sand. Gripped by the certainty that her daughter is different--special--she names her Onyesonwu, which means Who fears death? in an ancient language. It doesn't take long for Onye to understand that she is physically and socially marked by the circumstances of her conception. She is Ewu--a child of rape who is expected to live a life of violence, a half-breed rejected by her community. But Onye is not the average Ewu. Even as a child, she manifests the beginnings of a remarkable and unique magic. As she grows, so do her abilities, and during an inadverttent visit to the spirit realm, she learns something terrifying: someone powerful is trying to kill her. Desperate to elude her would-be murderer and to understand her own nature, she embarks on a journey in which she grapples with nature, tradition, history, true love, and the spiritual mysteries of her culture, and ultimately learns why she was givern the name she beras: Who Fears Death. --
Zahara the Windseeker
ISBN: 0547020287 OCLC: Boston : Houghton Mifflin Boston : 2005 Zahrah, a timid thirteen-year-old girl, undertakes a dangerous quest into the Forbidden Greeny Jungle to seek the antidote for her best friend after he is bitten by a snake, and finds knowledge, courage, and hidden powers along the way.