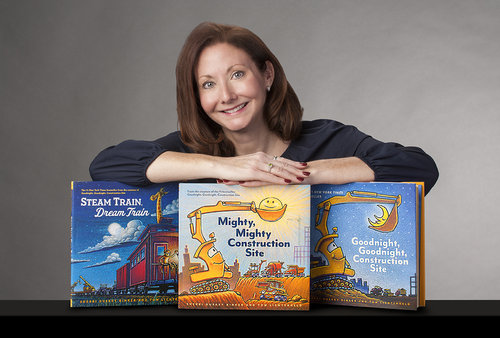 Sherri Rinker
Born:
1966 in Chicago, Illinois
Pen Name:
Sherri Duskey Rinker
Connection to Illinois
: Rinker lives in St. Charles.
Biography
: Sherri Duskey Rinker is passionate about children's literacy and has had a life-long love of books. She is a graphic designer and New York Times bestselling author. Her first picture book, ''Goodnight, Goodnight, Construction Site'' was inspired by her youngest son's obsession with trucks. The book became an instant bestseller, won critical acclaim and received numerous honors.
---
Awards
:
-- Goodnight, Goodnight, Construction Site - International Bestseller, New York Times #1 Bestseller, New York Times Bestseller List for over one year, IndieBound Bestseller - in the top 15 for over one year, Publishers Weekly Bestseller, ALA Notable Child
-- Steam Train, Dream Train - New York Times #1 Bestseller, Illinois Reads Book Selection, Illinois Reading Council, 2016
-- Silly Wonderful You - Illinois Reads Book Selection, Illinois Reading Council, 2017
-- It's So Quiet: A Not-Quite-Going-to Bed-Book - Illinois Reads Book Selection, Illinois Reading Council, 2022
Primary Literary Genre(s):
Fiction
Primary Audience(s):
Children
Blog:
http://sherriduskeyrinker.blogspot.com/
E-Mail:
Sherri@SherriRinker.com
Facebook:
https://www.facebook.com/pages/Goodnight-Goodnight-Construction-Site/157261284307123
Instagram:
https://www.instagram.com/sherririnker/
Twitter:
https://twitter.com/sherririnker?lang=en
Web:
http://www.sherririnker.com
---
Selected Titles
Big machines :
ISBN: 0544715578 OCLC: Describes the life of the children's book author and illustrator, conveying her life at Folly Cove, her love of dance, and how she was able to create images of machinery, including those used in her book, Mike Mulligan and his Steam Shovel Mary Anne.
Bulldozer's shapes /
ISBN: 1452153213 OCLC: In rhyming text, Bulldozer and Crane work at the construction site circling around the dirt, clearing away triangles of rocks until the perfect building spot has been squared off. --
Celebrate you! /
ISBN: 0062564021 OCLC: This charming new picture book celebrates all the small but important milestones on the way to growing up, from the first wobbly baby steps to the time when they're ready to leave the nest.
Cement Mixer's ABC /
ISBN: 1452153183 OCLC: As he works, Cement Mixer makes a little song of all the construction words from A to Z.
Construction site mission :
ISBN: 1452182574 OCLC: In rhyming text, the vehicles of the construction crew set to work demolishing an old rickety building--the necessary first step to building something new.
Construction site on Christmas night /
ISBN: 9781452139111 OCLC: It is Christmas Eve, and all the construction vehicles are finishing up work on the site, and when they leave they find that there is a special present waiting for each of them.
Construction site, merry and bright :
ISBN: 1797204297 OCLC: On Christmas Eve, there's just one job left for the big trucks to do--getting their site ready for a festive night of fun! Lift the flaps to reveal what each truck is bringing to the celebration, as they discover that the best Christmas present of all is the gift of being together. --Back cover.
Construction Site: Road Crew Coming Through!
ISBN: 1797204726 OCLC: Told in rhyming text, seven new road-building machines set out on a job--building, rolling, paving, and painting a brand new road.
Crane Truck's opposites /
ISBN: 1452153175 OCLC: In rhyming text, Crane Truck works at the construction site with loads both heavy and light, big and small, helping his construction friends.
Dump Truck's colors /
ISBN: 9781452153209 OCLC: In rhyming text, Dump Truck and Cement Mixer have a colorful day at the construction site underneath a bright blue sky, pouring loads of gray concrete and moving brown loads of rocks up to the white moon night.
Excavator's 123 /
ISBN: 1452153167 OCLC: The construction crew is counting on Excavator, as he and Dump Truck count off the ten tasks they need to do on their construction site.
Goodnight, goodnight, construction site /
ISBN: 0811877825 OCLC: At sunset, when their work is done for the day, a crane truck, a cement mixer, and other pieces of construction equipment make their way to their resting places and go to sleep.
How to put an octopus to bed /
ISBN: 1452140103 OCLC: When mommy octopus tells little Floyd that it is time for bed, he decides that his parents want help getting their baths and putting on their pajamas (not what Mommy-O meant)--soon all three are covered with water and bubbles, and his parents are so exhausted that they fall asleep before Floyd is in bed.
It's so quiet :
ISBN: 145214544X OCLC: Little Mouse cannot sleep because it is too quiet, but when he really listens he finds the night is full of all sorts of sounds--so many, in fact, that it is too noisy to sleep--
Mighty, mighty construction site /
ISBN: 1452152160 OCLC: Told in rhyming text, Excavator, Bulldozer, Crane Truck, Dump Truck, and Cement Mixer will all need to work together as they tackle their biggest job yet--a massive building.
Revver the speedway squirrel /
ISBN: 1547603615 OCLC: Revver the squirrel dreams of being a race car driver--or at least a member of the pit crew--but his squirrel survival lessons have taught him nothing about engines.
Revver the speedway squirrel : The Big Race Home
ISBN: 1547603674 OCLC: Revver the squirrel is now an accepted part of the race team (more or less), but he still has a lot to learn, and when the team travels to the airport for a distant race, Revver wanders into the terminal looking for his friends, and gets lost.
Silly wonderful you /
ISBN: 0062271059 OCLC: In rhyming text, a mother describes all the ways her days have been changed by the addition of a toddler to her life.
Steam train, dream train 1-2-3 /
ISBN: 1452149143 OCLC: Cuddle up with the beloved animal friends from the bestselling Steam Train, Dream Train and count on lots of fun! Little train enthusiasts will love counting from one to ten along with the dreamy train cars!
Steam train, dream train colors /
ISBN: 1452149151 OCLC: All aboard for a rainbow of train cars and their lively animal crew! Vivid colors and cozy rhyming text inspired by the bestselling Steam Train, Dream Train will make learning colors a rich experience for the youngest readers.
Steam train, dream train sound book /
ISBN: 1452128251 OCLC: 864808700 In this book with rhyming text, the dream train makes various sounds as it loads its freight and says goodnight.
The 12 sleighs of Christmas /
ISBN: 1452145148 OCLC: 957724531 When, two weeks before Christmas, the elves discover that Santa's sleigh is in a bad state, twelve teams of elves set out to build twelve different sleighs: a souped up hot rod, a semitruck that flies, a ship that sails in the sky, and each version is more elaborate than the one before--but which will Santa choose?
Three cheers for Kid McGear! /
ISBN: 1452155828 OCLC: 1075553765 Told in rhyme, the big construction trucks are skeptical when Kid McGear the skid-steer shows up on the big construction site, after all a skid-steer is rather small--but when the big trucks run into trouble on a steep incline, Kid McGear proves that sometimes a small all-purpose truck may be just what is needed to save the day.
Tiny and the big dig
ISBN: 9780545904292 OCLC: 985604099 Tiny is a small, but very determined dog and right now he smells a big bone buried deep in the earth of the garden--and he is going to get that bone no matter how far down he has to dig.