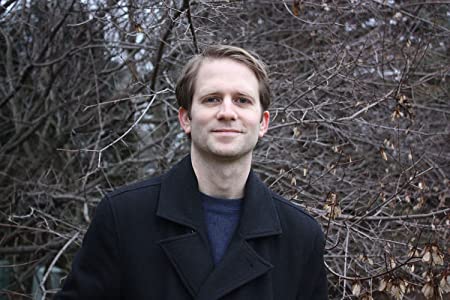 Matthew Cordell
Born:
1975 in Greenville, South Carolina
Pen Name:
None
Connection to Illinois
: Cordell's artistic passions led him to Chicago. This is where he met his wife, Illinois author - Julie Halpern, and discovered his love for children's books. They currently reside in Gurnee.
Biography
: Matthew Cordell is the author and illustrator of Caldecott award winner Wolf in the Snow, Trouble Gum, Another Brother, hello! hello!, and Wish. He has also illustrated the books of renowned authors including Philip Stead (Special Delivery), Rachel Vail (the Justin Case series), and Gail Carson Levine (Forgive Me, I Meant To Do It).
---
Awards
:
-- Another Brother - Illinois Reads Book Selection, Illinois Reading Council, 2013, Starred Review - School Library Journal
-- Bear Island - Illinois Reads Book Selection, Illinois Reading Council, 2022, Starred Reviews - School Library Journal, Horn Book, Publishers Weekly, Recommended Book - BCCB
-- Wolf in the Snow - Caldecott Medal, 2018, NPR Best Book , 2017, Horn Book Magazine Best Book, 2017, School Library Journal Best Book, 2017, Kirkus Reviews Best Book, 2017, Boston Globe Best Book, 2017, Huffington Post Best Book, 2017, Starred Reviews -
-- Cornbread & Poppy - Starred Reviews - Bookpage, Booklist, Publishers Weekly, Horn Book,
-- Hello, Neighbor! - Starred Reviews - Publishers Weekly, Booklist, School Library Journal, Kirkus
-- First Grade Dropout - Starred Review - Publishers Weekly
-- Follow That Frog! - Starred Reviews - Booklist, BCCB, School Library Journal
-- Explorers - Starred Reviews - Booklist
-- King Alice - Kids' Indie Next Pick for Fall 2018, Starred Review - Booklist
-- Dream - Bank Street Best Children's Books of the Year
-- hello! hello! - BookPage Best Children's Book, New York Times Notable, Young Hoosier Book Award Master List
-- Lost. Found. - Starred Reviews - Publishers Weekly, School Library Journal
Primary Literary Genre(s):
Fiction; Illustrator
Primary Audience(s):
Children
Blog:
http://matthewcordell.blogspot.com/
E-Mail:
matthew@matthewcordell.com
Instagram:
https://www.instagram.com/Cordell_Matthew/
Twitter:
https://twitter.com/cordellmatthew
Web:
http://matthewcordell.com
Web:
http://etsy.com/shop/MatthewCordellArt
Wikipedia:
https://en.wikipedia.org/wiki/Matthew_Cordell
---
Selected Titles
Another brother
ISBN: 9781250207623 OCLC: New York : Feiwel and Friends, New York : 2012. Davy the sheep wishes he had time alone with his parents, as he did before his twelve brothers came along and started imitating his every move, but when his wish comes true Davy misses playing with the youngsters.
Baby Clown /
ISBN: 0763697435 OCLC: When Frieda and Boffo Clown have a baby, the entire circus is over the moon. But there is one problem: Baby Clown won't stop crying.
Bat and Rat
ISBN: 9781419701603 OCLC: New York : Abrams Books for Young Readers, New York : 2012. One night at the Hotel Midnight, the lyrics written and sung by jazz musician Rat are those inspired by his friendship with Bat, who plays the piano and writes the tunes.
BEAR ISLAND.
ISBN: 1250317169 OCLC: Louise and her family are sad over the loss of their beloved dog, Charlie. Life will not be the same, Louise says, as she visits a little island that Charlie loved. But on a visit to the island after Charlie's death, something strange happens: She meets a bear. At first, she's afraid, but soon she realizes that the bear is sad, too. As Louise visits more often, she realizes that getting over loss takes time. And just when she starts to feel better, it's time for Bear to bed down for the winter. Once again, Louise believes that life will not be the same. But sometimes, things can change for the better, and on the first warm day of spring, her family welcomes a new member. Here is a lovely, poignant story about loss and healing that will bring comfort to even the youngest readers.
Bob, not Bob!
ISBN: 9781484723029 OCLC: When a young boy gets a cold, he just wants his mommy. But his stuffy nose makes it difficult for him to call out to his mom--not 'Bob, ' who happens to be the family dog --
Cornbread & Poppy at the Carnival
ISBN: 0759554900 OCLC: Little Brown 2022 Best friends Cornbread and Poppy spend a day at the Carnival playing games, eating snacks, and riding the Ferris wheel.
CORNBREAD & POPPY.
ISBN: 0759554870 OCLC: Cornbread LOVES planning. Poppy does not. Cornbread ADORES preparing. Poppy does not. Cornbread IS ready for winter. Poppy...is not. But Cornbread and Poppy are the best of friends, so when Poppy is left without any food for the long winter, Cornbread volunteers to help her out. Their search leads them up, up, up Holler Mountain, where these mice might find a new friend...and an old one. --
Dream /
ISBN: 1484773403 OCLC: Follows a gorilla family as they imagine their baby's future.
Evergreen
ISBN: 1250317177 OCLC: [S.l.] : Feiwell & Friends [S.l.] : 2023
Explorers /
ISBN: 1250174961 OCLC: A boy plays with an origami bird made by a homeless man while his family visits a museum, which causes all sorts of trouble but leads to new friendships in this nearly wordless book.
First grade dropout
ISBN: 9780544129856 OCLC: After an embarrassing incident, a young boy decides to quit school.
Follow that frog /
ISBN: 0823444260 OCLC: Aunt Josephine tells her niece Sadie the tale of her lifelong pursuit of a man-eating frog --
Forgive me, I meant to do it :
ISBN: 9780062253538 OCLC: HarperCollins, 2013. Inspired by William Carlos William's famous poem, This Is Just to Say, a collection of ironic apology poems imagines how tricksters really feel about the mischief they make.
Gone camping :
ISBN: 1328596346 OCLC: Camping is fun. Until it's time to sleep. Then, Lucy wonders, what kinds of creatures lurk in the dark? With only her brother and grandpa as tent mates, will Lucy be able to face her camping fears? Includes a variety of poetic forms--from aubade to haiku--as well as writing tips about rhyme and rhythm --
Gone fishing :
ISBN: 0544439317 OCLC: In this novel told through poems, nine-year-old Sam loves fishing with his dad, so when his pesky little sister horns in on their fishing trip, he is none too pleased. Includes primer on rhyme, poetry techniques, rhythm, stanzas, and poetic forms.
Hello neighbor! :
ISBN: 0823446182 OCLC: A biographical look at the life and career of Fred Rogers and the impact of his show, Mister Rogers' Neighborhood --
Hello! hello!
ISBN: 9781423159063 OCLC: New York : Disney Hyperion Books, New York : c2012. A child seeks a way to communicate with parents and a brother who are busy with their electronic devices.
Hope
ISBN: 9781368020824 OCLC: Two lions celebrate their grandchild and express all the ways this new life has expanded their world, and the hope they hold for his future --
If the S in moose comes loose /
ISBN: 0062295101 OCLC: When Moose loses the last two letters of his name and disappears, Cow begs, borrows, and steals to find the necessary letters so that she can be reunited with her best friend.
If you were a chocolate mustache :
ISBN: 159078927X OCLC: Riddles, limericks, story poems, nonsense rhymes, haiku, and other poetic forms seasoned with funny art by Cordell.
Itsy-bitsy baby mouse
ISBN: 9781416937869 OCLC: New York : Simon & Schuster Books for Young Readers, New York : ©2012. A baby mouse gets lost and experiences frightening adventures before finding his way back home to his parents.
Justin Case: Rules, Tools, and Maybe a Bully
ISBN: 1250062713 OCLC: Embarking on a new school year filled with friends, tests, and other worries, Justin Case records the tribulations of fourth grade in his diary while struggling to outmaneuver a local bully.
Justin Case: School, Drool, and Other Daily Disasters
ISBN: 0312563574 OCLC: 457152500 Feiwel and Friends, New York : 2010. "It's the start of the school year, and nothing feels right to Justin. He didn't get the teacher he wanted, he's not in the same class as his best friend, and his little sister, Elizabeth, is starting kindergarten at his school. Elizabeth doesn't seem nervous at all. Justin is very nervous about third grade. And to top it off, he's lost his favorite stuffed animal, but he can't tell anyone, because technically he's too old to still have stuffed animals. Right?"--Publisher.
Justin Case: Shells, Smells, and the Horrible Flip-Flops of Doom
ISBN: 1250027233 OCLC: 748331355 Feiwel and Friends, New York : 2012. "Justin is going to start fourth grade-but first, he has to survive the summer. He "gets" to go to camp every day on a bus. He "gets" to experience all sorts of new things: Bugs. Mess hall food. Flip-flops (they hurt the space between his toes and they're hard to walk in). And (gulp!) swimming. Justin's little sister, Elizabeth, seems to deal with camp just fine. So do his friends. Justin is trying very hard not to be a worried kid anymore, especially when it comes to making friends at camp, including a new kid who is kind of ... rough. After all, Justin is going to be in fourth grade. It's time to be brave. Right?"--Jacket.
King Alice /
ISBN: 1250047498 OCLC: 978287543 "A young girl wakes her father by informing him that she is King Alice, then draws him and other family members into her imaginative activities, from writing a book to a sleepover with fairies."--
Leap back home to me /
ISBN: 1416906649 OCLC: 522384025 Margaret K. McElderry Books, New York : ©2011. A little frog makes increasingly bold leaps out into the world, and then comes back to his mother after each excursion.
Leaps and bounce /
ISBN: 1423152344 OCLC: 890912582 Illustrations and rhyming text follow a small group of tadpoles as they undergo a change, from tiny, tailed swimmers to leaping frogs.
Like bug juice on a burger /
ISBN: 1419701908 OCLC: 808421253 "As the days go on, nine-year-old Eleanor realizes that maybe being at summer camp isn't so bad after all, and is full of special surprises"--
Like carrot juice on a cupcake
ISBN: 9781419710339 OCLC: 852957104 A new girl at school throws nine-year-old Eleanor's relationship with her best friend Pearl into disarray.
Like pickle juice on a cookie
ISBN: 1419720503 OCLC: 921864162 When nine-year-old Eleanor's beloved babysitter Bibi moves away to care for her ailing father, Eleanor must spend the summer adjusting to a new babysitter while mourning the loss of her old one.
Lost. found. /
ISBN: 1626720177 OCLC: 898911304 When a bear loses his bright red scarf in the woods, it is found--and lost again--by a series of animals that use it to keep warm or to have fun, but they disagree over who really owns it and cause a problem that only the scarf's true owner can fix.
Mighty Casey
ISBN: 9780312367640 OCLC: 190784897 Feiwel and Friends, New York : 2009. The Delmar Dogs baseball team is terrible, especially Casey Jenkins, but with a little bit of faith in themselves, they finally manage to win a game.
Ollie and Claire /
ISBN: 0399256032 OCLC: 776999978 Philomel Books, New York : ©2013. Bored with her ho-hum routine with her best friend Ollie, Claire secretly plans a new adventure with a mystery person.
Return to Gill Park /
ISBN: 0823419983 OCLC: 61240717 Holiday House, New York : ©2006. When thirteen-year-old Willy Wilson returns to Gloria to enroll in Gill Park Gallery School, he finds himself in the middle of a politically backed struggle to save the park and to solve a treasure hunt.
Righty and Lefty :
ISBN: 0439636299 OCLC: 74458783 Scholastic Press, New York : 2007. Even though Lefty and Righty like different things, they find they must learn to get along together without tripping over each other.
Rock 'n' roll soul /
ISBN: 1419728490 OCLC: 1000583418 A young music lover steps onto the school talent show stage determined to be herself and sing her own unique song.
Rooting for you :
ISBN: 9781423152309 OCLC: 782251790 Disney*Hyperion, New York : 2013. A seed, afraid but bored in the dark soil, decides to put out one little root, then one little shoot, before learning that there are plenty of friends around for encouragement.
Second grade holdout
ISBN: 9780544876811 OCLC: 956530239 Missing the familiarity of first grade and imagining the impossible tasks assigned by his next teacher, a boy refuses to start second grade.
Special delivery
ISBN: 9781596439313 OCLC: 873985310 A little girl goes on a long journey to deliver an elephant to her great aunt--
The Gorillas of Gill Park /
ISBN: 0823417514 OCLC: 50034918 Holiday House, New York : ©2003. While spending the summer before seventh grade with his aunt, Willy Wilson finds his first friends ever in the colorful characters who all love the neighborhood park owned by an eccentric old man.
The knowing book /
ISBN: 1590789261 OCLC: 914219107 "This story begins and ends with the sky that is always above you. In between, a young rabbit travels through the wide world, experiencing joy and sorrow and all the wonder that the world has to offer. Along the way he chooses a path, explores the unknown, and ventures along trails on and off the map. And at the end of the journey, braver and more confident, he returns home, the place he can always count on and will always know."--Provided by Amazon.com.
The moon is la luna :
ISBN: 0618646450 OCLC: 169869301 Easy-to-read text introduces Spanish words and rhymes them with English ones that are sometimes very different, as well as providing advice on using words that are much the same.
The only fish in the sea
ISBN: 9781626722828 OCLC: 953842575 Sadie and Sherman set out to rescue Ellsworth, the goldfish Little Amy Scott received for her birthday and threw right into the ocean.
Toby and the snowflakes /
ISBN: 0618420045 OCLC: 53954060 Houghton Mifflin Co., Boston : 2004. Lonely after his best friend moves away, Toby finds new playmates in the talking snowflakes that begin to fall.
Toot toot zoom! /
ISBN: 0763634522 OCLC: 309337229 Candlewick Press, Somerville, Mass. : 2009. Pierre the fox goes on a road trip to find a friend.
Trouble gum /
ISBN: 0312387741 OCLC: 276602359 Feiwel and Friends, New York : 2009. Playing indoors with his little brother on a rainy day, a rambunctious young pig causes a ruckus and then breaks his mother's three chewing gum rules.
What floats in a moat?
ISBN: 9781416997634 OCLC: 586122869 Simon & Schuster Books for Young Readers, New York : ©2013. While trying to cross a moat, Archimedes the Goat and Skinny the Hen learn why objects sink or float.
What Isabella Wanted.
ISBN: 0823442632 OCLC: 1249751332 "The true story of Isabella Stewart Gardner's mission to turn her home into a unique art museum"
Wish /
ISBN: 148470875X OCLC: 863801636 When an elephant couple decides it is time to have a child, unexpected challenges arise but, at last, the pair's deepest wish comes true.
Wolf in the snow
ISBN: 9781250076366 OCLC: 940283649 When a wolf cub and little girl are lost in a snowstorm they must find their way home.