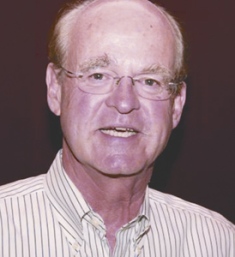 James Dunlap Nowlan
Born:
1941 in Kewanee, lllinois
Pen Name:
James D. Nowlan
Connection to Illinois
: Nowlan was born in Kewanee and now resides in Toulon. He received his B. A. , M. A. , and Ph. D. degrees in political science from the University of Illinois at Urbana-Champaign.
Biography
: James Nowlan has been an Illinois legislator, state agency director, statewide candidate and campaign manager for US senatorial and presidential candidtaes. He was elected to the Illinois House of Representatives in 1968 at age twenty-six. Four years later he was the Republican candidate for lieutenant governor, running mate of Governor Richard B. Ogilvie. In 1978, he managed the successful re-election campaign of US Senator Charles H. Percy and the follwing year organized the national presidential campaign of US representative John B. Anderson. During the Governorship of James R. Thompson, Nowlan served in eight different capacities, including trouble-shooting state agency director (three times), special assiatnat for education, and executive director of a speical transition team that bridged the Governor's third and fourth terms. Nowlan received his PhD in political science from the University of Illinois at Urbana. A former community newspaper owner and publisher, Nowlan served as president of the Taxpayers' Federation of Illinois from 1991 - 1994. He is a senior fellow at the University of Illinois Institute of Government and Public Affairs and an adjunct professor of public policy at Knox College in Galesburg, Illinois.
---
Awards
:
Primary Literary Genre(s):
Non-Fiction
Primary Audience(s):
Adult readers
Email:
nowlan@illinois.edu
Website:
http://igpa.uillinois.edu/person/james-d-nowlan
James Dunlap Nowlan on WorldCat :
http://www.worldcat.org/search?q=james+dunlap+nowlan
---
Selected Titles
A new game plan for Illinois
ISBN: 0962268003 OCLC: 19630034 Neltnor House, Chicago, Ill. : 1989.
Glory, darkness, light :
ISBN: 0810115492 OCLC: 53840208 Northwestern University Press, Evanston, Ill. : ©2004. "With roots dating back to the Civil War, the Union League Club of Chicago has grown, prospered, and suffered alongside its city. Glory, Darkness, Light: A History of the Union League Club of Chicago tells a story of how the Club and its members have built, squabbled with, and boosted their city for 125 years." "Drawing on interviews, oral histories, and extensive archives, Glory, Darkness, Light is both a grand city history and a revealing look at what goes on behind the brass plaque of a prestigious city club."--Jacket.
ILLINOIS POLITICS.
ISBN: 9780252035203 OCLC: 968655561 UNIV OF ILLINOIS Press, [Place of publication not identified], 2017.
The editor's wife /
ISBN: 1420853996 OCLC: 68722423 AuthorHouse, Bloomington, Ind. : ©2005.
The itinerant :
ISBN: 0963439561 OCLC: 44452382 Conservation Press, Winnetka, Ill. : ©2000.
The politics of higher education :
ISBN: 0252005589 OCLC: 2318316 University of Illinois Press, Urbana : ©1976.