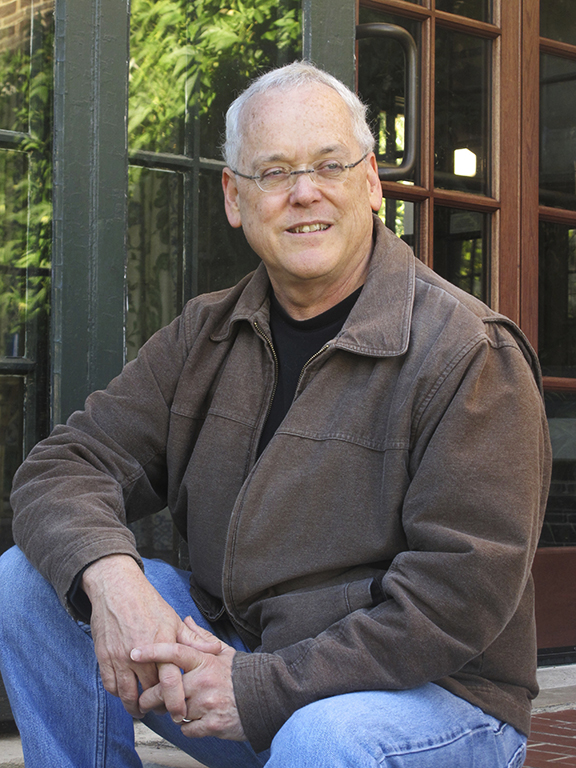 Larry Day
Born:
in Gibson City, Illinois
Pen Name:
None
Connection to Illinois
: Day grew up in Gibson City. He graduated from Southern Illinois University. He lived in the western suburbs of Chicago for many years.
Biography
: Larry Day is an award-winning author and illustrator of many children's books. He is the recipient of three gold medals from the Society of Illustrators and the SCBWI Golden Kite Award. Day studied commercial art at Southern Illinois University. After graduating he worked as a technical illustrator drawing manuals for farm machinery. He has also worked as an illustrator for the pinball and video arcade industry and the advertising business drawing storyboards for Hallmark and Disney. During that time, he illustrated his first picture book, ''Taking Flight: The Story of the Wright Brothers.'' Since then, he has illustrated several other books, his work has been exhibited and appeared in the ''Chicago Tribune Magazine''. Day is married to Illinois author, Miriam Busch. Their first collaboration is the award-winning book, ''Lion, Lion''.
---
Awards
:
"""Not Afraid of Dogs"""
-- Golden Kite Award, SCBWI
"""Lion, Lion"""
-- Best Books List, NPR, 2014
-- Next List, Indie Bound
-- Junior Library Guild Selection
-- ILLINOIS READS Book Selection, Illinois Reading Council, 2015
"""Duel!"""
-- Starred Review, Booklist
"""Let it Begin Here!"""
-- Starred Review, Booklist
"""Raisin, The Littlest Cow"""
-- ILLINOIS READS Book Selection, Illinois Reading Council, 2018
"""Beware!"""
-- Starred Review, School Library Journal
-- ILLINOIS READS Book Selection, Illinois Reading Council, 2020
Primary Literary Genre(s):
Fiction; Illustrator
Primary Audience(s):
Children
E-Mail:
darrylayhere@gmail.com
Facebook:
https://www.facebook.com/larry.day.334
LinkedIn:
https://www.linkedin.com/in/larry-day-241a063
Pinterest:
https://www.pinterest.com/pin/38913984256049040/
Website:
https://larrydayillustration.com/
---
Selected Titles
Beware!
ISBN: 1580896839 OCLC: Charlesbridge October 8, 2019 A cautionary tale using words made up of only the five letters in the title (B, E, W, A, and R). Can a bear and a bee become friends?Abe and Bree aren't supposed to get along. When they meet, they panic. Abe swats! Bree stings! Now they're both hurt. Together they figure out how to find friendship despite differences and preconceived notions. This rare-bear, wee-bee tale helps to create a web of understanding with unique language and a clever structure.
Bye-bye, baby! /
ISBN: 0802797725 OCLC: 268547405 Walker & Co., New York : 2009. Felix does not like his new baby sister and thinks his parents should take her back, until a trip to the zoo makes him realize that she might not be as bad as he thought.
Civil War drummer boy
ISBN: 9780399239922 OCLC: 742234043 G.P. Putnam's Sons, New York : ©2012. When the Confederate Army calls, Johnny puts aside playing games with his sisters and leaves his plantation home to serve as a drummer boy.
Colonial voices :
ISBN: 0147511623 OCLC: 159919392 Dutton Children's Books, New York : ©2008. Kay Winters' poems in the voices of different colonists, enhanced by historical notes, provide a glimpse into life in colonial times and the dramatic events of a famous rebellion.
Found
ISBN: 1534410066 OCLC: Simon & Schuster Books for Young Readers November 20, 2018 Jenn's beloved dog was lost sometime ago. Long enough that she has given up the search. But she still misses her friend. One day she finds a lost dog. She takes him in and despite a rocky start, she grows to love him. Until she spots his picture on a missing poster. His name is Roscoe, and he's someone else's best friend. Jenn knows she should return Roscoe, but she really doesn't want to. Will Jenn do the right thing? Or will she keep this new dog she's grown to love so much?
George did it /
ISBN: 0525475605 OCLC: 56876702 Dutton Children's Books, New York : ©2006. George Washington could always be counted on, but there was one job he was not interested in and he tried to avoid it.
Lion, lion /
ISBN: 0062271040 OCLC: 867715953 A young boy encounters a lion while trying to find his pet cat--meeting a number of other animals along the way.
Nanook & Pryce :
ISBN: 0061336416 OCLC: 244566750 Harper, New York : ©2009. Parka-clad friends Nanook and Pryce and their dog Yukon encounter many different types of ocean life and adventure on an unexpected voyage.
Nice work, Franklin!
ISBN: 9780803738003 OCLC: 905088692 The story of a president who overcame both his personal challenges and the ones facing the nation.
Not afraid of dogs /
ISBN: 0802780679 OCLC: 61881056 Walker & Co. : New York : 2006. Young Daniel must confront his fear of dogs when his mom dog sits his aunt's pet.
Pearl Harbor /
ISBN: 0689842139 OCLC: 46985909 "Bringing a dramatic moment of World War II to vivid life, author Stephen Krensky answers questions about the historic importance of the military action at Pearl Harbor. Written in simple yet clear language, the book teaches readers about the political scene before and after the bombing of Pearl Harbor by the Japanese in December 1941, and how this event shaped our country's place in the world."
Raisin, the littlest cow /
ISBN: 0062427636 OCLC: 978249775 Raisin enjoys being the littlest cow in the herd, but everything changes when her baby brother arrives.
Rosa loves to read
ISBN: 9780531271780 OCLC: 708243780 Children's Press, New York : ©2012. Presents reading activities that focus on vocabulary, counting, and sound awareness, in a text that includes a story about the activities that go on around Rosa as she reads her book.
Taking flight :
ISBN: 9780689812248 OCLC: 39678283 Simon Schuster Books for Young Readers, New York : ©2000. Describes how the Wright Brothers came to build and fly the first powered aircraft.
The duel :
ISBN: 9780425288214 OCLC: 930446856 In curiously parallel lives, Alexander Hamilton and Aaron Burr were both orphaned at an early age. Both were brilliant students who attended college-- one at Princeton, the other at Columbia-- and studied law. Both were young staff officers under General George Washington, and both became war heroes. Politics beckoned them, and each served in the newly formed government of the fledgling nation. Why, then, did these two face each other at dawn in a duel that ended with death for one and opprobrium for the other?
The Monitor :
ISBN: 0448432455 OCLC: 52979433 Grosset & Dunlap, New York : 2003. Discusses the Monitor and the Virginia, ironclad warships that confronted each other at the Civil War battle at Hampton Roads, Virginia, detailing what became of the ships after the battle and how the sunken Monitor was later investigated by scientists.
Voices from the Oregon Trail
ISBN: 9780803737754 OCLC: 825403796 An account of several families and individuals making the long and often dangerous trek across the United States from Missouri to the West Coast in the 1800s--
Voices from the Underground Railroad
ISBN: 9780803740921 OCLC: 983303380 From the creators of Voices from the Oregon Trail and Colonial Voices, an unflinching story of two young runaway slaves on the Underground Railroad, told in their voices and those who helped and hindered them It's the 1850s and enslaved siblings Jeb and Mattie are about the make a break for freedom. The pair travel north from Maryland to New Bedford, Massachusetts along the Underground Railroad. Each spread tells about a step of their journey through a poem in the first person perspective. The main and repeating voices are Jeb and Mattie, but we also hear from the station masters and conductors, those who offer them haven, as well as those who want to capture them. Like its predecessors in the Voices series, this richly researched and beautifully illustrated picture book brings a difficult chapter of American history to life for young readers--
Who was Annie Oakley?
ISBN: 9781451736540 OCLC: 49221659 An account of the life and exploits of the sharpshooting entertainer.
William's house /
ISBN: 0761316744 OCLC: 42882887 Millbrook Press, Brookfield, CT : 2001. Arriving in New England in 1637, William is determined to recreate his home in England but realizes that the climate requires modifications to it.
Worst of friends :
ISBN: 0525479031 OCLC: 701494940 John Adams and Thomas Jefferson were good friends with very different personalities. But their differing views on how to run the newly created United States turned them into the worst of friends. They each became leaders of opposing political parties, and their rivalry followed them to the White House. This is the story of two of America's most well-known presidents and how they learned to put their political differences aside for the sake of friendship.