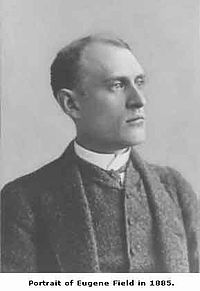 Eugene Field
Born:
September 3, 1850 in St. Louis, MO
Died:
November 4, 1895 in Chicago, Illinois
Pen Name:
None
Connection to Illinois
: Field attended Knox College in Galesburg for a year. He then moved to Chicago in 1883 and wrote for the Chicago Daily News. He lived there until his death.
Biography
: Eugene Field was a journalist and poet who lived in Chicago and is best known for children's poetry and humorous essays - most notably, Wynken, Blynken and Nod. He worked on the editorial staffs for several newspapers including the St. Joseph Gazette, Kansas City Times and Denver Tribune. He also wrote a column, Sharps and Flats, for Chicago Morning News, 1883-1895.
---
Awards
:
-- Chicago Literary Hall of Fame, 2016
Primary Literary Genre(s):
Fiction; Poetry
Primary Audience(s):
Adult readers; Children
Wikipedia:
https://en.wikipedia.org/wiki/Eugene_Field
---
Selected Titles
In wink a way land.
ISBN: 1171720157 OCLC: 944203372 Nabu Press, [Place of publication not identified] : 2010.
Poems of childhood.
ISBN: 0804902119 OCLC: 3529729 Airmont Pub. Co., New York : ©1970.
The gingham dog and the calico cat /
ISBN: 039922517x OCLC: 32441526 A fight erupts during the middle of the night between two stuffed animals in an antique shop.
The sugar-plum tree and other verses
ISBN: 9780486476759 OCLC: 468971822 Dover ; Mineola, N.Y. : ©2010. Presents illustrated versions of the title poem and seven others, including Fiddle-Dee-Dee and Wynken, Blynken, and Nod.
With trumpet and drum.
ISBN: 1290276749 OCLC: 940516638 Hardpress Publishing, [Place of publication not identified] : 2012.
Works of eugene field :
ISBN: 1616406526 OCLC: 936099942 Cosimo Inc, [Place of publication not identified] : 2012.
Wynken, Blynken, and Nod /
ISBN: 0375841962 OCLC: 52197368 Scholastic, New York : ©2004. A classic lullaby poem about three fishermen who try to catch the stars in nets of silver and gold.
WYNKEN, BLYNKEN, AND NOD.
ISBN: 146025399X OCLC: 1028618331 FRIESENPRESS, [Place of publication not identified], 2018.