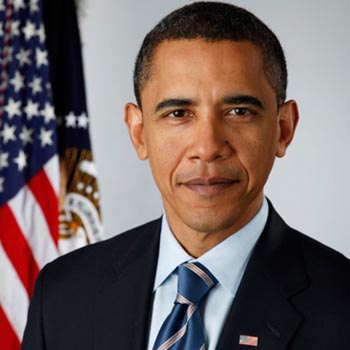 Barack Obama
Born:
1961 in Honolulu, Hawaii
Connection to Illinois
: President Obama moved to Chicago in 1985 to work as the director of the Developing Communities Project (DCP), a church-based community organization originally comprising eight Catholic parishes in Greater Roseland (Roseland, West Pullman, and Riverdale) on Chicago's far South Side. He worked there until May 1988 after which he entered Harvard Law School in late 1988. During his summers, he returned to Chicago where he worked as a summer associate at the law firms of Sidley & Austin in 1989 and Hopkins & Sutter in 1990. After graduating with magna cum laude with his JD from Harvard in 1991, he returned to Chicago. From 1992 to 2004, Obama served as a professor of constitutional law at the University of Chicago Law School. From 1993 to 1996, he joined Davis, Miner, Barnhill & Galland, a twelve-attorney law firm specializing in civil rights litigation and neighborhood economic development as an associate and then became counsel from 1996 to 2004. In 1996, Obama was elected to the 13th District of the Illinois Senate - which at that time, included Chicago South Side neighborhoods from Hyde Park-Kenwood south to South Shore and west to Chicago Lawn. He was reelected to the Illinois Senate in 1998 and again in 2002. Obama also served as a US Senator from January 4, 2005 to November 16, 2008 and continued to live in the south suburbs of Chicago during that time.
Biography
: Barack Obama was elected as the 44th President of the United States in November 2008. Holding the office for two terms, he served as President from 2009 to 2017. He was the first African American to be elected to the presidency. A graduate from Harvard Law School in 1991, he served as the first African-American president of the Harvard Law Review. He also worked as a community organizer, civil rights attorney, and law professor. Today, he and his family reside in Washington, DC.
---
Awards
:
"""Dreams from My Father""""
-- #1 New York Times Bestseller
-- 50 Most Impactful Black Books of the Past 50 Years, Essence
"""The Audacity of Hope"""
-- Nobel Peace Prize, 2009
-- #1 New York Times Bestseller
"""Of Thee I Sing: A Letter to My Daughters"""
-- Young Reader's Choice Awards Grades 3-5, Louisiana, 2013
-- Starred Review, Booklist
"""A Promised Land"""
-- #1 NEW YORK TIMES BESTSELLER
-- Best Books of the Year, New York Times Book Review
-- Best Books of the Year, The Washington Post
-- Best Books of the Year, Jennifer Szalai, The New York Times
-- Best Books of the Year, NPR
-- Best Books of the Year, The Guardian
-- Best Books of the Year, Marie Claire
Primary Literary Genre(s):
Fiction; Non-Fiction
Primary Audience(s):
Adult readers; Children
Facebook:
https://www.facebook.com/barackobama/
Instagram:
https://www.instagram.com/barackobama/?hl=en
Twitter:
https://twitter.com/BarackObama
Website:
https://barackobama.com/
Website:
https://www.whitehouse.gov/about-the-white-house/presidents/barack-obama/
Wikipedia:
https://en.wikipedia.org/wiki/Barack_Obama
---
Selected Titles
A promised land /
ISBN: 1524763160 OCLC: 1196086067 Obama tells the story of his improbable odyssey from young man searching for his identity to leader of the free world, describing in strikingly personal detail both his political education and the landmark moments of the first term of his historic presidency--a time of dramatic transformation and turmoil.
Barack Obama Book: The Biography of Barack Obama
ISBN: B08Y4FHRYY OCLC: University Press 2021 University Press returns with another short and captivating biography of one of history's most compelling figures, Barack Obama. Barack Obama is considered one of the most significant figures of the 21st century. He was the first African-American President of the United States, his signature "Obamacare" Patient Protection and Affordable Care Act extended health insurance coverage to 20 million Americans, he is credited with pulling the American economy back from the brink of an economic depression, he expanded federal hate crime laws to include crimes motivated by a victim's gender or sexual orientation, he ended the "don't ask, don't tell" policy in the U.S. armed forces, his administration urged the Supreme Court to strike down same-sex marriage bans (which it did), he nominated two women (and America's first Hispanic) to the Supreme Court, he substantially escalated the use of drone strikes against terrorists associated with al-Qaeda and the Taliban, he committed the United States to the Paris Agreement on global climate change, he brokered the JCPOA nuclear deal with Iran, he normalized U.S. relations with Cuba, and he won the Nobel Peace Prize. Barack Obama was born in Honolulu, Hawaii on August 4, 1961. His mother was a white American from Kansas. His father was a black East African from Kenya. He grew up in Seattle, Honolulu, and Jakarta, attended college in Los Angeles, graduated from Columbia University in New York, graduated from Harvard Law School in Cambridge, met and married his wife, Michelle, in Chicago, and, for eight years, lived in the White House in Washington D.C. This short book tells the intensely human story of a man who changed the world in a way that no one else could.
Dreams from my Father
ISBN: 9781400082773 OCLC: 55534889 In this lyrical, unsentimental, and compelling memoir, the son of a black African father and a white American mother searches for a workable meaning to his life as a black American. It begins in New York, where Barack Obama learns that his father, a figure he knows more as a myth than as a man has been killed in a car accident. This sudden death inspires an emotional odyssey, first to a small town in Kansas, from which he retraces the migration of his mother's family to Hawaii, and then to Kenya, where he meets the African side of his family, confronts the bitter truth of his father's life, and at last reconciles his divided inheritance.
Of Thee I Sing
ISBN: 037583527X OCLC: 676795855 Alfred A. Knopf, New York : ©2010. "In this tender, beautiful letter to his daughters, President Barack Obama has written a moving tribute to thirteen groundbreaking Americans and the ideals that have shaped our nation. From the artistry of Georgia O'Keeffe, to the courage of Jackie Robinson, to the patriotism of George Washington, President Obama sees the traits of these heroes within his own children, and within all of America's children"--Jacket.
Renegades: Born in the USA /
ISBN: 0593236319 OCLC: 1262791976 Two longtime friends share an intimate and urgent conversation about life, music, and their enduring love of America, with all its challenges and contradictions, in this stunningly produced expansion of their groundbreaking Higher Ground podcast, featuring more than 350 photographs, exclusive bonus content, and never-before-seen archival material. Renegades: Born in the USA is a candid, revealing, and entertaining dialogue between President Barack Obama and legendary musician Bruce Springsteen that explores everything from their origin stories and career-defining moments to our country's polarized politics and the growing distance between the American Dream and the American reality. Filled with full-color photographs and rare archival material, it is a compelling and beautifully illustrated portrait of two outsiders—one Black and one white—looking for a way to connect their unconventional searches for meaning, identity, and community with the American story itself. It includes: • Original introductions by President Obama and Bruce Springsteen • Exclusive new material from the Renegades podcast recording sessions • Obama's never-before-seen annotated speeches, including his "Remarks at the 50th Anniversary of the Selma to Montgomery Marches" • Springsteen's handwritten lyrics for songs spanning his 50-year-long career • Rare and exclusive photographs from the authors' personal archives • Historical photographs and documents that provide rich visual context for their conversation In a recording studio stocked with dozens of guitars, and on at least one Corvette ride, Obama and Springsteen discuss marriage and fatherhood, race and masculinity, the lure of the open road and the call back to home. They also compare notes on their favorite protest songs, the most inspiring American heroes of all time, and more. Along the way, they reveal their passion for—and the occasional toll of—telling a bigger, truer story about America throughout their careers, and explore how our fractured country might begin to find its way back toward unity and global leadership.
The Audacity of Hope
ISBN: 0307455874 OCLC: 71312726 Vintage 2006 Senator Obama calls for a different brand of politics--a politics for those weary of bitter partisanship and alienated by the "endless clash of armies" we see in Congress and on the campaign trail; a politics rooted in the faith, inclusiveness, and nobility of spirit at the heart of our democracy. He explores those forces--from the fear of losing, to the perpetual need to raise money, to the power of the media--that can stifle even the best-intentioned politician. He examines the growing economic insecurity of American families, the racial and religious tensions within the body politic, and the transnational threats--from terrorism to pandemic--that gather beyond our shores. And he grapples with the role that faith plays in a democracy. Only by returning to the principles that gave birth to our Constitution, he says, can Americans repair a broken political process, and restore to working order a government dangerously out of touch with millions of ordinary Americans.--From publisher description.