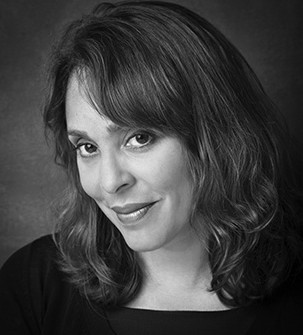 Natasha Trethewey
Born:
1966 in Gulfport, Mississippi
Pen Name:
None
Connection to Illinois
: Tretheway lives in Evanston.
Biography
: Natasha Trethewey, two-term U.S. Poet Laureate, Pulitzer Prize winner, and 2017 Heinz Award recipient, has written four collections of poetry and one book of nonfiction. An American Academy of Arts and Sciences Fellow, she is currently Board of Trustees Professor of English at Northwestern University. She has also been inducted into both the Fellowship of Southern Writers and the Georgia Writers Hall of Fame. Link to Natasha Trethewey's poem, 'Domestic Work, 1937' at the Poetry 180 Project page at the Library of Congress site - https://www.loc.gov/poetry/180/025.html?loclr=lsp1_rg0001.
---
Awards
:
"""Body of Work"""
-- Sidney Lanier Prize for Southern Literature, 2018
-- Heinz Award in Arts and Humanities, 2017
-- PEN Oakland – Josephine Miles Literary Award, 2015
-- United States Poet Laureate, 2012, 2014
-- Poet Laureate of Mississippi, 2012
-- Pulitzer Prize for Poetry, 2007
-- Mississippi Institute of Arts and Letters Book Prizes, 2001, 2003, 2007
-- Lillian Smith Book Award, 2001, 2007
"""Domestic Work, 1937"""
-- Cave Canem Foundation Poetry Prize, 1999 - First African American poet to win
"""Monument: Poems New and Selected"""
-- ILLINOIS READS Book Selection, Illinois Reading Council, 2020
Primary Literary Genre(s):
Poetry
Primary Audience(s):
Adult readers
Twitter:
http://https://twitter.com/NTrethewey
Website:
https://www.poetryfoundation.org/poets/natasha-trethewey
Website:
https://poets.org/poet/natasha-trethewey
Website:
https://www.english.northwestern.edu/people/faculty/trethewey-natasha.html
Website:
https://www.loc.gov/poetry/more_trethewey.html
Wikipedia:
https://en.wikipedia.org/wiki/Natasha_Trethewey
---
Selected Titles
Bellocq's Ophelia :
ISBN: 1555973590 OCLC: 49381405 Graywolf Press, Saint Paul, Minn. : ©2002. A collection of poems offers glimpses into the life and thoughts of an African American prostitute in pre-World War I New Orleans.
Beyond Katrina :
ISBN: 0820343110 OCLC: 777192012 "Trethewey spent her childhood in Gulfport, where much of her mother's extended family, including her younger brother, still lives. As she worked to understand the devastation that followed the hurricane, Trethewey found inspiration in Robert Penn Warren's book Segregation: The Inner Conflict in the South, in which he spoke with southerners about race in the wake of the Brown decision, capturing an event of wide impact from multiple points of view. Weaving her own memories with the experiences of family, friends, and neighbors, Trethewey traces the erosion of local culture and the rising economic dependence on tourism and casinos. She chronicles decades of wetland development that exacerbated the destruction and portrays a Gulf Coast whose citizens--particularly African Americans--were on the margins of American life well before the storm hit."--Publisher description.
Congregation :
ISBN: 1928755240 OCLC: 885055875 Congregation is ... a "love letter to the Gulf Coast, a praise song, a dirge, invocation and benediction, a requiem for the Gulf coast." Here are the people of the Mississippi Gulf Coast after Katrina, speaking to her with the folk wisdom, and faith, of the survivor. "Without faith, we is victims," one church marquee proclaims, and another, with a different kind of eloquence, "God is not / the author of fear."--Page iii.
Domestic work :
ISBN: 1555973094 OCLC: 45017709 Graywolf Press, Saint Paul, Minn. : ©2000. From sonnets and traditional ballads to free verses shot through with the syncopated attitude of blues, these poems tells the story of black women's work.
MEMORIAL DRIVE :
ISBN: 006224857X OCLC: 1125368285 At age nineteen, Natasha Trethewey had her world turned upside down when her former stepfather shot and killed her mother. Grieving and still new to adulthood, she confronted the twin pulls of life and death in the aftermath of unimaginable trauma and now explores the way this experience lastingly shaped the artist she became. With penetrating insight and a searing voice that moves from the wrenching to the elegiac, Pulitzer Prize–winning poet Natasha Trethewey explores this profound experience of pain, loss, and grief as an entry point into understanding the tragic course of her mother's life and the way her own life has been shaped by a legacy of fierce love and resilience. Moving through her mother's history in the deeply segregated South and through her own girlhood as a "child of miscegenation" in Mississippi, Trethewey plumbs her sense of dislocation and displacement in the lead-up to the harrowing crime that took place on Memorial Drive in Atlanta in 1985. Memorial Drive is a compelling and searching look at a shared human experience of sudden loss and absence but also a piercing glimpse at the enduring ripple effects of white racism and domestic abuse. Animated by unforgettable prose and inflected by a poet's attention to language, this is a luminous, urgent, and visceral memoir from one of our most important contemporary writers and thinkers.
Monument :
ISBN: 132850784X OCLC: 1016633235 "Layering joy and urgent defiance--against physical and cultural erasure, against white supremacy whether intangible or graven in stone--Natasha Trethewey's work gives pedestal and witness to unsung icons. Monument, her first retrospective volume, draws together verses that delineate the stories of working-class African American women, a mixed-race prostitute, one of the first black Civil War regiments, mestizo and mulatto figures in casta paintings, Gulf Coast victims of Hurricane Katrina. Through the collection, inlaid and inextricable, winds the poet's own family history of upheaval and loss, resilience and love ... As a whole, Monument casts new light on the trauma of our national wounds, our shared history. This is a poet's remarkable labor to source evidence, persistence, and strength from the past in order to change the very vocabulary we use to speak about race, gender, and our collective future"--
Native guard /
ISBN: 0618872655 OCLC: 123416531 These poems explore the complex memory of the American South, history that belongs to all Americans. The sequence forming the spine of the collection follows the ''Native Guard'', one of the first black regiments mustered into service in the Civil War. In the author's hometown of Gulfport, Mississippi, a plaque honors Confederate POWs, but there is no memorial to these vanguard Union soldiers. This collection is both a pilgrimage and an elegy, as the author employs a variety of poetic forms to create a lyrical monument to these forgotten voices. Interwoven are poems honoring her mother and recalling her fraught childhood; her parents' interracial marriage was still illegal in 1966 in Mississippi. This book is a narrative caught in the intersections of public and personal testament. As Rita Dove proclaimed, "Here is a young poet in full possession of her craft."
Thrall :
ISBN: 9780544586208 OCLC: 898052984 Charting the intersections of public and personal history, Thrall explores the historical, cultural, and social forces that determine the roles to which a mixed-race daughter and her white father are consigned. In a brilliant series of poems about the taxonomies of mixed unions, Natasha Trethewey creates a fluent and vivid backdrop to her own familial predicament. While tropes about captivity, bondage, knowledge, and enthrallment permeate the collection, Trethewey unflinchingly examines our shared past by reflecting on her history of small estrangements and by confronting the complexities of race and the deeply ingrained and unexamined notions of racial difference in America.--Publisher description.