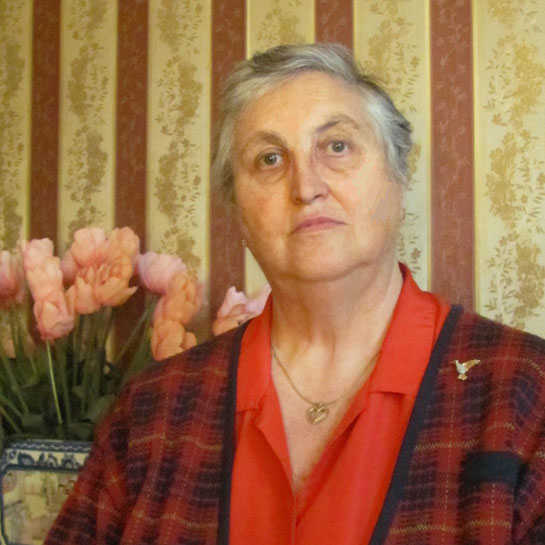 Natalia G Toreeva
Born:
1941, in Leningrad (St. Petersburg), Russia
Pen Name:
None
Connection to Illinois
: Toreeva was born in Leningrad (now St. Petersburg), Russia. She emigrated to USA in 1977 and has lived in Illinois since. She graduated DePaul University with MS in Computer Science. After graduation, she worked with IT companies, and is now a retired software engineer and system analyst, residing in Carol Stream.
Biography
: Natalia Toreeva graduated from college with an BA in Art while living in Russia. After graduating from college, she worked as a fashion designer, and after graduating from the Art Academy with MA degree, she worked in the Leningrad Film Studio (Lenfilm) as a Costume Designer. She also participated in many Art Exhibitions with the 'School of Sidlin' art group. In 1990, Toreeva created the cover drawing (photomontage) and illustrations (drawings, pen and ink) for the book, 'Twenty Thousand Faces of Pasternak', Parus, US - isbn 0939497351. This is the 100th Anniversary of the Russian Poet, Boris Pasternak. The book includes information in Russian and English. The poems (in Russian) are from 'Doctor Zhivago', that Natalia Toreeva illustrated, and has seldom seen photos of Boris Pasternak taken by M. Nappelbaum. *The book, 'Twenty Thousand Faces of Pasternak', is available at Stanford University Libraries (https://searchworks.stanford.edu/view/2182510) among other libraries in the United States. Check WorldCat at: https://www.worldcat.org/title/dvadtsat-tysiach-lits-pasternaka/oclc/24124502?referer=br&ht=edition, for a list of those libraries.
---
Awards
:
Primary Literary Genre(s):
Fiction; Illustrator; Non-Fiction
Primary Audience(s):
Adult readers; Children
IMDB:
https://www.imdb.com/name/nm0867965/otherworks
Website:
https://dupagewriters.wordpress.com/dupage-writers-group-members/
Website:
https://dupagewriters.wordpress.com/local-authors/
Website:
http://sbpra.com/NataliaGToreeva/
WorldCat:
https://www.worldcat.org/search?q=natalia+g+toreeva&qt=results_page
---
Selected Titles
Greg and the Sea Monster (2011)
ISBN: 9781612043326 OCLC: 919220026 2011 Join Greg and his friends on their exciting journey as they learn an important lesson about loyality and friendship that they will remember all their lives.
Christmas in Russia (1992)
ISBN: 0716608928 OCLC: 26987806 World Book, Chicago, Ill. : ©1992. Looks at Christmas in Russia, emphasizing the customs and traditions unique to the people who live there. Includes recipes, craft ideas, and music.
Four-Legged Friends In The Bark Park (2020)
ISBN: 1631359533 OCLC: 1142946537 2020 Everyone can be bullied. Even dogs! Max the dog is very smart, but Max has anxiety because he's being bullied. It all started at the local dog park when Max was attending training classes. Other dogs bullied poor Max, but his friends Helen and Greg helped him get through it and put a stop to Max's anxiety. Children will learn from reading Four-Legged Friends in the Bark Park that being nervous has nothing to do with how smart someone is. Whether it's dogs or humans, bullying is a bad thing. It's been said that "Strong people stand up for themselves. But the strongest people stand up for others."
Lucy the Chicken and Her Friends (2010)
ISBN: 9781609762117 OCLC: 739932940 Strategic Book Group, Durham, CT : 2010 Lucy the Chicken sets out with a basket of apples to bring to her good friend, George, who lives on a lake far away. On the way to his house, Lucy meets some of her friends who all wish to bring something along and are anxious to see George once again. But what else does Lucy encounter on her journey?--Cover [p. 4].
Tambores y cornetas
ISBN: 0844583111 OCLC: Nueva York : Macmillan Nueva York : 1990
The Battle on the Kalinov-Bridge (2012)
ISBN: 1618974343 OCLC: 919219100 2012 The Battle on the Kalinov-bridge retells an exciting Russian fairy tale as seen through the text and illustrations of Natalia G. Toreeva. However, she does not give a word-by-word translation of the tale. "In this story I have tried to stay close to the original, but I have attempted to tell the story by my own words and meanings, and to a contemporary audience." Normally Russian fairy tales were not written specifically for children or adults, so everyone could find their own meaning. While children may be fascinated by the adventures of boys battling several-headed serpents, adults would consider the hidden meaning of the symbolic battle, interpreting it as a fight between good and evil. In the end, all will learn an important lesson about friendship and loyalty, which should be given to each other and to your country.
TRUE STORY OF HER LIFE (I PROMISE YOU).
ISBN: 1543423876 OCLC: 1004904071 Many years ago, an artist applied the final brush stroke to the portrait of a beautiful woman. The woman was very young, newly married, and as close to happiness as she would ever be again. Somewhere in the Soviet Union, the portrait still exists, hanging perhaps in a museum. The image belongs to another time. After it was painted, the world the young woman knew was irrevocably altered by revolution, war, and bloody struggles for power.
Twenty Thousand Faces of Pasternak (1990)
ISBN: 0939497351 OCLC: 24124502 Parus, [Brooklyn, N.Y.] : 1990