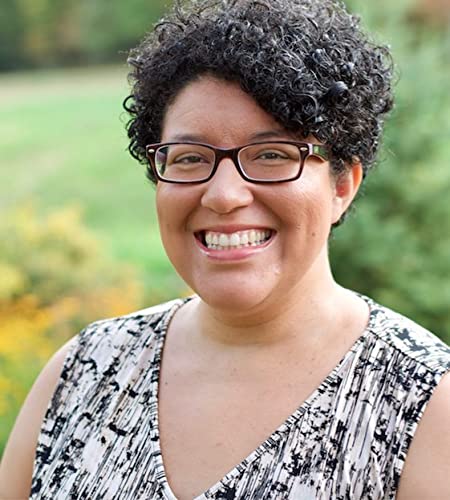 Kekla Magoon
Born:
Pen Name:
None
Connection to Illinois
: Magoon graduated with a B.A. from Northwestern University. While there, she also worked with youth-serving nonprofit organizations.
Biography
: Kekla Magoon is the author of over a dozen books for young readers. She has received an NAACP Image Award, the John Steptoe New Talent Award, two Coretta Scott King Honors, The Walter Award Honor, the In the Margins Award, and been long listed for the National Book Award. She also writes non-fiction on historical topics. She conducts school and library visits nationwide and serves on the Writers' Council for the National Writing Project. Kekla holds a B.A. from Northwestern University and an M.F.A. in Writing from Vermont College of Fine Arts, where she now serves on faculty.
---
Awards
:
"Revolution in Our Time"
-- Long Listed, National Book Awards, Young People's Literature, 2021
Primary Literary Genre(s):
Fiction; History; Non-Fiction
Primary Audience(s):
Adult readers; Children; Young adult readers
:
---
Selected Titles
37 things I love (in no particular order) /
ISBN: 0805094652 OCLC: 746834546 Henry Holt, New York : 2012. Fifteen-year-old Ellis recalls her favorite things as her mother's desire to turn off the machines that have kept Ellis's father alive for two years fill the last four days of her sophomore year with major changes in herself and her relationships.
Abraham Lincoln /
ISBN: 1599288397 OCLC: 770711218 ABDO Pub., Edina, Minn. : ©2008. See how Abraham Lincoln shaped the world, impacted humanity, and changed the course of history.
Camo girl /
ISBN: 1416978046 OCLC: 535493151 Aladdin, New York : 2011. Ella, a biracial girl with a patchy and uneven skin tone, and her friend Z, a boy who is very different, have been on the bottom of the social order at Caldera Junior High School in Las Vegas, but when the only other African-American student enters their sixth grade class, Ella longs to be friends with him and join the popular group, but does not want to leave Z all alone.
Cesar Chavez :
ISBN: 1616135123 OCLC: 767670322 ABDO Pub., Edina, Minn. : ©2011.
Chester Keene Cracks the Code
ISBN: 1524715999 OCLC: Wendy Lamb Books 2022 Eleven-year-old Chester and his classmate Skye, tasked with a complex puzzle-solving mission, discover the key to their spy assignment is to stop a heist, but cracking the code could mean finding out things are not always what they seem.
Fire in the streets /
ISBN: 1442422300 OCLC: 709673047 Aladdin, New York : 2012. In the aftermath of Dr. King's assassination in 1968, Chicago fourteen-year-old Maxie longs to join the Black Panthers, whether or not her brother Raheem, ex-boyfriend Sam, or her friends like it, and is soon caught up in the violence of anti-war and civil rights demonstrations.
Gun control /
ISBN: 1599288605 OCLC: 123349600 ABDO Pub., Edina, Minn. : ©2008. Discusses the controversial viewpoints regarding gun control.
How it went down /
ISBN: 0805098690 OCLC: 885026550 When sixteen-year-old Tariq Johnson is shot to death, his community is thrown into an uproar because Tariq was black and the shooter, Jack Franklin, is white, and in the aftermath everyone has something to say, but no two accounts of the events agree.
Light it up /
ISBN: 1250619866 OCLC: 1237565489 Told from multiple viewpoints, Shae Tatum, an unarmed, thirteen-year-old black girl, is shot by a white police officer, throwing their community into upheaval and making it a target of demonstrators.
Media censorship /
ISBN: 1604535334 OCLC: 767734325 ABDO Pub. Co., Edina, Minn. : ©2010. Discusses the controversial viewpoints regarding censorship in the media in the United States.
Nelson Mandela :
ISBN: 1604530383 OCLC: 771027464 ABDO Pub. Co., Edina, Minn. : 2008. Discusses the life and achievements of Nelson Mandela, discussing his childhood, education, family, and influence.
Rebellion of thieves /
ISBN: 1619636557 OCLC: 933591049 Robyn Loxley plans to sieze the opportunity to rescue her parents from the governor's mansion by competing in the Iron Teen contest, although success could bring unwanted attention from Crown.
Reign of outlaws /
ISBN: 1619636573 OCLC: 967077659 Twelve-year-old Robyn Loxley has seventy-two hours to decide between sacrificing herself to save her parents and friends, or continuing to lead the rebellion to rid Nott City from Ignomus Crown once and for all.
REVOLUTION IN OUR TIME :
ISBN: 1536214183 OCLC: 1232147802 With passion and precision, Kekla Magoon relays an essential account of the Black Panthers—as militant revolutionaries and as human rights advocates working to defend and protect their community. In this comprehensive, inspiring, and all-too-relevant history of the Black Panther Party, Kekla Magoon introduces readers to the Panthers' community activism, grounded in the concept of self-defense, which taught Black Americans how to protect and support themselves in a country that treated them like second-class citizens. For too long the Panthers' story has been a footnote to the civil rights movement rather than what it was: a revolutionary socialist movement that drew thousands of members—mostly women—and became the target of one of the most sustained repression efforts ever made by the U.S. government against its own citizens. Revolution in Our Time puts the Panthers in the proper context of Black American history, from the first arrival of enslaved people to the Black Lives Matter movement of today. Kekla Magoon's eye-opening work invites a new generation of readers grappling with injustices in the United States to learn from the Panthers' history and courage, inspiring them to take their own place in the ongoing fight for justice.
Sex education in schools /
ISBN: 1604535369 OCLC: 767733465 ABDO Pub. Co., Edina, Minn. : ©2010. Examines the issue of sex education in schools.
Shadows of Sherwood :
ISBN: 1619636344 OCLC: 889166097 When Nott City is taken over by a harsh governor, Ignomus Crown, and her parents disappear, twelve-year-old Robyn Loxley flees for her life and joins a group of children trying to take back what is rightfully theirs in this futuristic retelling of Robin Hood.
She Persisted: Ruby Bridges
ISBN: 0593115872 OCLC: 1204342927 "As a first grader, Ruby Bridges was the first Black student to integrate William Frantz Elementary School in New Orleans, Louisiana. This was no easy task, especially for a six-year-old. Ruby's bravery and perseverance inspired children and adults alike to fight for equality and social justice." -- Amazon.com.
The flag never touched the ground :
ISBN: 178269305X OCLC: 1233301833 "In 1863, the US Civil War was raging. Abraham Lincoln's Emancipation Proclamation had freed over 3.5 million African-American slaves, and now the Union Army began to recruit a second all-black regiment of soldiers to join the fight. As the struggle against the Confederate South raged on, the newly-formed 54th Massachusetts battalion prepared to attack the seemingly impregnable fortress of Fort Wagner. The odds were heavily against them; the fort had never been taken. America was watching them - and when the bugle sounded they marched towards the guns, flag held high"--Publisher's description.
The highest tribute :
ISBN: 0062912518 OCLC: 1151059189 A picture book portrait of the first Black justice on the Supreme Court, presented by two Coretta Scott King Honor winners, includes coverage of Thurgood Marshall's upbringing in segregated Baltimore, achievements with the NAACP and contributions to landmark equality rulings.
The rock and the river /
ISBN: 1416975829 OCLC: 227031585 Aladdin, New York : 2009. In 1968 Chicago, fourteen-year-old Sam Childs is caught in a conflict between his father's nonviolent approach to seeking civil rights for African Americans and his older brother, who has joined the Black Panther Party.
The Salem witch trials /
ISBN: 1604530499 OCLC: 767669320 ABDO Pub. Co., Edina, MN : ©2008. Explores the Salem witch trials and how that event has sculpted societies, the sciences, and politics.
The season of Styx Malone /
ISBN: 1524715956 OCLC: 1019836445 Caleb Franklin and his big brother Bobby Gene have the whole summer for adventures in the woods behind their house in Sutton, Indiana. Caleb dreams of venturing beyond their ordinary small town, but his dad likes the family to stay close to home. Then Caleb and Bobby Gene meet new neighbor Styx Malone. Styx is sixteen and oozes cool. He's been lots of different places. Styx promises Caleb and Bobby Gene that together, they can pull off the Great Escalator Trade--exchanging one small thing for something better until they achieve their wildest dream. But as the trades get bigger, the brothers soon find themselves in over their heads. It becomes clear that Styx has secrets--secrets so big they could ruin everything--and Caleb fears their whole plan might fall apart. In this madcap, heartwarming, one-thing-leads-to-another adventure, friendships are forged, loyalties are tested ... and miracles just might be possible.
The welfare debate /
ISBN: 1604531142 OCLC: 771916636 ABDO Publishing, Edina, Minn. : ©2009. Discusses the origins of federal welfare in the U.S. and its effects on society, the policy changes it has undergone, new reforms of the 1990s, strategies and key players in the debate, and challenges that confront resolution of the issue.
The Zebulon Pike expedition /
ISBN: 1604535180 OCLC: 772627706 ABDO Pub. Co., Edina, Minn. : ©2009. Presents the life and expeditions of explorer Zebulon Pike that chronicles his journeys into boththe American Northwest as well as into Mexican territory of the Southwest.
Today the world is watching you ; the Little Rock Nine and the fight for school integration, 1957 /
ISBN: 076135767X OCLC: 647773546 Twenty-First Century Books, Minneapolis : 2011. On September 4, 1957, nine African American teenagers made their way toward Central High School in Little Rock, Arkansas. They didn't make it very far. Armed soldiers of the Arkansas National Guard blocked most of them at the edge of campus. The three students who did make it onto campus faced an angry mob of white citizens who spit at them and shouted ugly racial slurs.