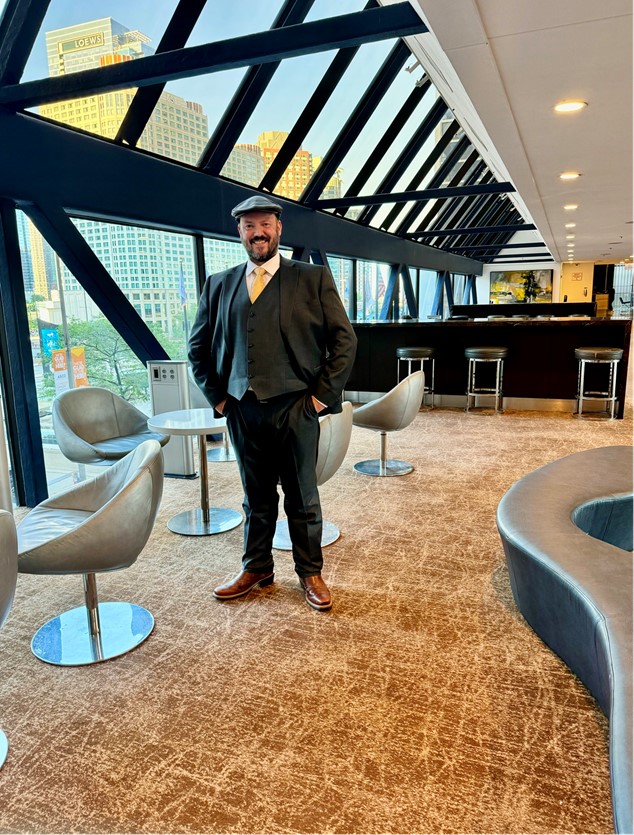 Andrew Taylor Call
Born:
1981 in Florida
Connection to Illinois
: Call's maternal family helped with the founding of Illinois. He has a degree from The John Marshall Law School of Chicago, and a Master of Arts Degree in Public Policy and Administration from Northwestern University.
Biography
: Andrew Taylor Call was raised in the Blue Ridge Mountains of Roanoke and Rocky Mount, Virginia. Call graduated from the University of Virginia with a Bachelor's Degree in History. Andrew Call's family has resided in Illinois since 1804. Many of Call's ancestors were founders and builders of Chicago and Cook County. Some of Call's family were founders and builders of many Chicago suburbs and Lake County, Illinois, as well. Call's family also is deeply rooted in Springfield and in Sangamon County, Morgan County, and Cass County, all in central Illinois, where his families were also builders of community, business, and industry. Andrew Call has been a member of more than one-hundred civic leagues and organizations of Chicago and Cook County, in addition to many such organizations in Virginia, Wisconsin, Ohio, and Pennsylvania. He has served on multiple civic boards of directors, advisory boards, and auxiliary boards in Chicago, in Virginia, and in Ohio. Call has more than fifty branches of his family and lineage from Chicago and the Chicago metropolitan region. Call has counted, researched, and documented these fifty-some branches of his family from Chicago and many other branches of his family from other parts of the State of Illinois. Call graduated from the Appalachian School of Law with a Juris Doctor Degree, and moved to Illinois in 2007. Call earned two Master of Laws (LL.M.) degrees from The John Marshall Law School of Chicago (now UIC-John Marshall Law School), and also earned a Master of Arts in Public Policy and Administration Degree from Northwestern University. Call has published several books concerning the histories, heritages, and genealogies of Illinois, Wisconsin, Ohio, Pennsylvania and Michigan.
---
Awards
:
Primary Literary Genre(s):
History; Non-Fiction
Primary Audience(s):
Adult readers
:
---
Selected Titles
Chicago Builders, Leaders, and Family Stories Recovered and Remembered
ISBN: B08KR23TFD OCLC: Independently Published 2020 This book recovers, celebrates, and remembers multiple Chicago family stories and biographies. The book accompanies the Chicago and Midwestern history book known as "Chicago: A Civic, Industrial, and Familial History," also written by Andrew Taylor Call.
Chicago: A Civic, Industrial, and Familial History
ISBN: 1541115740 OCLC: This is a history of the civic, industrial, commercial, and familial aspects of the development of Chicago and Cook County, Illinois. Contained here is information about companies, churches, schools, hospitals, civic organizations, and many families who were builders of Chicago and the region. The book covers the timeline of Chicago from the Native American cultures and the beginning of the first permanent European settlements to the middle of the twentieth century.
Jacob Bunn :
ISBN: 1556182090 OCLC: Lawrenceville, Va. : Lawrenceville, Va. : "This is a remarkable account of the rise of the Bunn business empire in Illinois — long before the Robber Barons of the Gilded Age, that provides a balanced and intriguing account of business ethics and integrity. Bunn's patronage of Abraham Lincoln establishes an unknown connection between politics and business money in Lincoln's career, but represents a moderate, even compassionate, political model that 30 years later during the career of Mark Hanna seemed quaint by comparison. This book offers a new look at the connections between business and political power that, in these troubled days of Enron-like scandals, ought to be widely read, and more widely practiced." — Dr. Kurt A. Hohenstein, Esq., Professor, Hampden-Sydney College "Andrew T. Call presents a thorough, scholarly and engaging biographical business study of the career of Jacob Bunn, a remarkable man endowed with enormous entrepreneurial and organizational talents, high integrity, compassion for his community and commitment to excellence. The amount of solid research collected, evaluated and discussed in this book is very impressive. This treatise is more than a tale of a businessman and his business ventures; it is a description of the American ideal." — Fredric J. Friedberg, Esq., Author of The Illinois Watch: The Life and Times of a Great American Watch Company, Schiffer Publishing, 2004, and Senior Vice President and General Counsel at Toshiba America Medical Systems, Inc.
Just Out Of Season: Connections Between Our Family And Ernest Hemingway
ISBN: B09YQMSRV5 OCLC: Independently Published 2022 This book celebrates and gives honor to two large families in Illinois and Michigan history: the family of the author, soldier, journalist, and adventurer Ernest Miller Hemingway, and the family of historian and lawyer Andrew Taylor Call. Chicago resident Andrew Call is a devoted student of Ernest Hemingway and of Hemingway's life and writings. This book tells the story of several generations of connections and overlaps in place, time, and experience among Call's family, Ernest Hemingway, and several of the Hemingway kinsmen. The book comprises a mixture of genealogy, tribute, memoir, remembrance, and discussion concerning both Call's family and Ernest Hemingway and the Hemingway kinsmen. No proof has been discovered so far that anyone from Call's family ever met Ernest Hemingway or that anyone from Call's family ever met any of Hemingway's kinsmen. Nevertheless, many contextual connections exist between Ernest Hemingway (and Hemingway's kinsmen) and Call's kinsmen in Chicago, in Oak Park, in Michigan, in Florida, in Connecticut, and in California. Many contexts of connection and overlap enrich the story. Chicago, Oak Park, business and industry, Christian ministry, northern Michigan, fishing, hunting, Florida, World War I, World War II, journalism, writing, and more produce diverse places, times, and experiences that Call's family shared with Ernest Hemingway and with Hemingway's family. This book celebrates Ernest Hemingway, the Hemingway family, and Call's family. This book celebrates Illinois, Michigan, Chicago, and other places. This book tells the story of what could have been opportunities for a possible acquaintanceship between Call's family and the Hemingway family. Did these two families ever meet? It is possible they did meet. It is also possible that the two families did not ever meet. We do not know. Either way, this story of close calls is one of inspiration, excitement, and celebratory remembrance of two old families of Chicago and the Great Lakes.