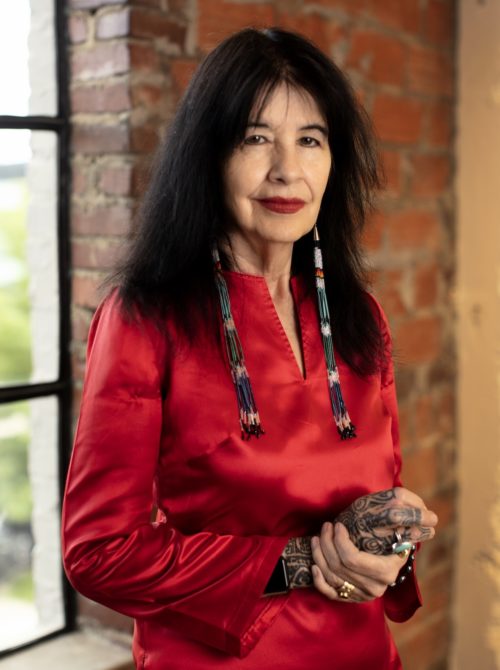 Joy Harjo
Born:
Pen Name:
Connection to Illinois
: Harjo taught at the University of Illinois at Urbana Champaign from 2013 to 2016, and was connected to the university's American Indian Studies Program.
Biography
: Joy Harjo is an internationally renowned performer and writer of the Muscogee Creek Nation. In 2019, she was named the 23rd United States Poet Laureate. She currently lives in Tulsa, Oklahoma.
---
Awards
:
-- Ruth Lily Prize for Lifetime Achievement from the Poetry Foundation, the Academy of American Poets Wallace Stevens Award, a PEN USA Literary Award, Lila Wallace-Readers Digest Fund Writers Award,
Primary Literary Genre(s):
Fiction; Poetry
Primary Audience(s):
Adult readers; Children
Website:
https://www.joyharjo.com/
Website:
https://www.poetryfoundation.org/poets/joy-harjo
Website:
https://poets.org/poet/joy-harjo
Facebook:
https://www.facebook.com/JoyHarjo/
Wikipedia:
https://en.wikipedia.org/wiki/Joy_Harjo
WorldCat:
http://www.worldcat.org/search?q=Joy++Harjo
---
Selected Titles
A Map to the Next World: Poems and Tales
ISBN: B00VYOJCAA OCLC: Norton New York : 2001 In her fifth book, Joy Harjo, one of our foremost Native American voices, melds memories, dream visions, myths, and stories from America's brutal history into a poetic whole.
An American Sunrise: Poems
ISBN: 1324003863 OCLC: 1084432549 Norton 2019 In the early 1800s, the Mvskoke people were forcibly removed from their original lands east of the Mississippi to Indian Territory, which is now part of Oklahoma. Two hundred years later, Joy Harjo returns to her family's lands and opens a dialogue with history ... Harjo finds blessings in the abundance of her homeland and confronts the site where her people, and other indigenous families, essentially disappeared. From her memory of her mother's death, to her beginnings in the Native rights movement, to the fresh road with her beloved, Harjo's personal life intertwines with tribal histories to create a space for renewed beginnings. Her poems sing of beauty and survival, illuminating a spirituality that connects her to her ancestors and thrums with the quiet anger of living in the ruins of injustice. --
Conflict Resolution for Holy Beings: Poems
ISBN: 039335363X OCLC: 902661367 Norton 2017 In these poems, the joys and struggles of the everyday are played against the grinding politics of being human. Beginning in a hotel room in the dark of a distant city, we travel through history and follow the memory of the Trail of Tears from the bend in the Tallapoosa River to a place near the Arkansas River. Stomp dance songs, blues, and jazz ballads echo throughout. Lost ancestors are recalled. Resilient songs are born, even as they grieve the loss of their country.
Crazy Brave: A Memoir
ISBN: B011MENQBM OCLC: Norton 2012 In this transcendent memoir, grounded in tribal myth and ancestry, music and poetry, Joy Harjo details her journey to becoming a poet. Born in Oklahoma, the end place of the Trail of Tears, Harjo grew up learning to dodge an abusive stepfather by finding shelter in her imagination, a deep spiritual life, and connection with the natural world. Narrating the complexities of betrayal and love, Crazy Brave is a haunting, visionary memoir about family and the breaking apart necessary in finding a voice. 12 photographs
For a Girl Becoming
ISBN: 0816527970 OCLC: 316232857 University of Arizona Press New York : 2009 Transformative moments in the cycle of life are a time for acknowledgment, a chance to guide a child's path in a positive and loving direction. Swirling images laden with both myth and personal meaning illustrate this unique, poetic tale of the joys and lessons of a girl's journey through birth, youth, and finally adulthood. Within these colorful pages, family and community come together in celebration of her arrival, offering praise, love, and advice to help carry her forward through the many milestones to come, and reminding her always of how deeply she is cherished. It is a reminder, too, of our abiding connections to the natural world, and the cyclical nature of life as a whole. With its rich, symbolic artwork and captivating language, For a Girl Becoming is the perfect gift to recognize a birth, graduation, or any other significant moment in a young woman's life. Not only for children, this lively and touching story speaks to that part in each of us who still stands at the door of becoming. -- Publisher's description
How We Became Human: New and Selected Poems 1975-2001
ISBN: 0393325342 OCLC: 149089703 W.W. Norton & Co., New York : 2004. This collection gathers poems from throughout Joy Harjo's twenty-eight-year career, beginning in 1973 in the age marked by the takeover at Wounded Knee and the rejuvenation of indigenous cultures in the world through poetry and music. How We Became Human explores its title question in poems of sustaining grace.--Publisher description.
In Mad Love and War
ISBN: 081951182X OCLC: 19739462 Wesleyan Middletown, Conn. : 1990
Remember
ISBN: 0593484843 OCLC: [S.l.] : Random House Studio [S.l.] : 2023 US Poet Laureate Joy Harjo's iconic poem "Remember," illustrated by Caldecott Medalist Michaela Goade, invites young readers to pause and reflect on the wonder of the world around them, and to remember the importance of their place in it. Remember the sky you were born under, Know each of the star's stories. Remember the moon, know who she is. Remember the sun's birth at dawn, That is the strongest point of time. So begins the picture book adaptation of the renowned poem that encourages young readers to reflect on family, nature, and their heritage. In simple and direct language, Harjo, a member of the Mvskoke Nation, urges readers to pay close attention to who they are, the world they were born into, and how all inhabitants on earth are connected. Michaela Goade, drawing from her Tlingit culture, has created vivid illustrations that make the words come alive in an engaging and accessible way. This timeless poem paired with magnificent paintings makes for a picture book that is a true celebration of life and our human role within it.
Secrets from the Center of the World
ISBN: 0816511136 OCLC: 19128720 University of Arizona Press Middletown, Conn. : 1989 This is Navajo country, a land of mysterious and delicate beauty. 'Stephen Strom's photographs lead you to that place,' writes Joy Harjo. 'The camera eye becomes a space you can move through into the powerful landscapes that he photographs. The horizon may shift and change all around you, but underneath it is the heart with which we move.' Harjo's prose poems accompany these images, interpreting each photograph as a story that evokes the spirit of the Earth. Images and words harmonize to evoke the mysteries of what the Navajo call the center of the world. -- Publisher's website
She Had Some Horses: Poems
ISBN: 039333421X OCLC: 227016658 Norton 2008 A new edition of the beloved volume by Joy Harjo, one of our foremost Native American poets. First published in 1983 and now considered a classic, She Had Some Horses is a powerful exploration of womanhood's most intimate moments. Joy Harjo's poems speak of women's despair, of their imprisonment and ruin at the hands of men and society, but also of their awakenings, power, and love. -- Publisher's description
Soul Talk, Song Language: Conversations with Joy Harjo
ISBN: 0819571504 OCLC: 759114754 Wesleyan University Press, Middletown, Conn. : ©2011. Intimate and illuminating conversations with one of America's foremost Native artists.
The Good Luck Cat
ISBN: 0152321977 OCLC: 39007078 Harcourt Middletown, Conn. : 2000 Because her good luck cat Woogie has already used up eight of his nine lives in narrow escapes from disaster, a Native American girl worries when he disappears.
The Spiral of Memory: Interviews
ISBN: 0472095811 OCLC: 33208394 University of Michigan Press, Ann Arbor : ©1996. The Spiral of Memory gathers the conversations in which Harjo has articulated her singular yet universal perspective on the world and her poetry. She reflects upon the nuances and development of her art, the importance of her origins, the arduous reconstruction of the tribal past, the dramatic confrontation between Native American and Anglo civilizations, and other provocative and profoundly human themes--Back cover.
The Woman Who Fell from the Sky: Poems
ISBN: 0393037150 OCLC: 34722791 Norton 1994 A collection of twenty-four poems, centering on women, American culture, and Native American traditions.
What Moon Drove Me to This?
ISBN: 0918408164 OCLC: 5867314 I. Reed Books, New York, N.Y. : ©1979.