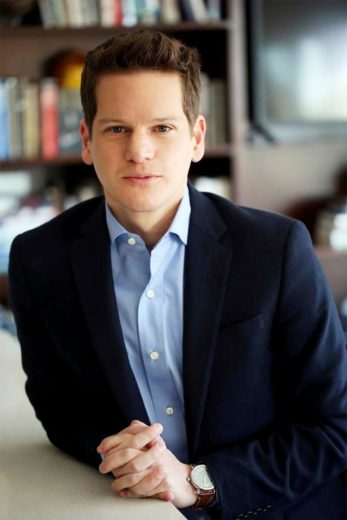 Graham Moore
Born:
1981 in Chicago, Illinois
Connection to Illinois
: Moore was born and raised in Chicago. He is a graduate of Columbia University.
Biography
: Graham Moore is a Academy Award-winning screenwriter and a New York Times bestselling novelist. A graduate of Columbia University, where he received his degree in Religious History, he currently lives in Los Angeles.
---
Awards
:
"""The Last Days of Night"""
-- One of the Best Books of the Year, Washington Post
-- Reading List Councils Prize for Best Historical Fiction, American Library Association
"""Sherlockian"""
-- New York Times Bestseller
-- Shortlist for Best First Novel, 2011 Anthony Awards
"""The Holdout"""
-- Starred Review, Publishers Weekly, 2020
-- Starred Review, Library Journal, 2020
Primary Literary Genre(s):
Fiction
Primary Audience(s):
Adult readers
Facebook:
https://www.facebook.com/GrahamMooreWriter/
IMDB:
https://www.imdb.com/name/nm2441699/
Twitter:
https://twitter.com/mrgrahammoore?lang=en
Website:
https://mrgrahammoore.com/
Wikipedia:
https://en.wikipedia.org/wiki/Graham_Moore_(writer)
---
Selected Titles
The Holdout: A Novel
ISBN: 039959177X OCLC: 1107444201 Random House 2020 It's the most sensational case of the decade. Fifteen-year-old Jessica Silver, heiress to a billion-dollar real estate fortune, vanishes on her way home from school. Her teacher Bobby Nock, a twenty-five-year-old African American man, is the prime suspect after illicit text messages are discovered between them--and Jessica's blood is found in his car. The subsequent trial taps straight into America's most pressing preoccupations: race, class, sex, law enforcement, and the lurid sins of the rich and famous. It's an open and shut case for the prosecution, and a quick conviction seems all but guaranteed. Until Maya Seale, a young woman on the jury, convinced of Nock's innocence, persuades the rest of the jurors to return the verdict of not guilty, a controversial decision that will change all of their lives forever. Flash forward ten years. A true-crime docuseries reassembles the jurors, with particular focus on Maya, now a defense attorney herself. When one of the jurors is found dead in Maya's hotel room, all evidence points to her as the killer. Now, she must prove her own innocence--by getting to the bottom of a case that is far from closed. As the present-day murder investigation weaves together with the story of what really happened during their deliberation, told by each of the jurors in turn, the secrets they have all been keeping threaten to come out--with drastic consequences for all involved--
The Last Days of Night: A Novel
ISBN: 0812988906 OCLC: 933386185 Random House 2016 When electric light innovator Thomas Edison sues his only remaining rival for patent infringement, George Westinghouse hires untested Columbia Law School graduate Paul Ravath for a case fraught with lies, betrayals, and deception.
The Sherlockian
ISBN: 0446572594 OCLC: 548642243 Twelve 2010 When literary researcher Harold White is inducted into the preeminent Sherlock Holmes enthusiast society, he never imagines he's about to be thrust onto the hunt for Arthur Conan Doyle's missing diary. But after a Doylean scholar is murdered, it is Harold who takes up the search, both for the diary and for the killer.