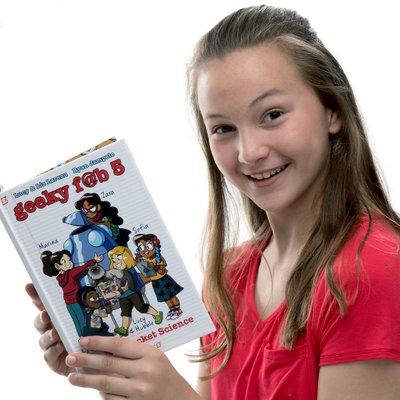 Lucy Lareau
Born:
Pen Name:
Connection to Illinois
: Lareau lives in Moline.
Biography
: Lucy Lareau co-created the Geeky Fab Five STEM girls series with her mom based on her own real-life experiences in elementary school, where students learn to make a difference. Now in middle school, Lucy lives in Illinois with her parents, brothers, and sister, along with three cats, including Tom, who's inspired Hubble.
---
Awards
:
Primary Literary Genre(s):
Fiction
Primary Audience(s):
Children
Web:
http://geekyfabfive.com/
Facebook:
https://www.facebook.com/GeekyFabFive/
Twitter:
https://twitter.com/GeekyFab5
WorldCat:
http://www.worldcat.org/search?q=Lucy++Lareau
---
Selected Titles
Geeky Fab 5 Vol. 1: It's Not Rocket Science
ISBN: 1545801223 OCLC: 1001928098 Papercutz 2018 Lucy Monroe's first day at Earhart Elementary is one for the yearbook: after meeting her new quirky 'pod' of girls in class, at recess, she has launched herself off the rusty monkey bars and splats face down on the blacktop. The principal closes the rickety playground, so now the whole school is mad! What's a new girl to do? Create a band of geeky friends to build a new play space together! The geeky f@b 5 is born! Meet animal lover Lucy; her sister and future Martian astronaut, Marina; math whiz and singer, Zara; robotics engineer, A.J.; computer coder and fashionista, Sofia; and Hubble, the snarky kitty. Can the gang convince classmates to build a new playground? Find out if the geeky f@b 5 can prove the meanies wrong, when they learn that when girls stick together, anything is possible! -- Back cover of volume 1.
Geeky Fab 5 Vol. 2: Mystery of the Missing Monarchs
ISBN: 1545801568 OCLC: 1060778789 Papercutz 2019 The Geeky Fab Five discover a hidden garden filled with Monarch butterflies and honeybees. While the girls are learning in science class that Monarchs and bees are becoming endangered, something threatens their secret butterfly garden behind Earhart. To solve the mystery, Hubble the GFF mascot (and ever-so-curious cat) discovers a secret that gets him catnapped! In a race against time, the girls must rescue Hubble, save the garden, and solve the mystery of the missing Monarchs --
Geeky Fab 5 Vol. 3: DOGgone CATastrophe
ISBN: 1545803234 OCLC: 1122791677 Papercutz 2019 When a tornado rips through the town of Normal, the local animal shelter is devastated leaving many animals needing emergency homes and care. The Geeky F@b 5 are up to the challenge and rally all of Earhart Elementary School to help. Sofia gets busy helping code a matchmaking program to match the pets to households and A.J. fits a harness for a handicapped basset hound. But can Marina get over her fear of snakes to help some in need? Join these 5 girls, and that sassy cat Hubble, as they learn that friendship isn't always just a human thing!--Provided by publisher.
Geeky Fab 5 Vol. 4: Food Fight For Fiona
ISBN: 1545803463 OCLC: 1056475710 PAPERCUTZ, [Place of publication not identified], 2019.