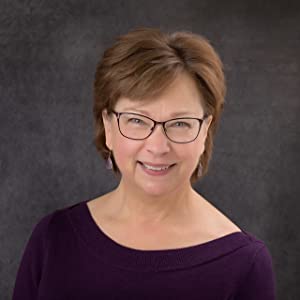 Beth Anderson
Born:
Illinois
Connection to Illinois
: Anderson was born and raised in Grayslake.
Biography
: Beth Anderson has always been fascinated by language. After years of using literature to teach English as a Second Language, she took off in pursuit of her "someday" and began writing for children. She loves exploring points of view, playing with words, and digging into history and culture for undiscovered gems. Beth is drawn to stories that open minds, touch hearts, and inspire questions. She combines her love of writing with the joys of discovery and learning in her narrative nonfiction and historical fiction picture books. She earned a B.A. in linguistics and a M. Ed. in reading. Born and raised in Illinois, she now lives near the mountains in Colorado.
---
Awards
:
Lizzie Demands a Seat! Starred Reviews Kirkus, Booklist, School Library Journal, Publishers Weekly
Revolutionary Prudence Wright Starred Reviews Kirkus and Youth Service Book Review
Tad Lincoln's Restless Wriggle 2023 Young Readers Award Winner, Colonial Dames of America; Bank Street College of Education Best Book of the Year
Primary Literary Genre(s):
Fiction; History; Non-Fiction
Primary Audience(s):
Children
Blog:
https://bethandersonwriter.com/blog/
Facebook:
https://www.facebook.com/beth.anderson.33671748?fref=ts
Pinterest:
https://www.pinterest.com/bandersonwriter/
Twitter:
https://twitter.com/BAndersonWriter
Web:
https://bethandersonwriter.com/
---
Selected Titles
An Inconvenient Alphabet: Ben Franklin & Noah Webster's Spelling Revolution
ISBN: 1534405550 OCLC: 1022689394 Simon & Schuster 2018 Details the origins of Noah Webster's first American English dictionary and the struggles of Webster and Ben Franklin to help unify the new country through language in the 1780s.
Cloaked in Courage: Uncovering Deborah Sampson, Patriot Soldier
ISBN: 1635926106 OCLC: Calkins Creek 2022 The remarkable story of Deborah Sampson, a woman who fought in the American Revolution disguised as a man—and who ends up finding her true identity and purpose in life.Deborah Sampson didn't like being told what to do, especially by the King of England. Fiercely independent, 18-year-old Deborah enlists as Robert Shurtliff in George Washington's Continental Army to fight for her country's independence. But being a soldier is hard, dangerous work. Can she fight for her country and keep her identity a secret? Can she also discover who she really is and find her true purpose? This unbelievable story from American history about a woman with a rebel spirit will inspire and enlighten young readers.
Franz's Phantasmagorical Machine
ISBN: 1525303252 OCLC: Kids Can Print 2022 For every child who longs to make the most amazing thing, here's a delightful picture book biography of a determined self-taught inventor who never stops following the call to imagine, discover, create.From the time he is a small boy, Franz is curious about machines and how they work. He wants to try to build his own. Even though he's needed to work on the family farm, and later marries and has a family of his own, Franz never gives up on his dream. He learns and tries and tests his ideas all on his own. And though many people don't understand or appreciate Franz's work, when his fantastic, complex creation is completed at long last, he finally finds an audience that recognizes his genius.Beth Anderson's uplifting picture book biography offers an engaging look at the inspiring life of Franz Gsellmann, an inventor from rural Austria who, with no formal artistic or engineering training, built an elaborate, intricate machine called the Weltmaschine (World Machine). The well-told story extols the joy of curiosity and inventing for inventing's sake, and explores the concept of mechanical-kinetic sculptures, in which art and science intersect. Whimsical illustrations by Caroline Hamel help bring the subject to life. Supporting backmatter includes an author's note, resources, a biography of Franz, an explanation of the machine, a search-and-find activity and questions to get children thinking about their own ideas that could lead to fun classroom activities. This book has strong STEAM curriculum links, particularly in technology and structures, and valuable character education lessons in courage, perseverance and resilience.
LIzzie Demands a Seat! Elizabeth Jennings Fights for Streetcar Rights
ISBN: 1629799394 OCLC: 1134620715 Calkins Creek 2020 One hundred years before Rosa Parks took her stand, Elizabeth Lizzie Jennings tried to board a streetcar in New York City on her way to church. Though there were plenty of empty seats, she was denied entry, assaulted, and threatened all because of her race -- even though New York was a free state at that time. Lizzie decided to fight back. She told her story, took her case to court -- where future president Chester Arthur represented her -- and won! Her victory was the first recorded in the fight for equal rights on public transportation, and Lizzie's case set a precedent.
Revolutionary Prudence Wright: Leading the Minute Women in the Fight for Independence
ISBN: 1644720574 OCLC: Calkins Creek 2022 Here is the first-ever picture book about female Revolutionary War activist Prudence Wright, who rallied the first and only group of "minute women" to fight the British, changing history in the process. Prudence Wright had a spark of independence. Annoyed when the British king held back freedoms in colonial Massachusetts, feisty and fearless Prudence had enough. She said no! to British goods, determined to rely on her resourcefulness and ingenuity to get by. And when British troops continued to threaten the lives of her family and community, she assembled and led the "minute women" of Pepperell to break free of tradition. This untold story of a courageous and brave woman from the Revolutionary War continues to inspire today.
Tad Lincoln's Restless Wriggle: Pandemonium and Patience in the President's House
ISBN: 1635923158 OCLC: Calkins Creek 2021 Tad Lincoln's restless wriggle just wouldn't quit, much to the delight of his father, President Abraham Lincoln—if not so much to anybody else! This picture book brings to life the famous first son who coped with a disability and other challenges while showing compassion, intelligence, and wisdom beyond his years.Tad Lincoln's boundless energy annoyed almost everyone but his father, President Abraham Lincoln. But Tad put that energy to good use during the tough times of the Civil War. Abraham Lincoln guided Tad's wriggle on visits to hospitals, to the telegraph office, and to army camps. Tad greeted visitors, raised money for bandages, and kept his father company late into the night. This special and patient bond between father and son was plain to see, and before long, Tad had wriggled his way into the hearts of others as well. Beth Anderson and S.D. Schindler follow Tad's antics during the Civil War to uncover the generous heart and joyful spirit that powered Tad's restless wriggle.