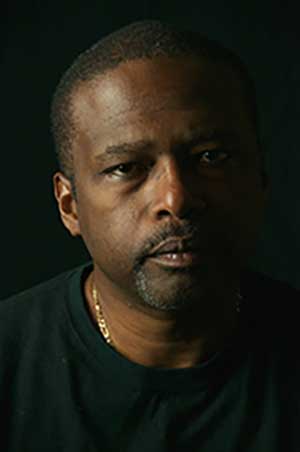 Jeffery Renard Allen
Born:
1962 in Chicago, Illinois
Connection to Illinois
: Allen was born in Chicago and raised on the South Side of the city in a neighborhood that provided the setting of his first novel Rails Under My Back and the stories in his collection Holding Pattern. He attended public schools and earned his university degrees at the University of Illinois at Chicago.
Biography
: effery Renard Allen is the author of five books including the novels SONG OF THE SHANK and RAILS UNDER MY BACK, which won the Chicago Tribunes Heartland Prize for Fiction; the short story collection HOLDING PATTERN, which received The Ernest J. Gaines Award for Literary Excellence; and two collections of poetry. Allen is the recipient of a Whiting Writers Award, a grant in Innovative Literature from the Creative Capital Foundation, and a Guggenheim Fellowship.
---
Awards
:
''Holding Pattern ''
-- Ernest J. Gaines Award for Literary Excellence
-- Starred Review, Booklist
''Rails Under My Back''
-- Heartland Prize for Fiction, Chicago Tribune
''Song of the Shank''
-- New York Times Notable Book of the Year,2014
-- Finalist, PEN/Faulkner Award for Fiction, 2015
-- Starred Review, Booklist
"Other Awards"
-- Whiting Award Creative Capital Foundation
-- Guggenheim Fellowship
-- Twenty First Century Award,Chicago Public Library
Primary Literary Genre(s):
Fiction; Poetry
Primary Audience(s):
Adult readers
Wikipedia:
https://en.wikipedia.org/wiki/Jeffery_Renard_Allen
WorldCat:
http://www.worldcat.org/search?q=Jeffery++Renard++Allen
---
Selected Titles
Harbors and Spirits
ISBN: 155921208X OCLC: 37157498 Asphodel, Wakefield, RI : 1998.
Holding Pattern: Stories
ISBN: 1555975097 OCLC: 213300753 Graywolf Press, St. Paul, Minn. : ©2008. Allen melds gritty urban life and magical realism in his first collection (after the novel Rails Under My Back). At times, the combination works-in the title story, full of contemporary slang, a character grows wings, but instead of ethereal white feathers, they are dried up and brown and crusty, like some fried chicken wings.
Rails Under My Back
ISBN: 0374246262 OCLC: 42022221 Farrar, Straus, and Giroux, New York : 2000. In a story that transcends time, one image holding the family together is that of the railroad--the railroad that carries the Jones men off to war and back again, that carries their parents from the South to the North, from living quarters to workplace, from one form of bondage or freedom to another.--Jacket.
Song of the Shank
ISBN: 1555976808 OCLC: 857967485 Graywolf Press Wakefield, RI : 2014 In 1866 as Tom and his guardian, Eliza Bethune, struggle to adjust to their fashionable apartment in the city in the aftermath of riots that had driven them away a few years before. But soon a stranger arrives from the mysterious island of Edgemere, inhabited solely by African settlers and black refugees from the war and riots, who intends to reunite Tom with his now-liberated mother.--Page 4 of cover.
Stellar Places
ISBN: 155921385X OCLC: 70630438 Asphodel Press : Kingston, R.I. : 2007.