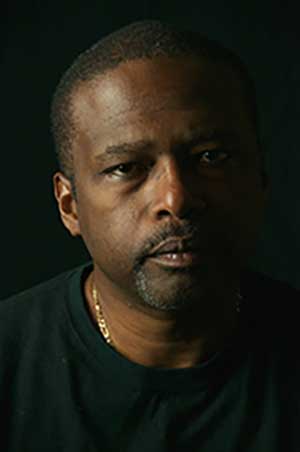 Jeffery Renard Allen
Born:
1962 in Chicago, Illinois
Connection to Illinois
: Allen was born in Chicago and raised on the South Side of the city in a neighborhood that provided the setting of his first novel Rails Under My Back and the stories in his collection Holding Pattern. He attended public schools and earned his university degrees at the University of Illinois at Chicago.
Biography
: Jeffery Renard Allen was born and raised in Chicago. He teaches creative writing at Queens College/CUNY. Allen makes his home in Johannesburg, where he is at work on several projects, including the memoir Mother Wit and Stanley Falls: Seven Beauties, a reimagining of historian George Washington Willams around his efforts to end slavery in the Congo.
---
Awards
:
Holding Pattern Ernest J. Gaines Award for Literary Excellence; Starred Review, Booklist
Rails Under My Back Winner of the CLMP Firecracker Award; Dublin Literary Prize nominee; finalist; PEN/Faulkner Award; Heartland Prize for Fiction, Chicago Tribune
Song of the Shank New York Times Notable Book of the Year,2014; Finalist, PEN/Faulkner Award for Fiction, 2015; Starred Review, Booklist
Other Awards and Honors Whiting Award Creative Capital Foundation; Twenty First Century Award, Chicago Public Library; The Ernest J. Gaines Award for Literary Excellence; a grant in Innovative Literature from Creative Capital; a Whiting Writers' Award; a Guggenheim fellowship; a residency at the Bellagio Center; and fellowships at The Center for Scholars and Writers, the Johannesburg Institute for Advanced Studies, and the Schomburg Center for Research in Black Culture
Primary Literary Genre(s):
Fiction; Poetry
Primary Audience(s):
Adult readers
E-Mail:
jeffallen1826@gmail.com
Web:
https://www.authorjefferyrenardallen.com/
Wikipedia:
https://en.wikipedia.org/wiki/Jeffery_Renard_Allen
---
Selected Titles
Fat Time and Other Stories
ISBN: 1644452391 OCLC: [S.l.] : Graywolf Press [S.l.] : 2023 A ferocious, innovative story collection about Black lives in the past, present, and futureIn Fat Time and Other Stories, Jimi Hendrix, Francis Bacon, the boxer Jack Johnson, Miles Davis, and a space-age Muhammad Ali find themselves in the otherworldly hands of Jeffery Renard Allen, reimagined and transformed to bring us news of America in the twentieth and twenty-first centuries. Along with them are characters of Allen's invention: two teenagers in an unnamed big city who stumble through a down-low relationship; an African preachervisits a Christian religious retreat to speak on the evils of fornication in an Italian villa importedto America by Abraham Lincoln; and an albino revolutionary who struggles with leading his people into conflict.The two strands in this brilliant story collection―speculative history and tender, painful depictions of Black life in urban America―are joined by African notions of circular time in which past, present, and future exist all at once. Here the natural and supernatural, the sacred and the profane, the real and fantastical, destruction and creation are held in delicate and tense balance. Allen's work has been said to extend the tradition of Ralph Ellison, William Faulkner, Henry Roth, and Ishmael Reed, but he is blazing his own path through American literature. Fat Time and Other Stories brilliantly shows the range and depth of his imagination.
Harbors and Spirits
ISBN: 155921208X OCLC: 37157498 Asphodel, Wakefield, RI : 1998. Poet, novelist and critic, Jeffery Renard Allen brings a number of characteristics to his first collection of poems. He adapts jazz and blues forms to lyric poetry and uses a variety of cultural sources to draw together materials that exist in a shared mythology. The result has the directness of an African-American Homeric hymn. Rich in musicality, Allen's work offers an extra-ordinary breadth of reference and discovery.
Holding Pattern: Stories
ISBN: 1555975097 OCLC: 213300753 Graywolf Press, St. Paul, Minn. : ©2008. Allen melds gritty urban life and magical realism in his first collection (after the novel Rails Under My Back). At times, the combination works-in the title story, full of contemporary slang, a character grows wings, but instead of ethereal white feathers, they are dried up and brown and crusty, like some fried chicken wings.
Rails Under My Back
ISBN: 0374246262 OCLC: 42022221 Farrar, Straus, and Giroux, New York : 2000. In a story that transcends time, one image holding the family together is that of the railroad--the railroad that carries the Jones men off to war and back again, that carries their parents from the South to the North, from living quarters to workplace, from one form of bondage or freedom to another.--Jacket.
Song of the Shank
ISBN: 1555976808 OCLC: 857967485 Graywolf Press Wakefield, RI : 2014 In 1866 as Tom and his guardian, Eliza Bethune, struggle to adjust to their fashionable apartment in the city in the aftermath of riots that had driven them away a few years before. But soon a stranger arrives from the mysterious island of Edgemere, inhabited solely by African settlers and black refugees from the war and riots, who intends to reunite Tom with his now-liberated mother.--Page 4 of cover.
Stellar Places
ISBN: 155921385X OCLC: 70630438 Asphodel Press : Kingston, R.I. : 2007. Collected poems of Jeffery Renard Allen.