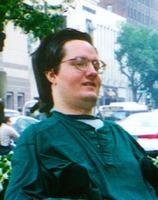 Kevin M. Harmon
Born:
May 13, 1968, in LaSalle, Illinois
Died:
February 21, 2021 in Peoria, Illinois
Connection to Illinois
: Harmon was born in LaSalle. He lived in Peoria the majority of his life.
Biography
: Kevin Harmon is the author of the Michael Cavanaugh books, Regime Change and The Archangel Response - one of Kindle's Top 100 bestsellers for political thrillers. He enjoyed sports, politics, the outdoors and spending time with family and friends.
---
Awards
:
Primary Literary Genre(s):
Fiction; Mystery
Primary Audience(s):
Adult readers
Blog:
http://kevinharmon.blogspot.com/
Facebook:
https://www.facebook.com/Kevin-Harmon-168017693267742/
LinkedIn:
http://www.linkedin.com/pub/kevin-harmon/12/56/7b
WorldCat:
http://www.worldcat.org/search?q=Kevin++M.++Harmon
---
Selected Titles
Regime Change: A Thriller
ISBN: 1731408412 OCLC: Self Published 2018
The Archangel Response: A Thriller
ISBN: 0615566642 OCLC: 951031869 Self Published 2012 As the founder of one of the world's largest tech companies, mysterious billionaire Michael Cavanaugh seems to have it all - fabulous wealth, power, and access to the most influential politicians in Washington. A collector of classic art and fine wine, Michael's business has provided him with a very good life. But Michael also has a secret. One that could cost him everything if discovered. With the aid of Marlin, a former CIA case officer and his longtime mentor, Michael operates a clandestine organization that protects his company from a global network of intellectual-property pirates who want what he has, even if they have to kill to get it. Together, the two men use whatever means necessary to defend what Michael has spent his life building. Because of his very dangerous life, Michael has forbidden himself from ever getting too close to anyone. That is, until he meets Caitlin Doyle, a beautiful, intelligent, and politically connected campaign strategist working on the upcoming presidential election. While on a weekend vacation to the mountains, Michael and Caitlin come under attack by a group of hired assassins. Barely escaping the sudden, brutal, and well-orchestrated assault, Michael must respond against a powerful and unknown enemy in ways that test his courage and beliefs like never before. With merely a blurred photo of a man's hand to go on, Michael wages a battle that circles the globe - all to hunt down the men who invaded his perfect life. Set against the contrasting worlds of high technology, politics, and espionage, The Archangel Response moves quickly from a defiled Russian monastery to an exploding supertanker in Hong Kong's Victoria Harbor, through the corrupt halls of government in Washington DC to Spain's Running of the Bulls. Ending in a violent confrontation that could cost Michael everything he's worked for, and even the woman he loves -- back cover.