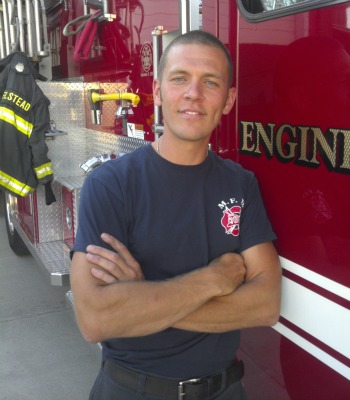 Jonathan Travelstead
Born:
Connection to Illinois
: Travelstead lives and works in Southern Illinois.
Biography
: Jonathan Travelstead served in the Air Force National Guard for six years as a firefighter and currently works as a full-time firefighter for the city of Murphysboro, and as poetry co-editor for Cobalt Review. Having finished his MFA at Southern Illinois University of Carbondale, he also turns a lathe, crafting pens under the name Scorched Ink Penturning. His first collection How We Bury Our Dead by Cobalt Press was released in March, 2015, and Conflict Tours (Cobalt Press) was released in 2017.
---
Awards
:
-- Winner, Illinois Emerging Writers Competition, 2013
Primary Literary Genre(s):
Poetry
Primary Audience(s):
Adult readers
Facebook:
https://www.facebook.com/writerjonathantravelstead/
Website:
https://www.cobaltreview.com/travelstead/
WorldCat:
http://www.worldcat.org/search?q=Jonathan++Travelstead
---
Selected Titles
Conflict Tours
ISBN: 1941462197 OCLC: 989032344 COBALT Press, [Place of publication not identified], 2017. Poetry by Jonathan Travelstead
How We Bury Our Dead
ISBN: 1941462073 OCLC: 965284696 Cobalt Press 2015 Jonathan Travelstead's fearless poems are about the other in each of us, those sudden illuminations of the self in which we realize we are not alone. The voices of the estranged, the willfully forgotten, and the restless dead inhabit us. In any given moment, a lover's face or gesture reveals a mother we've run toward and away from all our lives. An electrocuted man's last minutes tick away to reveal our need to both connect with and hide from one another, to rely on comforting fictions to soften the truth, to insure that we don't go into that anonymous dark alone. It's a startling, affirming collection that stares down our other selves, compels them to speak. -Scott Blackwood, author of See How Small