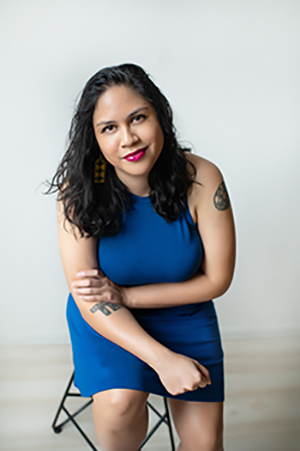 Mia P. Manansala
Born:
Pen Name:
Connection to Illinois
: Manansala is from Chicago.
Biography
: Mia P. Manansala is a writer and book coach who loves books, baking, and bad-ass women. She uses humor (and murder) to explore aspects of the Filipino diaspora, queerness, and her millennial love for pop culture.She is the winner of the 2018 Hugh Holton Award, the 2018 Eleanor Taylor Bland Crime Fiction Writers of Color Award, the 2017 William F. Deeck - Malice Domestic Grant for Unpublished Writers, and the 2016 Mystery Writers of America/Helen McCloy Scholarship. She's also a 2017 Pitch Wars alum and 2018-2019 mentor.
---
Awards
:
Primary Literary Genre(s):
Fiction
Primary Audience(s):
Adult readers
Web:
https://www.miapmanansala.com/
Facebook:
https://www.facebook.com/MPMtheWriter/
Twitter:
https://twitter.com/MPMtheWriter
WorldCat:
http://www.worldcat.org/search?q=Mia++P.++Manansala
---
Selected Titles
Arsenic and Adobo
ISBN: 0593201671 OCLC: 1247470953 Berkley 2021 The first book in a new culinary cozy series full of sharp humor and delectable dishes-one that might just be killer.... When Lila Macapagal moves back home to recover from a horrible breakup, her life seems to be following all the typical rom-com tropes. She's tasked with saving her Tita Rosie's failing restaurant, and she has to deal with a group of matchmaking aunties who shower her with love and judgment. But when a notoriously nasty food critic (who happens to be her ex-boyfriend) drops dead moments after a confrontation with Lila, her life quickly swerves from a Nora Ephron romp to an Agatha Christie case. With the cops treating her like she's the one and only suspect, and the shady landlord looking to finally kick the Macapagal family out and resell the storefront, Lila's left with no choice but to conduct her own investigation. Armed with the nosy auntie network, her barista best bud, and her trusted Dachshund, Longanisa, Lila takes on this tasty, twisted case and soon finds her own neck on the chopping block...--