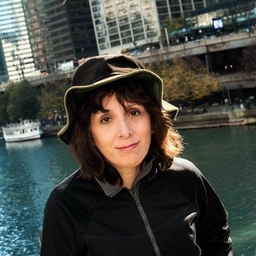 Mary Wisniewski
Born:
Connection to Illinois
: Wisniewski works in Chicago. She graduated from Southern Illinois University in Carbondale.
Biography
: Mary Wisniewski is a Chicago writer, journalist and teacher. She currently teaches creative writing at the Newberry Library and has taught creative nonfiction at Northwestern University's graduate program. A reporter in Chicago for 32 years, most recently as transportation columnist for the Chicago Tribune, Wisniewski was a former Reuters reporter covering Midwest crime and politics and a columnist for the Chicago Sun-Times. She has won numerous awards for reporting and for teaching. Her biography of Chicago writer Nelson Algren, Algren: A Life, won praise from multiple publications, including the New York Times and Chicago Magazine, which called it 'a captivating book that reads like a novel. She is an active participant in the Nelson Algren Committee and appears frequently on local television and radio.
---
Awards
:
Algren: A Life Chicago Writers Association Nonfiction Book of the Year (2017) Society of Midland Authors Literary Award in Biography (2017)
Primary Literary Genre(s):
Non-Fiction
Primary Audience(s):
Adult readers
LinkedIn:
https://www.linkedin.com/in/mary-wisniewski-94b4a823
Twitter:
https://twitter.com/marywizchicago
Web:
https://muckrack.com/marywisniewski
---
Selected Titles
Algren: A Life
ISBN: 1613735324 OCLC: 944408123 Chicago Review Press 2016 Algren: A Life is a new biography of Chicago writer Nelson Algren, author of The Man with the Golden Arm, A Walk on the Wild Side, Never Come Morning, multiple short stories, and travel essays--