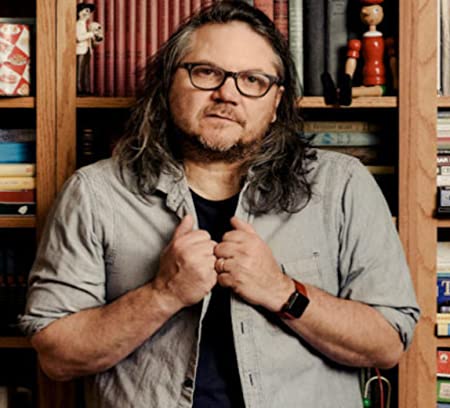 Jeff Tweedy
Born:
1967 in Belleville, Illinois
Connection to Illinois
: Tweedy was born and raised in Belleville. He attended Belleville Area College and Southern Illinois University Edwardsville. He currently resides in Chicago.
Biography
: As the founding member and leader of the American rock band Wilco, and before that the cofounder of the alt-country band Uncle Tupelo, Jeff Tweedy is one of contemporary American music's most accomplished songwriters, musicians, and performers. Since starting Wilco in 1994, Jeff has written original songs for ten Wilco albums and collaborated with folk singer Billy Bragg to bring musical life to three albums full of Woody Guthrie-penned lyrics in the Mermaid Avenue series. In 2014, he released Sukierae, a musical collaboration with his son, drummer Spencer Tweedy. He has produced a trio of albums for iconic soul and gospel singer Mavis Staples: the 2011 Grammy Award-winning You Are Not Alone, 2013's One True Vine, and the 2017 release, which he also cowrote with Staples, If All I Was Was Black.
---
Awards
:
''Let's Go'',
-- A New York Times Bestseller
-- A Rolling Stone Best Music Books of 2018 selection
-- A Pitchfork Pick: Best Music Books of 2018
"How to Write One Song"
-- Illinois Reads Book Selection, Illinois Reading Council, 2022
Primary Literary Genre(s):
Non-Fiction
Primary Audience(s):
Adult readers
Facebook:
https://www.facebook.com/JeffTweedyHQ/
IMDB:
https://www.imdb.com/name/nm1186492/
Twitter:
https://twitter.com/JeffTweedy
Website:
https://jefftweedy.bandcamp.com/
Wikipedia:
https://en.wikipedia.org/wiki/Jeff_Tweedy
WorldCat:
http://www.worldcat.org/search?q=Jeff++Tweedy
---
Selected Titles
How to Write One Song: Loving the Things We Create and How They Love Us Back
ISBN: 0593183525 OCLC: 1175678766 Dutton 2020 Perfect for gifting during the holidays and beyond, a thoughtful, counterintuitive book about creativity from the celebrated songwriter, leader of the band Wilco, and New York Times bestselling author of Let's Go (So We Can Get Back), inspiring others by taking the reader through the process of writing one song--
Let's Go (So We Can Get Back): A Memoir of Recording and Discording with Wilco, Etc.
ISBN: 1101985267 OCLC: 1051778815 Dutton 2018 Wilco singer/songwriter Jeff Tweedy tells stories about his childhood in Belleville, Illinois; the St. Louis record store, rock clubs, and live-music circuit that sparked his songwriting and performing career; and the Chicago scene that brought it all together. He discusses his collaborators in Uncle Tupelo, Wilco, and more; and writes lovingly about his parents, wife Susie, and sons, Spencer and Sammy.