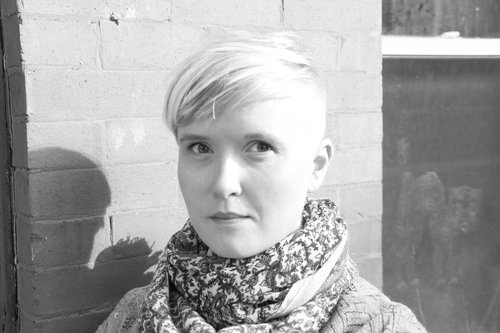 Jac Jemc
Born:
Pen Name:
Connection to Illinois
: Jemc received her MFA from the School of the Art Institute of Chicago.
Biography
: Jac Jemc is the author of My Only Wife, a finalist for the 2013 PEN / Robert W. Bingham Prize for Debut Fiction and winner of the Paula Anderson Book Award, and A Different Bed Every Time. She has been the recipient of two Illinois Arts Council Professional Development Grants, and in 2014 was named one of 25 Writers to Watch by the Guild Literary Complex and one of Newcitys Lit 50 in Chicago. She recently completed a stint as the writer in residence at the University of Notre Dame and currently teaches at Northeastern Illinois University and StoryStudio Chicago, as well as online at Writers & Books and the Loft Literary Center, and she is the web nonfiction editor for Hobart.
---
Awards
:
''False Bingo'',
-- Fall Read - The Boston Globe and the Chicago Tribune, Starred Review - Publishers Weekly, Chicago Review of Books Award for fiction, Finalist for the Lambda Literary Award for LGBTQ Speculative Fiction, Longlisted for The Story Prize
''The Grip of It'',
-- Finalist - Chicago Review of Books Fiction Award, Dan Chaon's Best of 2017 pick in Publishers Weekly, Vol. 1 Brooklyn's Best Books of 2017, BOMB Magazine Looking Back on 2017: Literature Pick, Vulture's 10 Best Thriller Books of 2017,
''My Only Wife'',
-- End of the year Top Ten list at Volume I Brooklyn. Finalist, PEN/Robert W. Bingham Award for debut fiction, Paula Anderson Book Award
''A Different Bed Every Time'',
-- Amazon's Best Story Collections of 2014
Primary Literary Genre(s):
Fiction
Primary Audience(s):
Adult readers
Web:
http://jacjemc.squarespace.com
Twitter:
https://twitter.com/jacjemc
Instagram:
https://www.instagram.com/jacjemc/
WorldCat:
http://www.worldcat.org/search?q=Jac++Jemc
---
Selected Titles
A Different Bed Every Time
ISBN: 1936873532 OCLC: 871789712 Dzanc Book 2014 A thief steals the air from a room. Children invent a nursery rhyme to make sense of their fate, and a band of girls rots from the outside in. These characters stumble through joy and murder and confusion, only to survive and wait for the next catastrophe to arrive. Moments so brief and disturbing you can't afford to look away. Jac Jamc''s affecting stories mine the territory between what is real and what it means to create understanding.
False Bingo
ISBN: 0374538352 OCLC: 1082562085 FSG 2019 The mundane becomes sinister in a disquieting story collection from the author of The Grip of It. In Jemc's dislocating second story collection, sinister forces--some supernatural, some of this earth, some real and some not--work their ways into everyday life.
My Only Wife
ISBN: 1936873680 OCLC: 792688011 Dzanc Books, Westland, Mich. : 2012. In her debut novel, Jac Jemc explores the question, Do we make up our stories or do they make us?
The Grip of It
ISBN: 0374536910 OCLC: 957302624 FSG 2017 A chilling literary horror novel about a young couple haunted by their newly purchased home Jac Jemc's The Grip of It tells the eerie story of a young couple haunted by their new home. Julie and James settle into a house in a small town outside the city where they met. The move--prompted by James's penchant for gambling, his inability to keep his impulses in check--is quick and seamless; both Julie and James are happy to leave behind their usual haunts and start afresh. But this house, which sits between lake and forest, has plans for the unsuspecting couple. As Julie and James try to settle into their home and their relationship, the house and its surrounding terrain become the locus of increasingly strange happenings. The architecture--claustrophobic, riddled with hidden rooms within room--becomes unrecognizable, decaying before their eyes. Stains are animated on the wall--contracting, expanding--and map themselves onto Julie's body in the form of bruises; mold spores taint the water that James pours from the sink. Together the couple embark on a panicked search for the source of their mutual torment, a journey that mires them in the history of their peculiar neighbors and the mysterious residents who lived in the house before Julie and James. Written in creepy, potent prose, The Grip of It is an enthralling, psychologically intense novel that deals in questions of home: how we make it and how it in turn makes us, inhabiting the bodies and the relationships we cherish.--