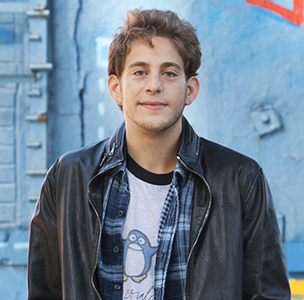 Adi Alsaid
Born:
1987 in Mexico City, Mexico
Connection to Illinois
: Alsaid currently lives in Chicago.
Biography
: Adi Alsaid was born and raised in Mexico City. He is the author of several young adult novels including Let's Get Lost, We Didn't Ask For This, and North of Happy, a Kirkus Best Book nominee. He's also the editor of Come On In: 15 stories of immigration and finding home. Alsaid attended college at the University of Nevada, Las Vegas. After graduating, he packed up his car and escaped to the California coastline to become a writer. He's moved back to his hometown to write and coach basketball. He's lived in Mexico, Tel Aviv, Las Vegas, Monterey, California, and Chicago.
---
Awards
:
Come on In Starred Reviews, Kirkus, Booklist, Publishers Weekly, Illinois READS Book Selection, Illinois Reading Council, 2022
We Didn't Ask for This Starred Reviews, Kirkus and Publishers Weekly
Never Always Sometimes Starred Review, Kirkus
The Bravest Warrior in Nefaria Illinois READS Book Selection, Illinois Reading Council, 2024
Primary Literary Genre(s):
Fiction; Non-Fiction
Primary Audience(s):
Children; Young adult readers
Blog:
https://adialsaid.tumblr.com/
E-Mail:
adi.alsaid@gmail.com
Facebook:
https://www.facebook.com/adialsaidauthor
Instagram:
https://www.instagram.com/uhhdee/
Twitter:
https://twitter.com/AdiAlsaid
Web:
https://www.adialsaid.com/
Wikipedia:
https://en.wikipedia.org/wiki/Adi_Alsaid
---
Selected Titles
Before Takeoff
ISBN: 0593375769 OCLC: ALFRED A KNOPF, 2021. James and Michelle find themselves in the Atlanta airport on a layover ... seemingly interminable delays draw them both to a mysterious flashing green light--and each other. Where James is passive, Michelle is anything but. And she quickly discovers that the flashing green light is actually ... a button. Which she presses ... Before they can figure up from down, strange, impossible things start happening: snowstorms form inside the B terminal; jungles sprout up in the C terminal; and earthquakes split the ground apart in between --
Brief Chronicle of Another Stupid Heartbreak
ISBN: 1335012559 OCLC: Inkyard Press 2019 Dumped by her boyfriend the summer after senior year, teen love and relationship columnist Lu Charles has hit a wall with her writing. The words just won't come to her like they used to and if she doesn't find a topic for her column, she'll lose her gig at hip online magazine Misnomer, and the college scholarship that goes along with it. Her best friend, Pete, thinks she should write through her own pain, but when Lu overhears another couple planning a precollege breakup just like hers, she becomes convinced that they're the answer to cracking her writer's block. And when she meets them--super-practical Iris and cute, sweet Cal--and discovers they're postponing their breakup until the end of the summer, she has to know more. Have Cal and Iris prolonged their own misery by staying together, knowing the end is in sight? Or does the secret to figuring out all this love business--and getting over it--lie with them? One thing is certain--if Lu can't make a breakthrough before summer is over, she can kiss her future goodbye. --Amazon.
Come on in :
ISBN: 1335146490 OCLC: This collection features stories from bestselling and up-and-coming YA authors.
Let's Get Lost
ISBN: 0373211244 OCLC: Harlequin Teen 2014 During her cross-country adventures following the tragic death of her family, Leila touches the lives of four strangers -- Hudson, Bree, Elliot, and Sonia. While forever changing the lives of these four, Leila also discovers an important truth about herself.
Never Always Sometimes
ISBN: 0373211546 OCLC: Harlequin Teen 2015 Best friends Dave and Julia were determined to never be cliche high school kids--the ones who sit at the same lunch table every day, dissecting the drama from homeroom and plotting their campaigns for prom king and queen. They even wrote their own Never List of everything they vowed they'd never, ever do in high school. Some of the rules have been easy to follow, like #5, never dye your hair a color of the rainbow, or #7, never hook up with a teacher. But Dave has a secret: he's broken rule #8, never pine silently after someone for the entirety of high school. It's either that or break rule #10, never date your best friend. Dave has loved Julia for as long as he can remember. Julia is beautiful, wild and impetuous. So when she suggests they do every Never on the list, Dave is happy to play along. He even dyes his hair an unfortunate shade of green. It starts as a joke, but then a funny thing happens: Dave and Julia discover that by skipping the clichés, they've actually been missing out on high school. And maybe even on love.
North of Happy
ISBN: 0373212283 OCLC: Harlequin Teen 2017 A wealthy dual citizen of Mexico and the United States rebels against his family's strict plans for his future in the aftermath of his older brother's tragic death, an event that compels him to secure a job with his favorite celebrity chef, a relationship that becomes complicated when he falls for his boss's daughter.
Somewhere Over the Sun
ISBN: 1608448312 OCLC: Indianapolis, IN : Dog Ear Publishing, Indianapolis, IN : 2010. Alan, a spirited young writer with a wandering imagination has discovered that the stories he writes are suddenly coming to life. At the suggestion of his loving father, Alan embarks on a quixotic journey to visit friends and use his newfound gift to write them all happier lives. There are a few limitations to his power; he can't cure diseases, he can't summon pots of gold, and headaches accompany each reality-infused story he lives out, but the appreciative and optimistic Alan is not deterred from creating fantastical characters and storylines to give his friends more literary lives.
The Bravest Warrior in Nefaria
ISBN: 1665927755 OCLC: Aladdin 2023 Phineas and Ferb meets the Despicable Me series in this hilarious and heartwarming middle grade debut from acclaimed author Adi Alsaid about a wannabe hero who lives in a goofily evil kingdom where nefarious schemes abound.Welcome to Nefaria, where nearly every day the kingdom faces another evil scheme.Most are harmless, though, so the citizens of Nefaria simply learn to live with the latest hijinks and go on with their lives. This includes Bobert Bougainvillea, who is much more concerned with the fact that he seems to be invisible. From the teachers in his school to his classmates, almost no one notices Bobert, no matter how visible he tries to be. Then everything changes when Bobert follows his classmates to a cursed gumball machine.Before he knows it, Bobert is sucked into one of Nefaria's most villainous evil schemes, a plot that has been a long time in the making—too long, in the evil wizard Matt's opinion. And retreating into invisibility this time won't do, not when Bobert is the only one with the drive, knowledge, and—if his newfound courage doesn't fail him—bravery to foil Matt's plan.
We Didn't Ask for This
ISBN: 1335146768 OCLC: Inkyard Press 2020 Central International School's annual lock-in is legendary. Bonds are made. Contests are fought. Stories are forged that will be passed down from student to student for years to come. This year's lock-in begins normally enough. Then a group of students led by Marisa Cuevas stage an ecoprotest and chain themselves to the doors, vowing to keep everyone trapped inside until their list of demands is met. Some students rally to their cause -- but others are aggrieved to watch their own plans fall apart. Amira has trained all year to compete in the school decathlon on her own terms. Peejay intended to honor his brother by throwing the greatest party CIS has ever seen. Kenji was looking forward to making a splash at his improv showcase. Omar wanted to spend a little time with the boy he's been crushing on. Celeste, adrift in a new country, was hoping to connect with someone -- anyone. And Marisa, once so certain of her goals, must now decide how far she'll go to attain them. Every year, lock-in night changes lives. This year, it might just change the world. --