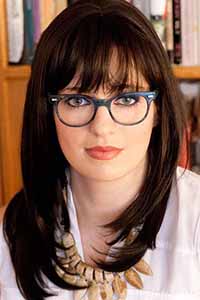 Darcey Bell
Born:
Pen Name:
Connection to Illinois
: Bell is currently a preschool teacher in Chicago.
Biography
: Darcey Bell is the New York Times bestselling author of All I Want, Something Shes Not Telling Us, and A Simple Favor, which was adapted into a critically acclaimed film starring Blake Lively and Anna Kendrick. Darcey was raised on a dairy farm in western Iowa.
---
Awards
:
Primary Literary Genre(s):
Fiction
Primary Audience(s):
Adult readers
Web:
https://www.harpercollins.com/blogs/authors/darcey-bell
Twitter:
https://twitter.com/darceykbell
IMDB:
https://www.imdb.com/name/nm9079127/
WorldCat:
http://www.worldcat.org/search?q=Darcey++Bell
---
Selected Titles
A Simple Favor
ISBN: 1509836845 OCLC: 974631218 MacMillan 2017 A Simple Favour is a twisting free-fall ride filled with betrayal, reversal, secrets and revelations, love and loyalty. Darcey Bell ratchets up the tension in a taut, unsettling, and completely absorbing thriller that holds you in its grip until the final page. It starts with a simple favour - an ordinary kindness mothers do for one another. When her best friend, Emily, asks Stephanie to pick up her son from school she happily says yes. Their children are classmates and best friends. And five-year-olds love being together - just like she and Emily. As a widow and stay-at-home blogger mum living in suburban Connecticut, Stephanie was lonely until she met Emily, a glamorous and successful PR executive. The trouble is that Emily doesn't come back. No matter what the police say, Stephanie knows that she would never leave her son. Terrified, she reaches out to her fellow mummy bloggers. And she also reaches out to Emily's husband - just to offer her support. What Stephanie hasn't shared is the secrets buried in a murky past.
All I Want
ISBN: 1982177276 OCLC: 1259295219 Atria/Emily Bestler Books 2022 A young couple with a baby on the way moves to an old Victorian house in rural, upstate New York. Strange happenings contribute to their disintegrating marriage-and to their terrifying descent into the darker side of human nature--
Something She's Not Telling Us
ISBN: 0062953923 OCLC: 1129217910 Harper 2020 Charlotte has everything in life that she ever could have hoped for: a doting, artistic husband, a small-but-thriving flower shop, and her sweet, smart five-year-old daughter, Daisy. Her relationship with her mother might be strained, but the distance between them helps. And her younger brother Rocco may have horrible taste in women, but when he introduces his new girlfriend to Charlotte and her family, they are cautiously optimistic that she could be The One. Daisy seems to love Ruth, and she can't be any worse than the klepto Rocco brought home the last time. At least, that's what Charlotte keeps telling herself. But as Rocco and Ruth's relationship becomes more serious, Ruth's apparent obsession with Daisy grows more obvious. Then Daisy is kidnapped, and Charlotte is convinced there's only one person who could have taken her ...--Provided by publisher.