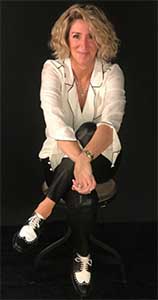 Gretchen Berg
Born:
Pen Name:
Connection to Illinois
: Berg lives in Chicago.
Biography
: Gretchen spent many years working in the fields of education and travel. Her parents had always encouraged her to write, but she waited until she heard you are a writer' from more trustworthy advisors: a London psychic, and a taxicab driver in Athens, Greece. The taxicab driver also said they had been lovers in a previous life.After finishing a humorous memoir in 2010 she ventured into the field of genealogy, and compiled narratives and research reports for clients, while also working on her family's history. It was during her family research that she came across an interesting bit that then became her debut novel, The Operator.
---
Awards
:
Primary Literary Genre(s):
Fiction
Primary Audience(s):
Adult readers
Web:
http://www.GretchenBergBooks.com
Facebook:
https://www.facebook.com/GretchenBergBooks
Instagram:
https://www.instagram.com/gretchenbergbooks/
E-Mail:
info@gretchenbergbooks.com
WorldCat:
http://www.worldcat.org/search?q=Gretchen++Berg
---
Selected Titles
I Have Iraq in My Shoe: Misadventures of a Soldier of Fashion
ISBN: 1402265794 OCLC: 761196068 Sourcebooks, Naperville, Ill. : ©2012. Fashionista Gretchen Berg humorously recounts when, facing possible unemployment, she uprooted her life and moved to Iraq to teach English to conservative Muslims, where eventually she began to feel at home and fell for a student.
The Operator
ISBN: 0062917196 OCLC: 1251801862 William Morrow Paperbacks 2021 The Operator by Gretchen Berg delivers a vivid look inside the heads and hearts of a group of housewives and pokes at the absurdities of 1950s America, a simpler time that was far from simple. In a small town, everyone knows everyone else's business... Nobody knows the people of Wooster, Ohio, better than switchboard operator Vivian Dalton, and she'd be the first to tell you that. She calls it intuition. Her teenage daughter, Charlotte, calls it eavesdropping. Vivian and the other women who work at Bell on East Liberty Street connect lines and lives. They aren't supposed to listen in on conversations, but they do, and they all have opinions on what they hear, especially Vivian. She knows that Mrs. Butler's ungrateful daughter, Maxine, still hasn't thanked her mother for the quilt she made, and that Ginny Frazier turned down yet another invitation to go to the A&W with Clyde Walsh. Then, one cold December night, Vivian listens in on a call between that snob Betty Miller and someone whose voice she can't quite place and hears something shocking. Betty Miller's mystery friend has news that, if true, will shatter Vivian's tidy life in Wooster, humiliating her and making her the laughingstock of the town. Vivian may be mortified, but she isn't going to take this lying down. She's going to get to the bottom of that rumor, get into it, get under it, poke around in the corners. Find every last bit. Vivian wants the truth, no matter how painful it may be. But as Vivian is about to be reminded, in a small town like Wooster, one secret usually leads to another...