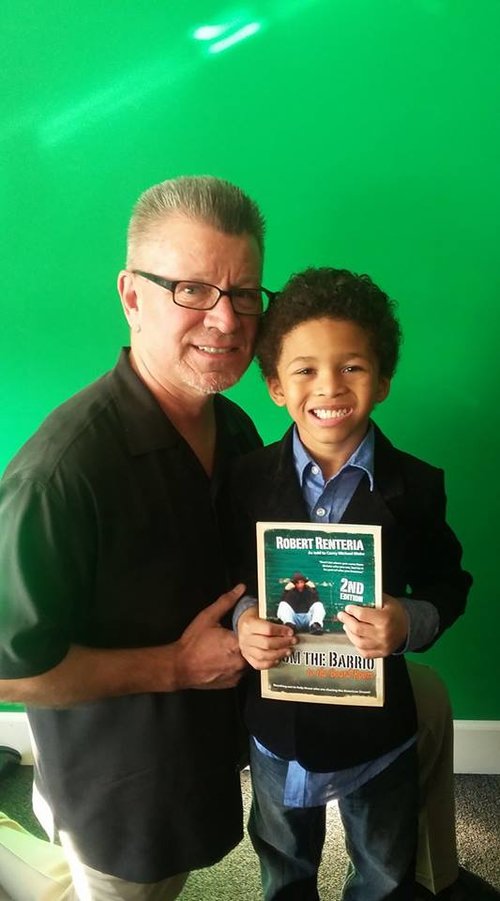 Robert J. Renteria, Jr.
Born:
Connection to Illinois
: Renteria is a Chicago civic leader.
Biography
: Robert J. Renteria, Jr. is a successful businessman turned author of 'From the Barrio to the Board Room, Mi Barrio and Little Barrio' who is using his books and curricula with youth across America and many communities around the world, to replace violence, delinquency, gangs and drugs with education, pride, accomplishment, and self esteem.Robert has dedicated his life to sharing his story with millions of others so that they, too, can help break the vicious cycle of poverty through hard work, determination and education. His book series and the accompanying school based and faith based curriculum's, are forming our leaders of tomorrow by helping them to find their identity, establish core values, set goals for themselves, prioritize education, and strive to reach their full potential.Renteria has been the keynote speaker at the Hispanic Heritage Reception for Illinois Secretary of State Jesse White, where he was recognized for his achievements as a civic leader and Latino author. He has also presented at the Illinois Association of School Social Workers, McDonalds Hamburger University, the Chicago Principals and Administrators Association annual conference, the Hispanic National Bar Association in Chicago, the Illinois Legislative Latino Caucus Foundation, the 40th and 41st Annual Rainbow Push Coalition Conferences, and the Chicago School of Professional Psychology. He has been profiled in major media, including USA Today, The Wall Street Journal, Investors Business Daily, The Chicago Sun Times, NBC 5, WGN, Univision, and Chicago Public Radio. Robert has worked with political figures (at the local, state and national level) as a Latino voice. He has been supported by business owners, corporations, University Professors, and middle and high school teachers and principals who share his universal message that everyone has the right to live the American Dream!His accomplishments as an author include: 2020 Dr. Renteria was proudly appointed the Hero of the World by the WBC-World Boxing Council2019 Robert Renteria received an International Honorary Doctorate Degree for his outstanding leadership in academics, social projects and contributions to the improvement of the humanity.2018 the 3D Kid Barrio animation teaser was created to reach younger kids promoting anti bullying.In 2017 Robert Renteria was appointed by the WBC World Boxing Council as a Youth Ambassador representing kids (boys & girls) in 165 countries In 2017 Mr. Renteria was honored with The Maestro Award for Community Service on a National Level by Latino Leaders Magazine.In 2016 Roberts book From the Barrio to the Board Room was turned into a Chicago based play performed and produced by inner city youth and funded by ASMIn 2015 Mr. Renteria was selected as one of Chicagos Whos Who Hispanic LeadersIn 2014 Robert Renteria was featured as Chicagos Very Own WGN 9 In 2013 Mr. Renteria was the first Latino in the world to ever receive two National Dr. Martin Luther King Jr. Awards for his work as a civil rights leader and a Latino voice in educational reform.In 2012 Mr. Renterias graphic novel Mi Barrio was voted the best comic book in Latin America, Spain and the United States of America for addressing youth issues.In 2011 Robert Renteria was again the first Latino in the world to ever receive an International Outstanding Humanitarian Award for promoting global peace and education.And in 2010, Mr. Renteria was voted Chicagos Latino Business Professional of the Year by over 45,000 Chicago Latino business professionals.
---
Awards
:
Primary Literary Genre(s):
C:CHILDREN; C:YOUNG ADULT; Non-Fiction
Primary Audience(s):
Adult readers
Web:
https://www.fromthebarrio.com/
Facebook:
https://www.facebook.com/FromTheBarrioFoundation/
Twitter:
https://twitter.com/BarrioFdn
Blog:
https://www.fromthebarrio.com/barrio-blog
E-Mail:
Robert@fromthebarrio.com
WorldCat:
http://www.worldcat.org/search?q=Robert++J.++Renteria,++Jr.
---
Selected Titles
From the Barrio to the Board Room: Second Edition
ISBN: 1610660110 OCLC: 791641545 Writers of the Round Table Press 2013 I learned to never let anyone tell me I can't do something - remember as long as we have a corazon (heart), we always have a chance. These are the words of Robert Renteria, who today is the Chairman of the Board of the From the Barrio Foundation, but who spent his infancy sleeping in a chest of drawers, in a one room, bachelor apartment in East L.A. This is a man who has devoted his life to people who need a break; who takes their hands and show them how to get out of the armpit of our barrios and ghettos and break the cycle of poverty through hard work, dedication, and education. Read by more than 50,000 students and adults, this book is his way of reaching out to all the people he cannot meet personally. It's smart, practical, self help advice wrapped up in the exciting and inspiring story of his journey literally From the Barrio to the Board Room.--COVER.
Little Barrio Paperback
ISBN: 1610660625 OCLC: 828182858 Writers of the Round Table Press Mundelein, IL : 2012 An adaptation of Robert Renteria's story of his rise from poverty in a barrio to success in life and business.
Mi Barrio from Smarter Comics
ISBN: 1610660005 OCLC: 666251677 Writers of the Round Table Press, Mundelein, IL : ©2011. Traces Robert Renteria's life from a childhood of poverty and abuse in one of the poorest areas of East Los Angeles, to his emergence as a business owner and civic leader.